20 Running Favorites + Goals for 2020!
We all have our running favorites!
I want to share mine with you!
So I wrote a list of my running favorites but also running goals that I want to include as a runner for this 2020 year.
Hopefully, this list will help motivate you in your running but also I wanted to share a little bit more of myself as a runner with you. 
This list is completely random and nothing is any sort of order.
I merely wanted to share in order to provide value and insight. 
Here it is!

20 Running favorites + goals I want to tackle this year!
1. My favorite running log I'm using in 2020:
I actually don't use an official running log anymore and haven't for a couple years now.
I like to keep everything that I plan, write, and track in one spot so I use my daily planner to record my runs, workouts and health habits that I want to track and record.
I use this InkWell press planner which I'm loving  as it includes monthly goal setting pages and daily habit trackers where you can choose what to record. I did get it on sale as it is a little pricey but you could really use any planner that has a month calendar to record and track your runs in.
If you want a recommendation on a log that is designed specifically for runners then I recommend giving the Lauren Fleshman Believe Journal for runners a try.
2. Shoes I want to try this year:
Currently I'm running in the New Balance Fresh Foam Sport Running Shoes and while I love them I really believe in Xero shoes message and brand and want to see what the Prio Running shoes are all about.
I'll keep you posted on whether or not I like them.
3. Marathoners I'm excited to watch this year:
Des Lindon!
I think resilience might be her middle name.
She'll be running in the Olympic Trials and then again in Boston here in 2020 and it will be exciting to see her tackle major goals and watch her perform.
Plus she owns a golden retriever. Enough said.
4. Favorite piece of running gear currently:
My FitBit Versa 2.
This was a birthday gift from my husband and it has been saving my life in little ways.
I could go on and on about this but probably should just save it for a post of it's own!
FitBit's are just an all around great tool for making yourself aware of your lifestyle in general.
It tracks your exercise levels, intensity heart rate, mile splits, calculates your Vo2 max, tests the quality of sleep you get each night and just brings makes you aware of your lifestyle and health in general.
The Versa 2 also comes with Alexa who can set up reminders for you, start timers and answer questions to name a few.
If you don't want to bring your phone with you when you run but still want a GPS tracking feature then the FitBit Ionic is probably more what you are looking for. This is what my husband currently uses and loves for his running and everyday use.
5. The Bluetooth earphones that I know and love:
So AirPods are all the rage right now and while I have never tried them I just have to give a shout out to my current Bluetooth earphones: the Mpow Flame Bluetooth Headphones.
I have used these for almost 2 years now and have never been disappointed.
You can easily adjust the volume and stop and start what you are listening to right on the ear buds. The fit is also perfect and I have never had any issues with them falling out while running.
At $25 they actually provide great quality for the price tag. If you are not ready to go all in on AirPods, these are a great option!
6. Favorite cross training routine:
Swimming!
Were you not expecting that?
Swimming is an awesome cross training exercise for runners as it is aerobic in nature, helps to increase your endurance and it is gives no impact on the body so that your muscles and joints can take a break while still making cardiovascular gains!
Don't forget about this option and even though it's winter there are plenty of gyms, YMCA's, colleges, etc. that provide indoor swimming pools that you can do laps in.
7. Quote I'm living by lately:
You are as free as your self control.
I love this quote! It might at first seem like a paradox to some but it's a brilliant truth!
The more self control and disciplined you are in any area of your life the more true freedom you will be able to experience.
I think a lot of times we associate the words "self-control and discipline" with the idea that our spontaneity and fun in life will be stifled.
The opposite in fact is true but is one of those things that you first have to do in order to experience and realize the truth in it.
8. Running Movie I want to watch:
Marathon: the Patriots Day Bombing.
This documentary from HBO has really good reviews.  It might be emotionally triggering for some but it's definitely a part of our history as marathoners.
If you are looking for some recommendations then here is a running/marathon movie list.
Do you have any other running movie recommendations that I should watch?
9. The race I'm looking forward to next:
The St. Patrick's Day 10K Race in Manhattan, KS.
I've done this race many, many times since I was in high school. It's one of my favorites as it's such a fun, festive run, takes you right through the heart of where I studied in college (go Wildcats!) and there's pizza at the finish line!
10. Thing to focus on in my running:
My mental mindset!
I tend to go in spurts with my mental training as a runner, yet if I would just remember how powerful something like self-talk is, hard runs and workouts would be so much easier!
I know this yet I find myself forgetting it.
Therefore I want to make a habit of telling myself something positive during the first steps that I take on a run.
This will help to set my mental voice for that entire run.
What you feed your mind is what you will reap.
Be careful of the stories that you are telling yourself before, during, and after your runs. They will set the tone for you as a runner.
If you are running a marathon this year then check out my Mental Training Plan for Marathon Runners.
11. Task I want to gain consistency in:
Meal prepping.
This is another area that I go in spurts with but when I'm on top of it, it is amazing!
It really is something that does not take a ton of time to implement and really comes down to just planning ahead in order to do it.
I've realized how beneficial it is in helping me stick to more clean, healthy foods and takes away the mental fatigue of making decisions on what to eat multiple times a day.
I have already shared some of my meal prepping routines for runners here if you want to get some ideas too.
12. Podcasts I love listening too:
Sometimes I listen to music when I run but the majority of the time I choose to listen to a podcast (or an audiobook).
Two podcasts that I play on repeat are:
The Life Coach School by Brooke Castillo - she gives awesome advice for life in general but a lot of it can also be applied to running and marathon training!

Marathon Training Academy by Angie and Trevor - this podcast is a must if you are a marathon runner! Lots of good stuff!



13. My current running/workout routine:
Get up by 6am to get at least a 25 minute run in 3 times a week and a strength workout about once to twice a week.
I'm still in the postpartum phase (I updated my little-not-so little family photo here!) so I'm not incorporating any intense workouts like intervals or tempo runs.
The farthest I'll be running for awhile is about 4 miles.
I actually cherish these times when my body forces me to take extra rest and doesn't allow for any major goals and plans to be made.
Slow and steady. This is where I'm at right now and I love it! What does your current running routine look like?
14. The next running book I want to read:
Let Your Mind Run by Deena Kastor.
Deena Kastor might be my favorite female runner of all time which is why I'm shocked with my self that I have still not read her book! I need to change that asap!
Do you have any other running book recs? 
15. Food I want to eat more of:
Sweet potatoes.
They're a great source of healthy complex carbohydrates and they have lots of antioxidants which are important for everyone but especially runners who need to right inflammation on a regular basis.
I usually only consume sweet potatoes during the holiday months but I want that to change!
16. Food to try:
Using Spaghetti squash as a pasta substitute.
We've been eating a lot of spaghetti squash this winter and now that I'm comfortable with cooking it, I want to begin using it as an occasional substitute for noodles.
I say occasional because sometimes we need a bigger serving of carbohydrates after an intense run or workout or my kids just need a meal that will fill them and fuel them up more and in that case I would still use whole wheat pasta.
17. Favorite time to run:
On vacation or trips!
It's so fun to added a new place while running! You don't even notice that the miles fly by and you can really get to know a place through running.
It provides wonderful opportunities to are more than you would walking, helps to burn through favorite from all the indulgent meals you are probably eating.
It will also make you fall in love with the place and the moment you are in.
18. My favorite compression socks:
I don't usually opt for all the fun colors that they offer and tend to stick to the most boring color options.
I have found these provide just the right amount of pressure for me when I run. I try to wear my compression socks on every run and I think you should too whether you are running long runs or short runs!
They really help to reduce the effect that the impact of running causes and increases your blood circulation allowing you to run and recover faster. I love them!
Here's more info formation on compression socks for marathoners.
19. My favorite running workout:
I love a good tempo run for so many reasons!
They can be done anywhere, they are not too long, usually under an hour in length, you challenge and push yourself, they're fun, especially if you have a great playlist or a running buddy to race, and they consistently deliver a huge dose of endorphins! 
20. Favorite thing to tell myself during a race:
"How do I want to feel tomorrow when I wake up?"
After weeks or perhaps months of training a race might go flawlessly or it might be a disappointment.
No matter what I want to put in the hard work, making  myself uncomfortable so that I can have no regrets when I wake up that next morning.
It's all about attitude.
Let me know one of your running favorites in the comments below this box!
Pages Related to Running Favorites
I'd Love to stay in touch!
Join 17,000+ Other runners and receive my weekly training newsletter!
I'll send you my  free 24 Hour Timeline Checklist of Things You Should Do After a Long Run  when you sign up!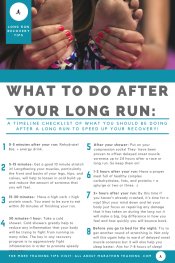 As featured on:



---