So What does Marathon Training Mean to YOU?
For me marathon training means so many different things. After having run five marathons I'm still discovering what the marathon is all about.
I know that it is slow and steady long runs, fast tempo workouts and steep hills. It's endurance, power and speed. It's diet, nutrition and hydration.
But it is more...
It's peaceful runs out in the beauty of nature. It's running for the sheer joy of running. It's training not only your body but also your mind. It's the feeling of accomplishment, passion and discovery.
It's hard but it is worth every ounce of effort.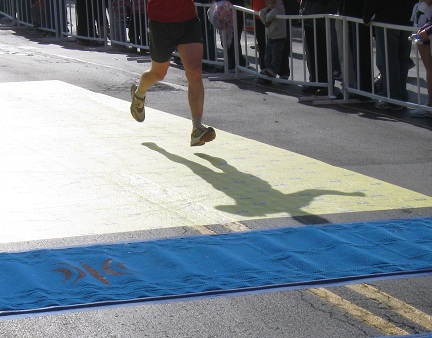 The pride, the achievement, the sense of accomplishment after completing a marathon more than makes up for all those weeks of training and sacrifice that you put behind you.
It's something that only you can define and that might even begin to define you.
That is the marathon....that and so much more! What it really is is just the simple movement of moving your skeletal muscles back and forth for the duration of 26.2 miles. But then again, is it really? I think it runs (excuse the pun) much deeper.
What do you want to know about Marathon Training?
So how do you get there? How do you get to the finish line of a marathon? How do you run and train for 26.2 miles?
In these pages you can find and learn about:
...and just about everything you need to step across that finish line.
Trust me, you won't regret your decision to run a marathon whether its your first or not. If you put in the time and the effort you will reap the reward and prove to yourself that you can do anything.
Anything.
Just remember that as Benjamin Franklin said, "By failing to prepare, you are preparing to fail". Commit yourself to your running a marathon and use his adage in a positive way. "Successfully preparing is preparing for success."
You will succeed if you train properly.
So lace up your running shoes, hit the road and discover or keep discovering the joys of marathon training!
---
There's so much to learn and incorporate with marathon training! Come back and visit us often as we post new content and tidbits or let us come to YOU! 
1.) Subscribe to our Training Ezine. This is a free newsletter delivered once a month that will update you on all of our new pages plus a little bit extra not found on this site! 
2. Keeping up with Marathon Training Blog. You can get word of new pages the minute they go up through your favorite RSS feeder.
3. Follow on Twitter. It's a great way to stay up to date with short & sweet tweets on tips, tidbits, news, motivational quotes, need I say more? Also contact me there with any questions or comments I'll be happy to hear from you! Click the follow button. 
4. Visit us at our Facebook page and Like us. Or just give us a "Like" below now. 
Have a fantastic run today!