20 Weeks to Your FIRST Marathon marathon training schedule

I have a free 20 Week Marathon Training Schedule download for you here at the bottom of this page!
This training plan is one of three marathon plans that is used inside the Run Your First Marathon Training Program!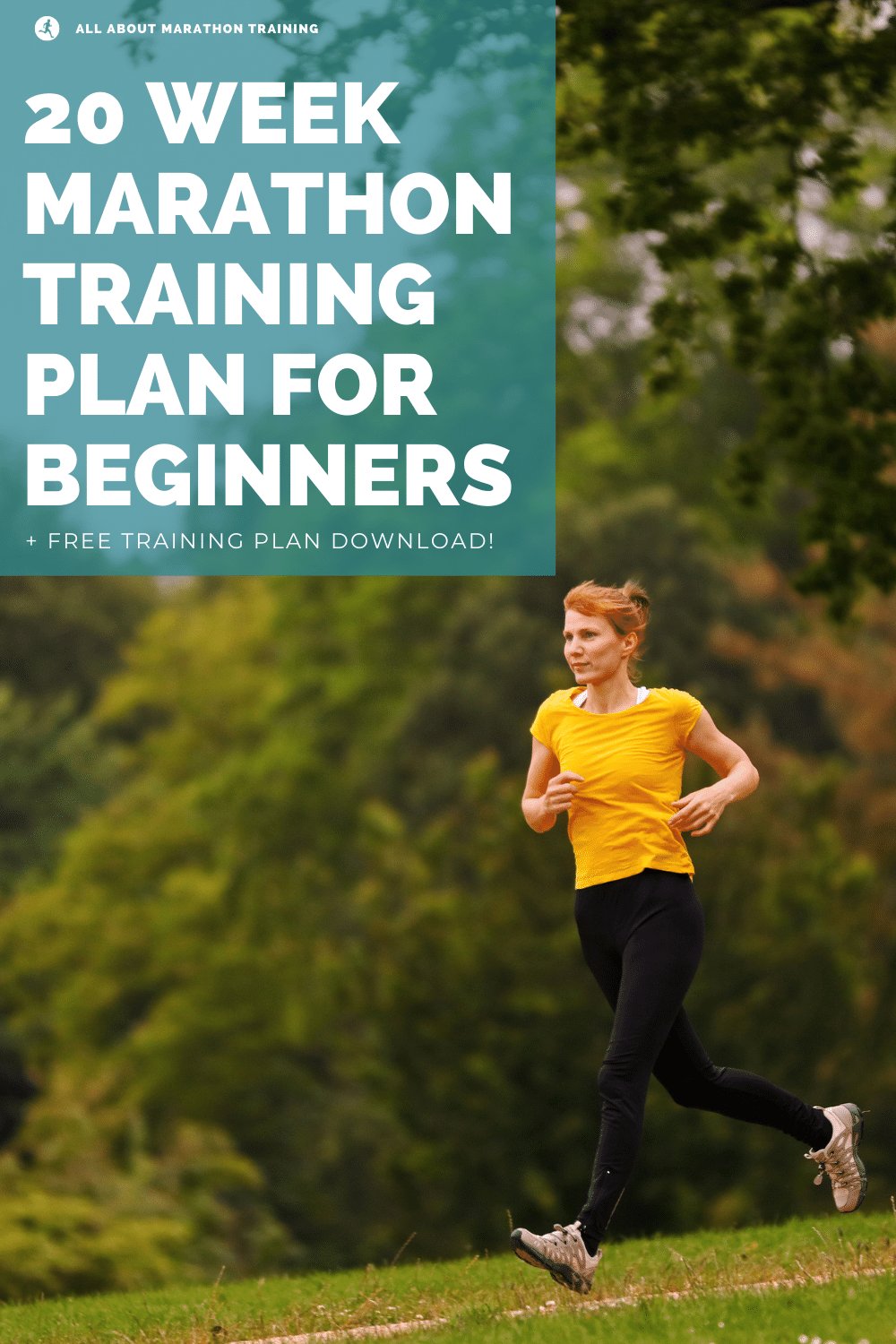 The Run Your First Marathon Training Program is a self-guided training package entirely geared for those who want to run their very FIRST marathon! 
The program is not merely a training plan rather it is an ultimate guide geared specifically for those running their first marathon!
It includes a training plan, checklists, prompts, motivational strategies, space to record, and even a log book/journal for your first marathon!
This training plan itself is free (download below) because I believe that a runner needs to be able to assess a plan before committing to it. 
Note: the free schedule comes in both a miles and kilometers marathon training plan! 
How much time will you need each week for this marathon training Schedule?
There are 4 days of running scheduled every week during this marathon training schedule: 3 shorter runs and 1 long run.
Since this training plan is specifically for first time marathon runners the focus is almost completely on the long run and does not include other quality running workouts such as tempo runs or hill repeats. 
Your running days are scheduled for specific days of the week however they can be changed up to fit your schedule. 
Each week has a scheduled cross training session.
Cross training is one of those things that are great to incorporate for building a body with overall fitness and to give your body a break from all of the running and therefore help you avoid injury.
However it is not absolutely necessary for marathoners do and I know many who skip it altogether.
The choice is up to you but you can make a more informed decision after reading the section on cross training in the training guide. 
*How I Fueled my 2:54 Marathon by Whitney Heins.

Who is this marathon training schedule For?
For this specific 20 week marathon training schedule I would recommend the following before you begin:
Be comfortable with running at least 3-4 miles.
If you can't physically run 4 miles yet you might consider waiting to begin this schedule and build more of a running base until you are more comfortable with that distance.
If you are able to run/walk 4 miles, that would also be a good starting point, especially if you were considering using run/walk intervals during the marathon. 
A good training strategy is to always start at the running level you are at.
It is much safer for you to be comfortable running the 4 mile distance and progressing from there then having the very first week of your training (which doesn't have a "long run" scheduled) already be challenging for you.
If you aren't quite ready yet, wait and keep building up your endurance.
On that note, here are 16 of the best things you can do before beginning marathon training that will increase your chances of success!
Why include mindset training as a marathon runner?
As a first time marathon runner, you want to be sure to get your goals and mindset in the right order!
I included the Develop Your Marathon Mindset Training Plan to this program because running a marathon is as much a test in mental endurance as it is in physical endurance.
After all, a  marathon is 80% mental and 20% physical!
To put it simply, there is no way you can run a marathon without becoming mentally strong! 
Yet many marathoners neglect this important aspect of their marathon training!
Don't do that! You will suffer come mile 23! (or sooner) 
Therefore, on the 20 Week Marathon Training Schedule Calendar that you can access at the bottom of this page, there are mental training sessions scheduled every week on the calendar noted by the initials: "MT"
If you purchase the Run Your First Marathon Training Program then you can use the included 20 Week Mental Training Plan that compliments the running schedule. 
If you choose not to purchase Run Your First Marathon then you could either get the Develop Your Marathon Mindset Training Plan separately from the program, or do your own form of mental training.
My Favorite thing about this marathon training schedule...
Is the alternating long runs after you reach the half marathon distance in your training plan in Week 8.
I have found alternating long runs to be great for beginner runners and first time marathoners who aren't used to running long distances and also need to build their mental tenacity more in order to handle long runs week after week. 
It's also perfect for those with busy work or family lives who can't carve out time for long training runs every weekend. 
It allows for extra rest, extra recovery to be made yet allows you to keep making gains in your endurance to help you succeed at the marathon distance! 
---
If you want to run & FINISH your FIRST marathon then the run your first marathon training program was made for you! 

If you want the full training experience of running your first marathon, then consider signing up for the Run Your First Marathon Training Program which includes everything you need to know to train and run your very first marathon.
Here are all the different sections we go through in Run Your First Marathon Training Program (yes! I got you covered on everything!)
A 20 week marathon training plan (+ a prep week plan)!
Goals Assessment + Body Assessment + worksheets

Your Warm Up + Cool Down Prescriptions
The Develop Your Marathon Mindset Mental Training Workbook with Weekly Mental Training Prompts (the marathon is 80% in the head so we need to train ourselves to be mentally strong during the marathon!)
Cross Training Prescription + Goals
A Mini Marathon Nutrition Guide
Your Pre-Marathon Week Strategy all laid out including nutrition! (That last week is crucial!)
Your carbo-loading plan
Pre-Race Meal Plans
Race Week Checklists for a smooth marathon start and finish
A Recovery Action Guide
Journal/Log space with prompts because it's your first marathon and you should document it!
Run your first marathon is an online training program
The program is laid out for you in a step by step guide and introduces concepts into your training where they fit best in a first time marathoner's timeline! 
Here is a sneak peek of what you will see once you get inside!

LEt's look at the free 20 week marathon training schedule
Running a marathon is one of those things that you won't ever regret doing, but you might regret NOT doing it down the road! 
So save or print this marathon training schedule download (or pin it onto one of your Pinterest boards) or print if off and let's get started! 
If you make the commitment to begin this marathon training schedule soon, you can run your first or next marathon in 20 weeks time! 
would you like me to send you THE Free 20 Week Marathon Training sCHEDULE?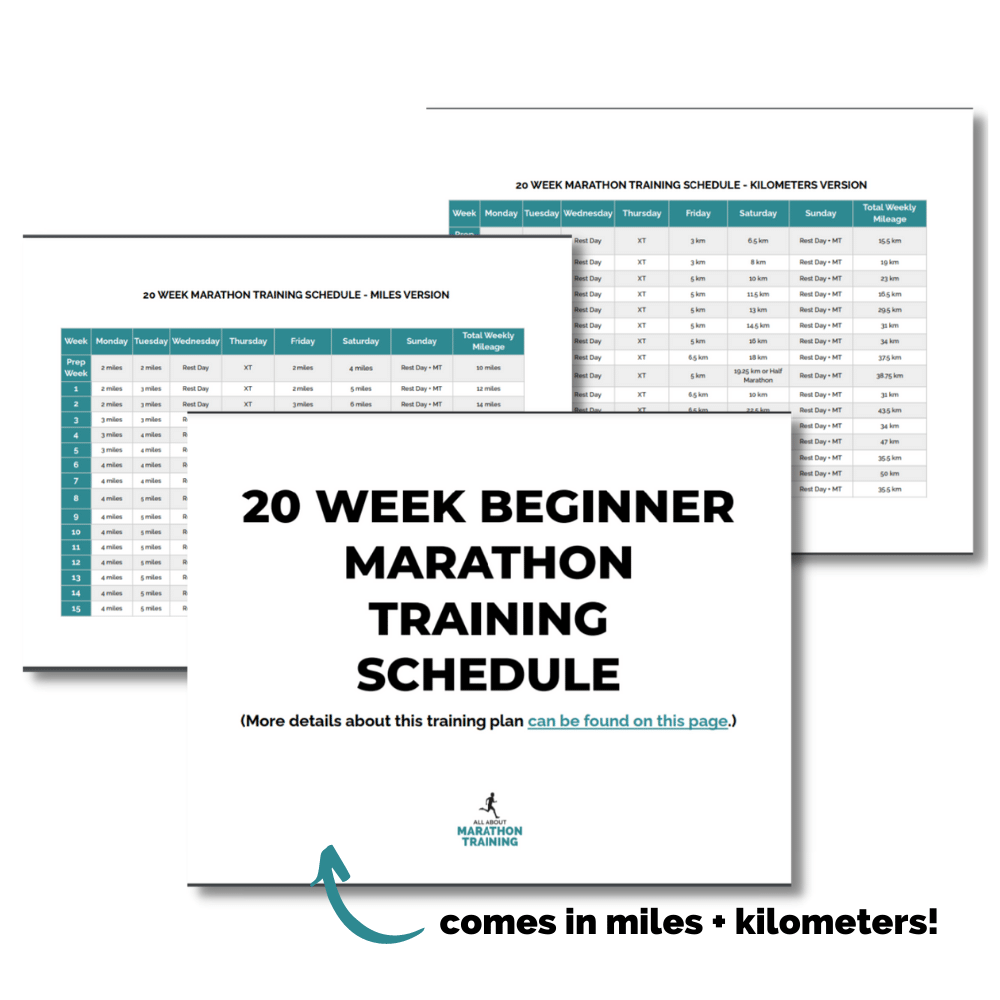 hOW THIS MARAThON tRAINING pLAN PROGRESSES
how your marathon mileage increases from week to week
This plan progresses at about a 10% increase in mileage each week where your long run is over 10 miles in length.

This will help you to gradually and progressively increase your endurance at an appropriate pace.
There is never more than a 2 mile increase from your longest weekly mileage week that you have completed. 
Your highest mileage weeks are 30-33 miles when your long runs reach 19+ miles.
After you hit 12 miles in your long training runs there will be an alternating "easy" week, where your mileage is reduced and the "long" run is much shorter in length (between 6-10 miles).
The next week there will be an increase in mileage again and in the long run (about 1-2 miles will be added to your previous long run distance).
This alternation will help you to stay focused, give you a break between weeks while keeping your body adapted to the rigors of training, and most importantly, dramatically reduce your chances of injury.
Long runs can be hard on your body and so by not doing a long run every week you allow yourself ample recovery time which I promise is more effective and will make you more successful in the marathon! 
We talk a lot about how to have successful long runs in Run Your First Marathon Training Program- prep and nutrition is key! 
do a simulated marathon race day run
During Week 8 of your Marathon Training you have the option to run either a long run of 12 miles or to complete a half marathon.

If you want to do a simulated race run or have never run a race before then I highly recommend doing the half marathon.
It is a great way to do a trial run while having a fun time in a race atmosphere!
I'm sure you will be so pumped afterwards for your full marathon, although don't become overwhelmed by the thought that you have to double the distance. 
You can and will do it!
Just stick to the program and trust in the process!
let's talk about your taper week (week 20)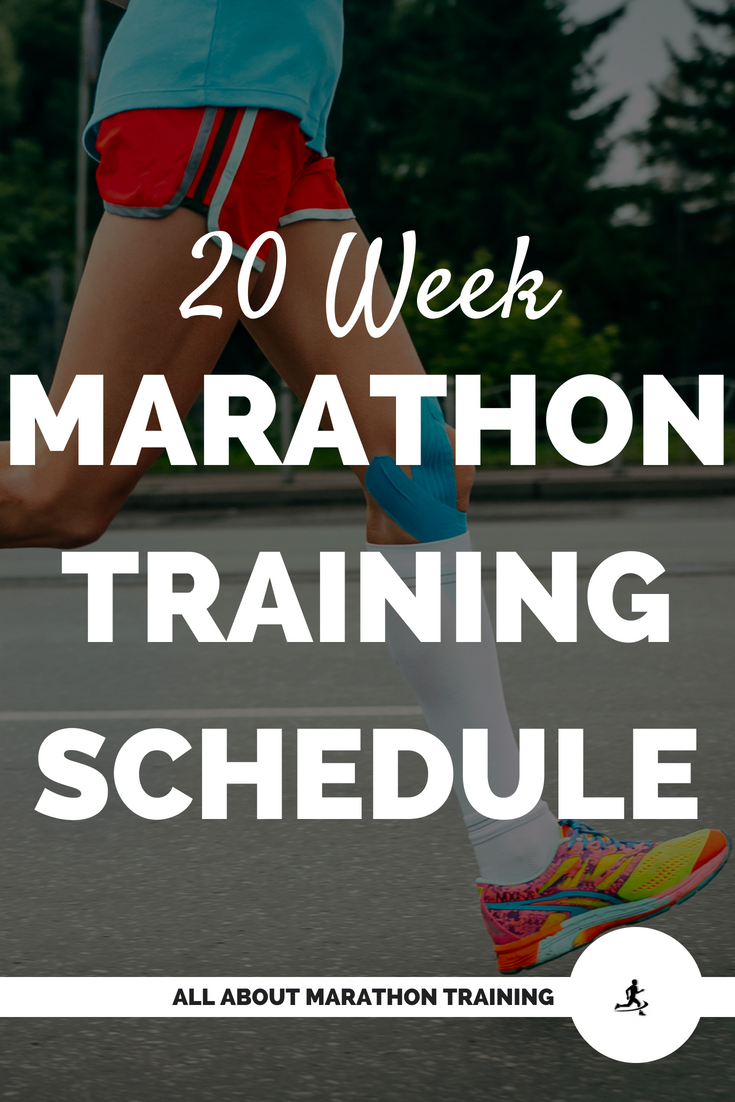 The week before your marathon is a tapering week.
The good news is that your mileage is dramatically reduced in preparation for the huge overload you will be placing on your body on the day of the marathon.

This is also the week that you will want to begin carbo-loading which is marked on your training schedule.
A carbo-loading plan is included in the Run Your First Marathon Training Program program.
You can run/walk a marathon!
The last thing I would like to mention here is that you can use this marathon training schedule with the run-walk-run method.

Running gurus such as Jeff Galloway highly recommend this style of marathon "running".
Especially if you are still relatively new to running this might be a great option for you or as you increase your long run distance.
Play around with a good run-walk-run ratio and see what works for you.
Try running for 3 minutes and then walking for 3 minutes.
Or run for 5 minutes and walk for 2 minutes. 
Here is an entire guide on run/walking! 
Note: When you sign up to receive this training plan it also comes in kilometers!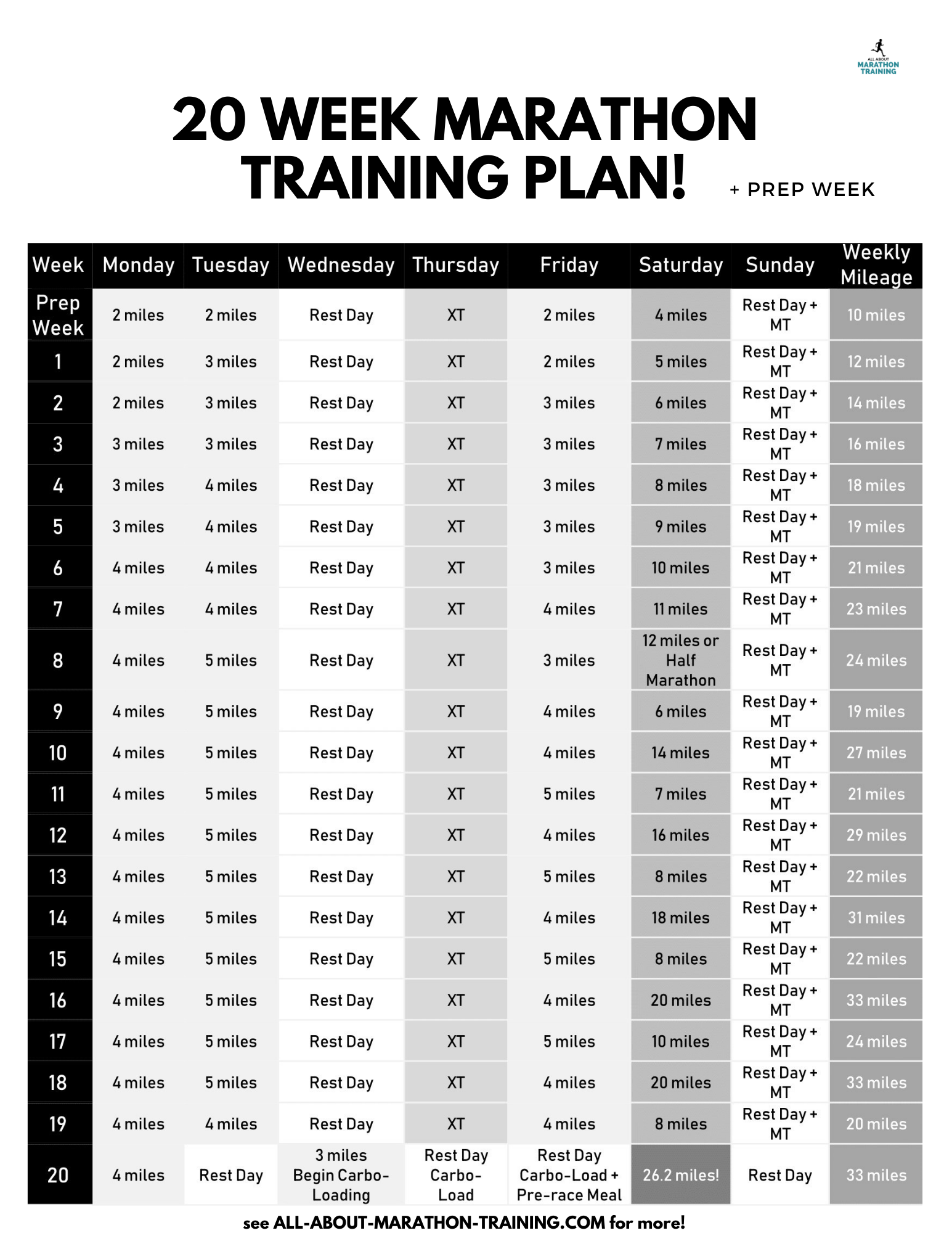 would you like me to send you THE Free 20 Week Marathon Training sCHEDULE in miles and kilometers?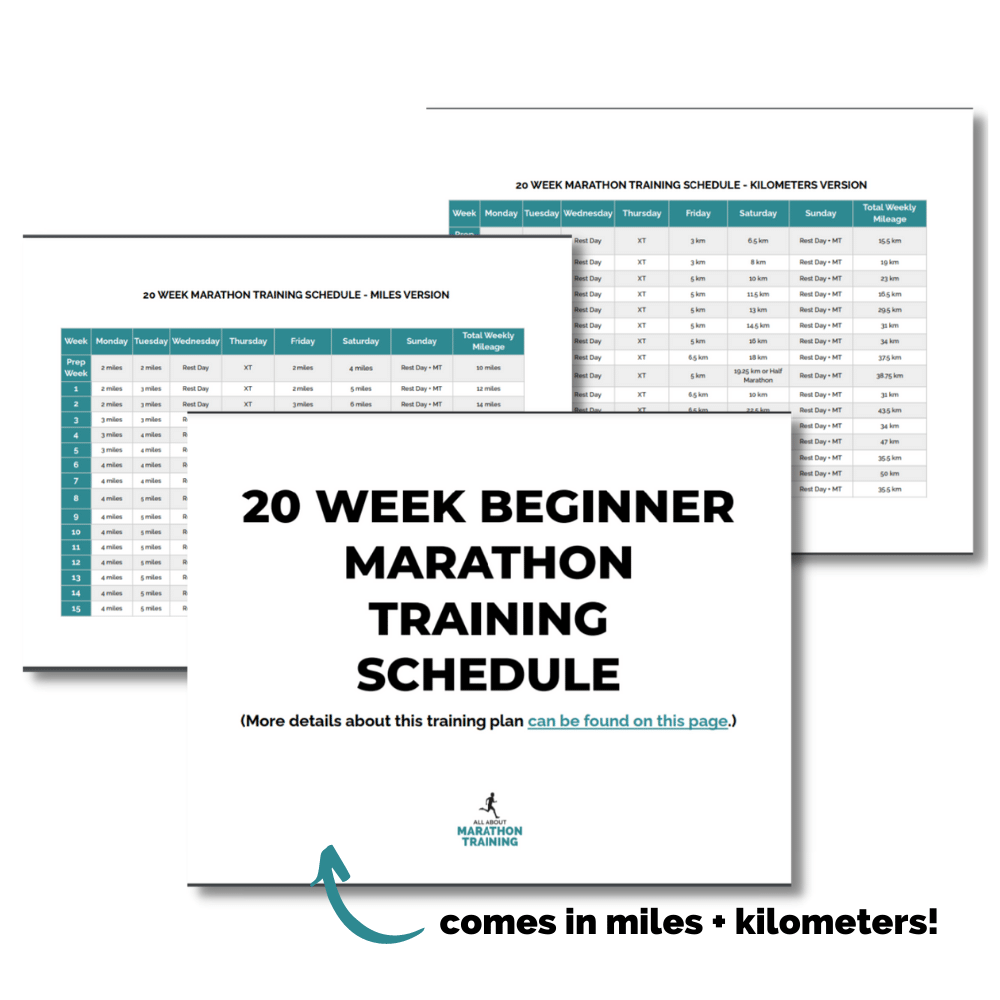 Related Pages: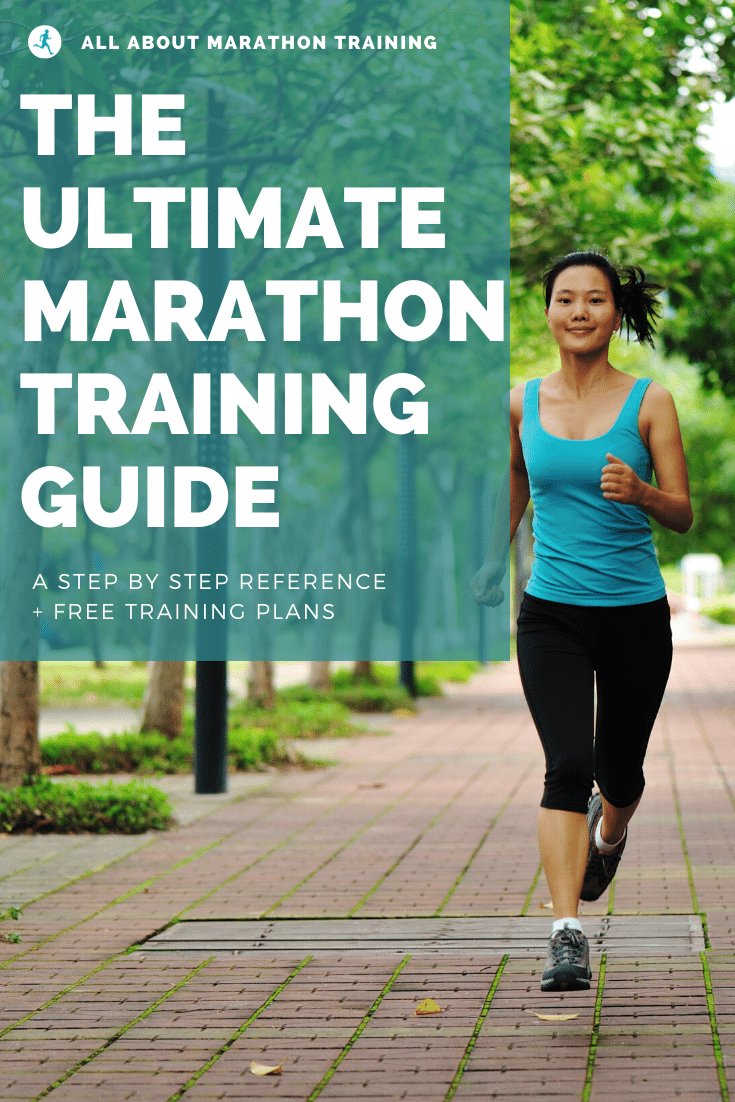 How to Train for a Marathon: Ultimate Step by Step 
List of Best Marathon Training Schedules for Runners
---