A Beginner Marathon Training Schedule

Ready to start your training?!
This beginner marathon training schedule is 16 weeks long and will take you through all of the training that you need and over that finish line!
Don't forget...you can modify this to fit your schedule. The number one thing to remember in beginner marathon training is that you must build the mileage and your endurance.
Here is the Step by Step Guide to Training for a Marathon for a breakdown of everything that you need to consider when training for a marathon. 
Before Attempting this Beginners Marathon Training Schedule...
Be comfortable with running at least 4 miles. If you can run 5-6 miles that will be perfect since your first long run is 6 miles during the first week of training. 
If you can't physically run 6 miles yet you don't want to have force your body to run the 6 miles, become worn out and then be playing "keep-up" throughout the rest of the training. 
So if you aren't ready yet, wait and keep building up your endurance. 
I'd love to send you a FREE download of this training plan for your convenience! Just tell me where!

How is this marathon training schedule designed?
This is a 16 week marathon training schedule for beginner marathoners that is focused on building endurance.
There are no "fancy" workouts such as interval training, tempo runs, hill repeats etc. although these can definitely be added in if you are more advanced and this isn't your first marathon.
The main goal is to build running volume and mileage so that you are able to run and complete the marathon distance.
The key component in this plan is your long run which is the strongest determinant of your success! 
Anatomy of the training weeks:
Each week you will run 3 "easy" runs and 1 long run.
Your long run will increase by two miles in the weeks that an increasing long run is scheduled.
Your highest mileage week will be around 38 miles in Week 13.
Components to this marathon training schedule:
Rest Days:
I don't think rest for marathoners can be stressed enough.
That is why this beginner marathon training program has 3 rest days/week which can be ideal for a beginner marathoner.
It is better for you to rest than to push through miles and become run down. You must rest your body!
If some days you just aren't feeling it then take the day off. If you are injured: REST!
However, if you feel like you want to add cross-training on ONE of the rest days, then do so. (Click on the link for more information on the best activities and the benefits of cross training.) Just don't force yourself into cross training if you are feeling run down.
Also, if you do choose to cross train then try to schedule it on Thursday, in the middle of your training week.
Easy Running Days: 
Each week, (Tuesday, Wednesday, Fridays) you will perform 3 easy runs. If you choose to push the pace then do it on one of these days.
Long Run:
The key element of this plan!
You will perform a long run each week however once you reach your 15 mile long run during Week 5  you will then have an alternating light week, where your long run will be reduced to allow for extra recovery to occur before your next long run.
This will allow you to keep building your endurance without becoming to run down from performing long runs week after week. 
During weeks 11 and 13 you have the option of going longer than 20 miles. You may feel up to it and welcome the opportunity of boosting your race day performance and success. However, if the long runs have been getting the most of you then stick to 20 miles. 
Here are some tips for your long runs!
Beginners 16 Week Marathon Training Schedule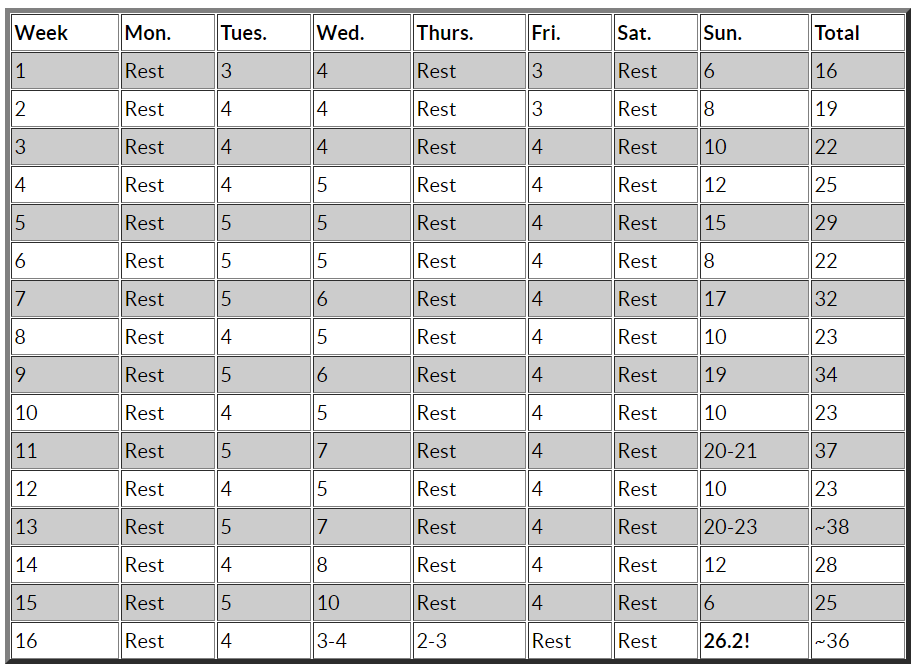 We also have a 32 Week Marathon Training Program if you want to take it slower. This is a great option for those who are very injury-cautious, want to gain more running experience and be better prepared for the marathon ordeal.
Along with training...
You are going to be logging many miles during your marathon training.
Here are pointers on the other 2 BIGGIES that go along with your training.
Nutrition:
You need to make sure your body is getting the right kinds of nourishment to keep it working effectively. (Race Day Nutrition Guideline: Before and After)
Hydration:
One of the most important factors of your training! Without the proper fluids your body is at risk of shutting down. Endurance sports always require you to take in the proper fluids.(Hydration Tips and Guideline)
Don't forget to tell me where to send this marathon training schedule so that you can get right to it!

Related Pages: 
---