BREAK YOUR MARATHON TIME GOAL WITH THESE 16 WEEK MARATHON TRAINING PLANS!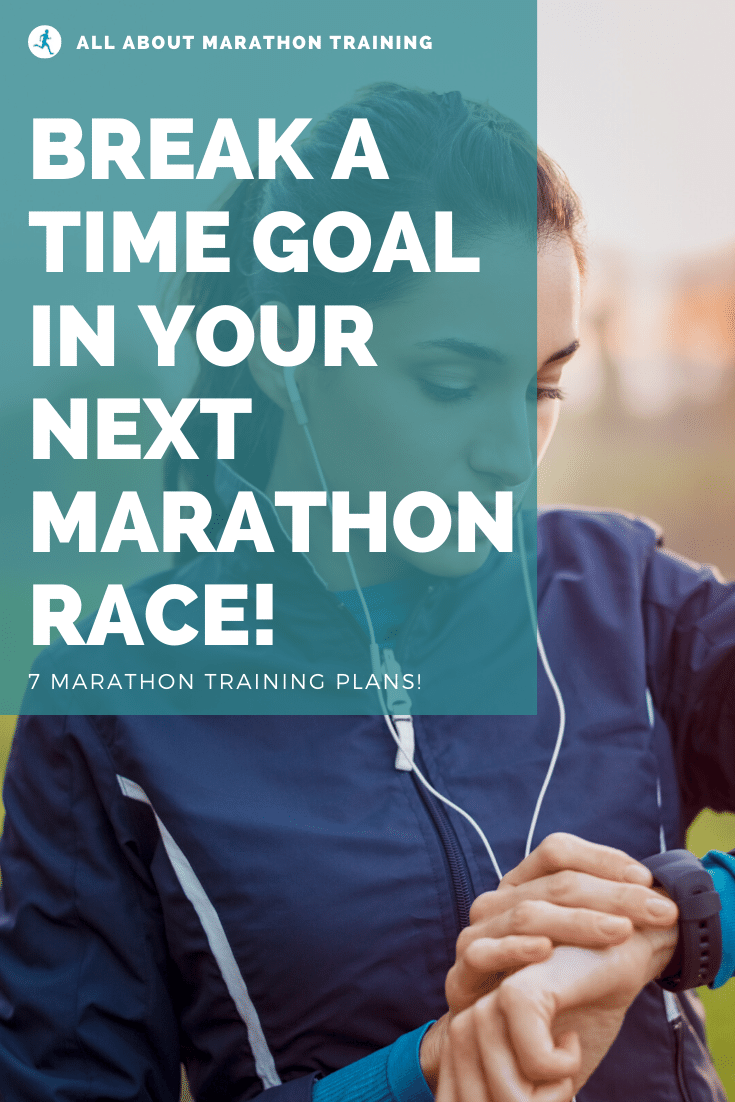 7 marathon training plans that are designed to help you break your finishing time goal!
What is the goal of these training plans?

The BREAK It or BUST marathon training plans are designed to help you achieve a specific finishing time.  

The plans combine base running with a variety of quality runs that will help you gain strength and speed so that you can crush your time goals!  
NEW*: Each plan includes both a version in miles and a version in kilometers!
Who are these training plans for?

This is for you if you have run a previous marathon or have been running for at least 6 months to 1 year.

It would be ideal if you can run about 6 miles comfortably and are comfortable running 15 to 20 miles a week. 
I don't suggest giving yourself a time goal for your first marathon.
Just finishing is a huge success! 
**Here are 5 tips for Choosing a Spring Racing Goal
All BREAK IT or BUST Marathon Training Plans are a PDF download that contain: 

your complete 16 Week training schedule (4 to 5 running days each week with 2 rest days)
training blocks divided into: a 2 week block of base building, 4 week block of strength building, 8 week block of speed training, 2 week prep and taper 
all of the workouts you will (strides, hill sprints, hill repeats, intervals, tempo runs, progressive long runs, goal pace long runs, etc.) need to run + explanations on how to do each workout and why
a goals assessment to help you stay motivated + on target
The training paces you need to run at to achieve the time goal that you are training for
tips on pacing yourself for your time goal
tips on how to modify each training plan
Watch this video to see what's inside each marathon training package!
These time goal training plans are good for you if:
can comfortably run between 4 and 6 miles (6 and 10 kilometers) during a single run
are able to run about 20 miles (32 kilometers) a week
are looking to incorporate running workouts such as strides, hill sprints, hill repeats, tempo runs, intervals, progressive long runs and goal paced long runs
want the satisfaction of achieving the next level in your marathon training and performance
get excited over the idea of crushing past goals
are looking to change up your training and long-distance running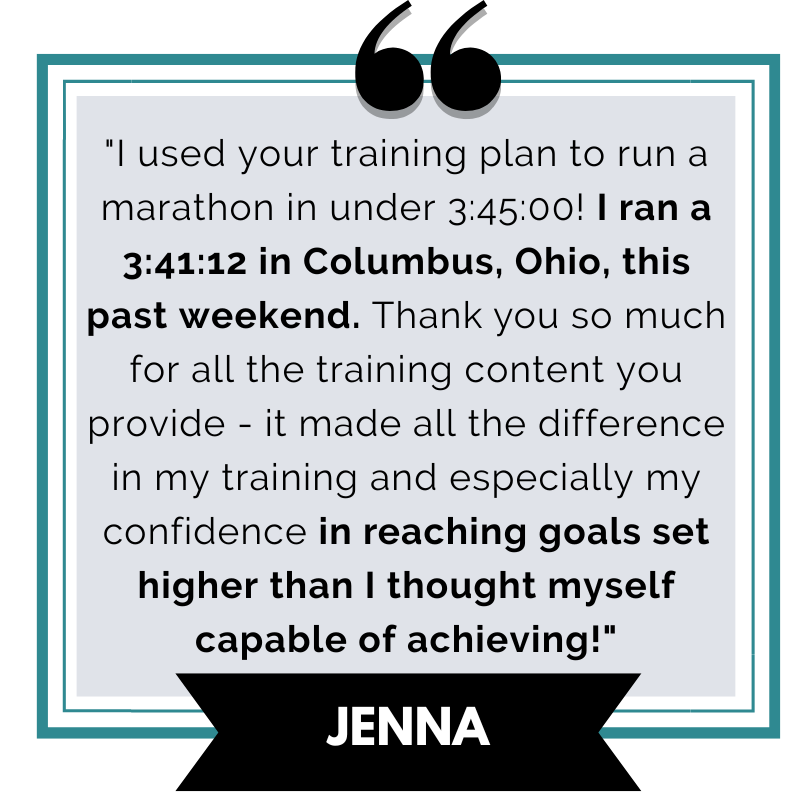 What you will really receive: 
a high level of achievement

huge boost in self-esteem
knowledge on how to train and perform at your highest potential
a marathon finish story with an incredible and strong story of the journey it took you to reach your goal
Your time is now!
16 Week Marathon Time Goal Training Plans
All training plans include both a standard (miles) version and a metric (kilometers) version.
---
---
---