Women Jogging
This section of the site is devoted to women jogging!
There is so much to learn about distance running as a female. It can be a little overwhelming trying to find all of the information. I have saved this section for all thins female runners. Hopefully it will help you learn about your sport as a woman and give you some valuable information that you as a runner need.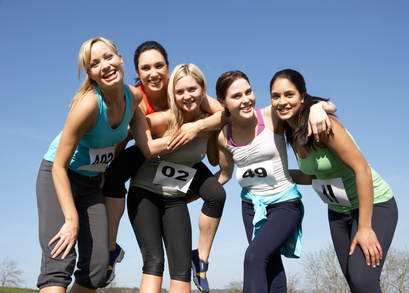 We have so many female marathon runners to look up to: Joan Benoit Samuelson, Paula Radcliffe, Deena Kastor, Kara Goucher, Grete Waitz, Katherine Switzer and the list goes on. We may not be elite athletes but each one of us is inspiring in their own way. 
As a female long distance athlete we show determination, spirit and the will to conquer. My wish is that YOU can help me to build these pages to be an inspiring compilation of what it means to be a female runner.
It can be hard to find the time to run with the hectic life that many of us lead. However it is "making" the time to run that will give us that balance in life that many women crave. Finding this balance usually starts with some much needed motivation. Motivation is what gets us to act. 
And so the idea of these pages is to motivate you to act and find that balance through being a more empowered female runner and lend your running vibe to the women jogging community. 
As a preview, this section is composed of information, techniques, tips, stories and motivation to help you reach your full running potential.
I will be adding to these pages regularly. The following topics will all turn into links as I write about the subject matter. If you want to know about something that is not here or have any ideas on how to improve this section, just let me know through the Contact Us button or in the comments below.
Otherwise Enjoy!
Happy Running!
The first thing is to love your sport. Never do it to please someone else. It has to be yours.                                                                                                                                                                           ~ Peggy Fleming
Mini Sitemap of the Women Jogging Section
An Easy & Effective Skin Care Routine for Runners - We are constantly exposed to the elements (sun, wind, rain, heat, humidity) which can take a toll on our skin giving us a dried out, worn out, leathery appearance. Try this skin care routine or at the very least the weekly skin care treatment that makes all the difference!!
Running through Pregnancy - it is a beautiful thing to keep your body healthy as your baby grows. If you were a regular runner before pregnancy there is no reason, with your doctor's recommendation, not to continue running. See this page for more pregnancy related information.

Running with a Jogging Stroller - Running with a jogging stroller can help new moms to work in a run on the baby's schedule. However it can pose some difficulties as far as gait, pace and running economy is concerned.  Here we look at the physiological differences, how to reduce jostling the baby, and tips to make running with a stroller easier.
Safety while Running - As a women jogging you need to make sure you know how to protect yourself and not be an easy target. It is also important to read the warning signs of health related issues while out on a run. 
Running and the Menstrual Cycle - Our bodies are very in tune with what we do and running can affect your menstrual cycle. Here is what you need to know about running and your cycle, what's normal and what's not. 
Breast Care - Finding the Right Sports Bra - wearing the right sports bra can make all the difference between a comfortable run and one that's not. It also will make a difference in the coming years so treat your girls right and follow these tips. 
Running Skirts - I love how you can still be feminine and cute while running especially with all the pretty colors and patterns that they have out there. And they really can make a difference in how you feel about running!
Male and Female differences as far as running is concerned. - The differences aren't blaring but they are still there. Here is what is keeping you back from staying up with the guys. 

Running with Children
Nutritional concerns for Female Runners
Nike's Women's Marathon
Running After Having a Baby
Return from Women Jogging to the Homepage
---
---

---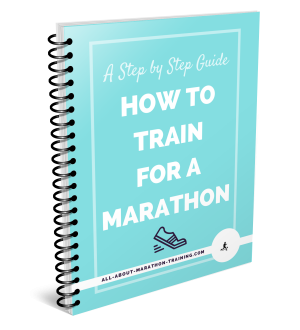 I'd love to send you my FREE 26-page Step by Step Guide on How to Train for a Marathon!

---