What to Wear for a 5K Run in Cold Weather

When the weather turns cold outside, that doesn't mean you need to transition your training indoors.
With the right cold-weather apparel, you can run a 5K and still be comfortable in almost any condition.
In fact, running outdoors on a crisp winter's day can be something so incredibly refreshing IF you are dressed appropriately!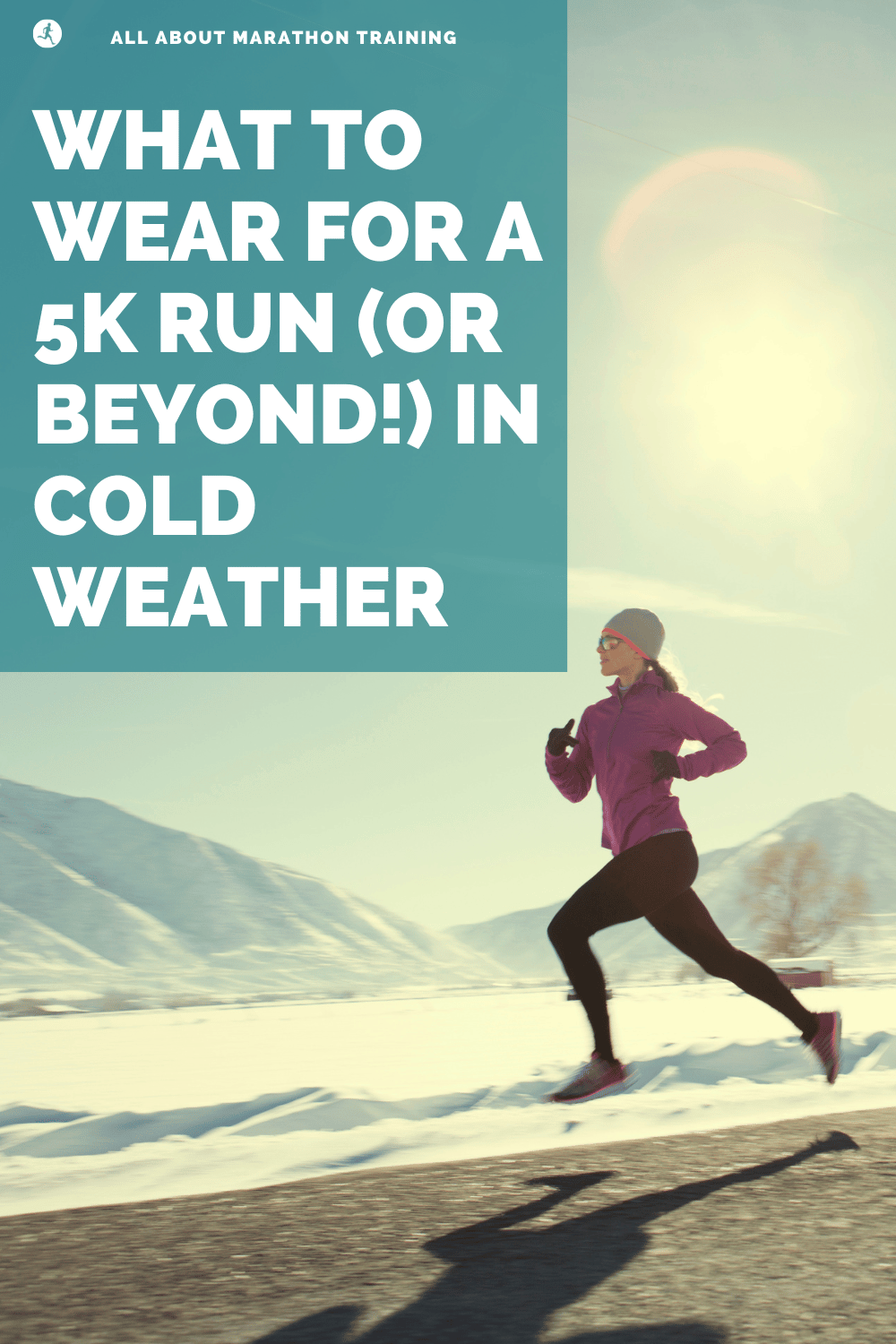 The advanced technologies in modern running clothes allow you to enjoy the benefits of lightweight support without feeling a chill. 

Of course a lot of what you wear will come down to personal preferences however these tips will give you some solid thoughts to go off of and to figure out the right gear that your body needs when running in colder weather
Related: How to Keep Running All Year Round!

Mentally adjust the temperature for an outdoor winter run BEFORE DRESSING
To select the right running clothes for cold weather, add up to 20 degrees Fahrenheit or 10 degrees Celsius to the current outdoor temperature.
This calculation lets you know how to dress for the day while accommodating the increased metabolism from your exercise activities.
Focus On Your Hands and Head When Running in the Cold
It helps to try different things with your running gear to find out what works and doesn't function well for your training.

When winter arrives, consider running in a loop near your home so that adding or removing layers is easier to accomplish and so that you get a "feel" of how you need to dress on future runs. 
The goal should be to embrace a little bit of the chill when warming up, but to be sweaty and warm once the run is over.
When cold days arrive for outdoor training, your running gear's first focus should be your hands, head, and extremities.
Here are some quick tips: 

Try to keep your ears and neck warm while using a sweat-wicking hat to keep moisture away from the scalp.
If it is windy outside, you'll need to protect your hands and feet from the cold.
Wear gloves and appropriate socks for the conditions.
A final step in your preparation work is to protect your exposed skin. Your lips are particularly vulnerable during a run in the cold weather, so use an appropriate balm or a product that covers the area appropriately.
Here are some great options to consider if you're training or running a 5K during the winter.
Earmuffs and hats 
On a cold day, the best option for runners is a wool hat or fleece hat that covers the whole head.
It keeps your head warm when you feel the chill, but it can get tucked into a pocket or your pants if you start overheating.
If the weather is above freezing, consider wearing a hat with a visor or brim, like this one, to have some sun protection.
Some runners like to keep their heads exposed but still want to cover their ears.

A pair of comfortable earmuffs can accomplish this task during a 5K run or beyond.
The best designs are tight enough to stay in place with your running impacts while not being restricted to the point they become uncomfortable.
Face masks & balaclavas
A ski mask provides complete coverage for your head.
It only exposes a portion of the face, with some designs leaving room for only the eyes. Most products in this category are made of wool or fleece.
Most runners don't need face masks or balaclavas unless the temperatures drop under 10°F during a 5K run or longer.
I have a great guide to the best face masks and balaclavas for running in colder temperatures.
It helps to look for models with superior breathability.
They have small holes built into the material to accommodate moisture and air movement while restricting how much the cold temperatures come through it.
If you don't like the idea of wearing a full face mask, consider using a half balaclava instead.
This option wraps around the lower portion of your face, covering the nose and mouth to prevent discomfort, frostbite, and chapped skin while exercising.
A neck gaiter can also help to simply warm the cold air that you are breathing in when in cold conditions.
Here's my favorite picks for balaclavas, neck gaiters and face masks. 
mittens or gloves
Keeping the fingers and hands warm while running a 5K or longer during the winter is essential.
If you feel uncomfortable at all, the quality of your training effort could be adversely impacted. Persistent exposure could also lead to skin chafing or chapping.
If it gets too cold outside while running in winter, especially if it is a windy day and there could be frostnip or frostbite implications due to the wind chill factor.
Exercising with insulated running mittens or warm gloves is the best solution.
The materials should wick moisture away while offering breathability without compromising on the warmth provided.

Today's bests workout gloves and mittens offer features that let you use touchscreen devices for music, tracking routes, or emergencies.
For extra warmth consider adding hand warmers into your gloves.

Or even using rechargeable hand warmers inside of your mittens.
Some runners experience Raynaud's Phenomenon, which causes the hands and feet to be more sensitive or overreact to cold temperatures. The fingers and toes can become numb and painful, and many people have the skin change colors to pale, then blue. It helps to wear gloves under mittens to protect your extremities in this situation. You can also speak with your treatment team about using electric gloves with built-in warmers for the fingers. 
lip & skin protection
Cold temperatures can cause sensitive skin areas to chap or crack.
One of the easiest ways to correct this issue is to apply petroleum jelly to the exposed portions before starting to run.
Specific lip balms for cold weather are also available to consider.
You can apply the petroleum jelly to your cheeks and nose (or other exposed skin). 
I have always used and loved the Carmex lip balm brand. This weather guard Carmex is perfect for outdoor winter running! 
Another good tip that we don't often think about in the colder months is to wear sunscreen. That bright winter sun still reflects damaging UV rays so don't neglect to take care of your skin even in the winter.

Many runners experience sunburns during a 5K run in the winter when snow is on the ground. The light reflects off its surface, intensifying your exposure while outside. A high-quality sunblock or sunscreen provides essential support in this area.
Use Layers to Stop the Cold Weather

The best way to dress for cold runs is to use layers of clothing.
Incorporating layers trap body heat keeping your overall core temperature higher.
When dressing in layers for a winter run, it helps to use synthetic materials since they provide lightweight supports without compromising your warmth.
It helps to use a three-pronged approach to dressing in layers, whether you're out for a 5K run or a day exercising around the neighborhood.
To understand how to layer your running apparel for a productive race or training session, it helps to know the function of each one.
Here's a closer look at what to expect when dressing in layers for a winter run.

Think of layering in 3's: the base layer, middle layer and outside layer. Here's why. 
1. Base layer
This first layer is the one that sits closest to the skin.
When shopping for a base layer, look for a base layer, look for a sweat-wicking base layer.
It should wick moisture away from your body to prevent sweat's cooling effect from happening when temperatures are below freezing.
You'll find several options in this category, from running tights to long sleeve shirts.
2. middle layer
You need this layer when running because it provides the insulation you want against the cold.
The apparel in this category is responsible for two actions.
It keeps your body heat inside while preventing outdoor temperatures from adversely impacting your core.
3. outer layer
The outer layer is also referred to as the "shell," this running apparel is responsible for shielding you against the rain, snow, and wind that can arrive in winter.
Even if you don't think you'll need all three layers for a 5K run, it helps to take them all with you.

It's always possible to take off something if you get too hot, but you cannot add clothing you didn't bring if you start feeling cold.
If you're looking for layering ideas that can help you stay comfortable while running, the information below provides some options to consider so that you can stay active.
LAYERING EXAMPLES
---
APPAREL OPTIONS FOR THIS LAYER
---
COLD WEATHER
Consider using midweight poly long underwear for the upper and lower body.
Midweight fleece pants provide some thermal insulation, especially when combined with a running jacket with synthetic fill.
Use a breathable and waterproof shell for pants and rain gear.
---
RAINY WEATHER
Venting is crucial during winter runs when it starts to rain.
Consider having a light jacket made out of fleece on top of a base layer of standard poly long underwear.
Use hiking pants, then a waterproof shell.
Here's a guide + tips on running in the rain. 
---
WARM WEATHER
It can get hot during a winter run, so consider having simple poly briefs with a short-sleeve t-shirt in this circumstance.
Use nylon hiking pants to support your activities if you don't want shorts.
A lightweight windbreaker offers an extra layer for warmth if needed.
how to keep the upper body warm during a winter 5k run
It helps to use a three-layer strategy to keep your upper body dry and warm during a winter run.
When the temperatures are around freezing, you can usually skip the insulative layer.
1. Sweat wicking base layer materials
For the wicking base, use a synthetic material built for wicking moisture. Several options are available in this category.

Thinsulate
DryFit
CoolMax
Thermax
Silk
Polypropylene
You don't want to wear cotton socks or shirts for the base layer because these materials retain moisture.
Once it gets wet with sweat, it stays that way. You'll eventually lose the heat you want to maintain during the run.
2. middle layer materials:
With the insulating layer, you'll see most products are made with fleece for runners.
This option provides the right combination of weight, comfort, and support. The goal is to trap some of the air inside to keep you warm while releasing enough heat and vapor to prevent overheating issues.
The secondary layer has a few brands and options to consider.
Select the material that feels the most comfortable so that you can focus on the 5K run in the cold.
Thermax
Thermafleece
Akwatek
Polartec
3. outer layer materials
Your outer layer should offer a protective shell to ensure no precipitation or bothersome winds can impact the run.
Jackets with zippers are a great option because you can easily regulate body temperature by opening or closing the apparel.
Look for the following options when preparing to exercise.
ClimaFit
Gore-Tex
Supplex
Microsuplex
Windstopper
how to keep the lower body warm during a winter 5k run
It helps to review what you want to wear on your legs to enjoy a 5K run in the winter.
Since this part of your body generates significant heat, you won't need as many layers to protect against the cold.
Most runners can put on a pair of comfortable pair of tights or joggers made of synthetic materials like Thinsulate, CoolMax, or Thinsulate to manage the weather.
Should the temperature drop below 10°F, a second layer on the legs and lower body might be worth considering.
You can add a waterproof and wind-proof layer, such as track pants, to keep your focus on your rhythm.
Compression socks, tights or leggings can also be a great option as well when running in the cold especially if you suffer from any type of varicose veins or circulation problems. 
Safety Precautions to Take on Winter 5K Runs

The winter brings us shorter days and longer nights.
That means your 5K races are more likely to have some moments around dawn or dusk when it is harder to spot runners on sidewalks and roads.
You'll want to add bright running apparel and reflective items to your gear to ensure you can be seen.
The best colors for running in the early morning or evening hours are neon, orange, yellow, or white.
Anything with reflective tape or tags makes it easier to be seen, but lighter is always better than darker when picking your apparel options.
Here are more tips for running safely and a guide to running safely when it is dark outside. 
How to Keep the Feet Warm During a Winter 5K Run

Your best option for keeping your feet warm during a winter run is to keep them moving while wearing socks that stay dry. Sweat is one of several enemies to consider during this season.
You could find puddles, slush, or snow on your usual running route.
The best running shoes for winter have minimal mesh. You don't want moisture or cold air seeping into the footwear to bother your skin.
If you can't avoid snow, consider upgrading to a waterproof trail-running shoe. You'll have more traction and protection from the elements.
Merino wool socks or fabrics made from acrylic are excellent choices for keeping the feet dry and warm. Cotton can cause blisters to form, creating more problems for your run.
Since winter running socks tend to be thicker, you will need to reconsider your running shoe size.
Getting a wider design or stepping up a half-size might be necessary to prevent your feet from being too tight.
If your foot doesn't have enough room to move naturally and comfortably, you have a higher risk of experiencing an injury.
A Final Thought About Running During the Winter

Winter running can deliver numerous temperature and precipitation challenges to manage.
If you're preparing to run a 5K, it is often better to come over-prepared and adapt than to realize you don't have enough support.
When you take the proper precautions, cold weather running can be a safe and comfortable experience.
That process starts when you take a few extra moments to prepare wisely with your apparel and layering strategy.
I highly recommend getting a basket or bin of all the gear that you use when running in the cold weather so that you are always prepared and have everything that you need to use in one spot.
Don't forget to add in non-clothes items such as lip balm, your safety running vest, any type of headgear that you use such as a running headlamp or a warm thermal hat.
Happy Cold Weather Running to You! May all your runs be merry and bright! 
I'd Love to stay in touch!
Join 23,000+ Other runners and receive my weekly training newsletter!
I'll send you my  free 24 Hour Timeline Checklist of Things You Should Do After a Long Run  when you sign up!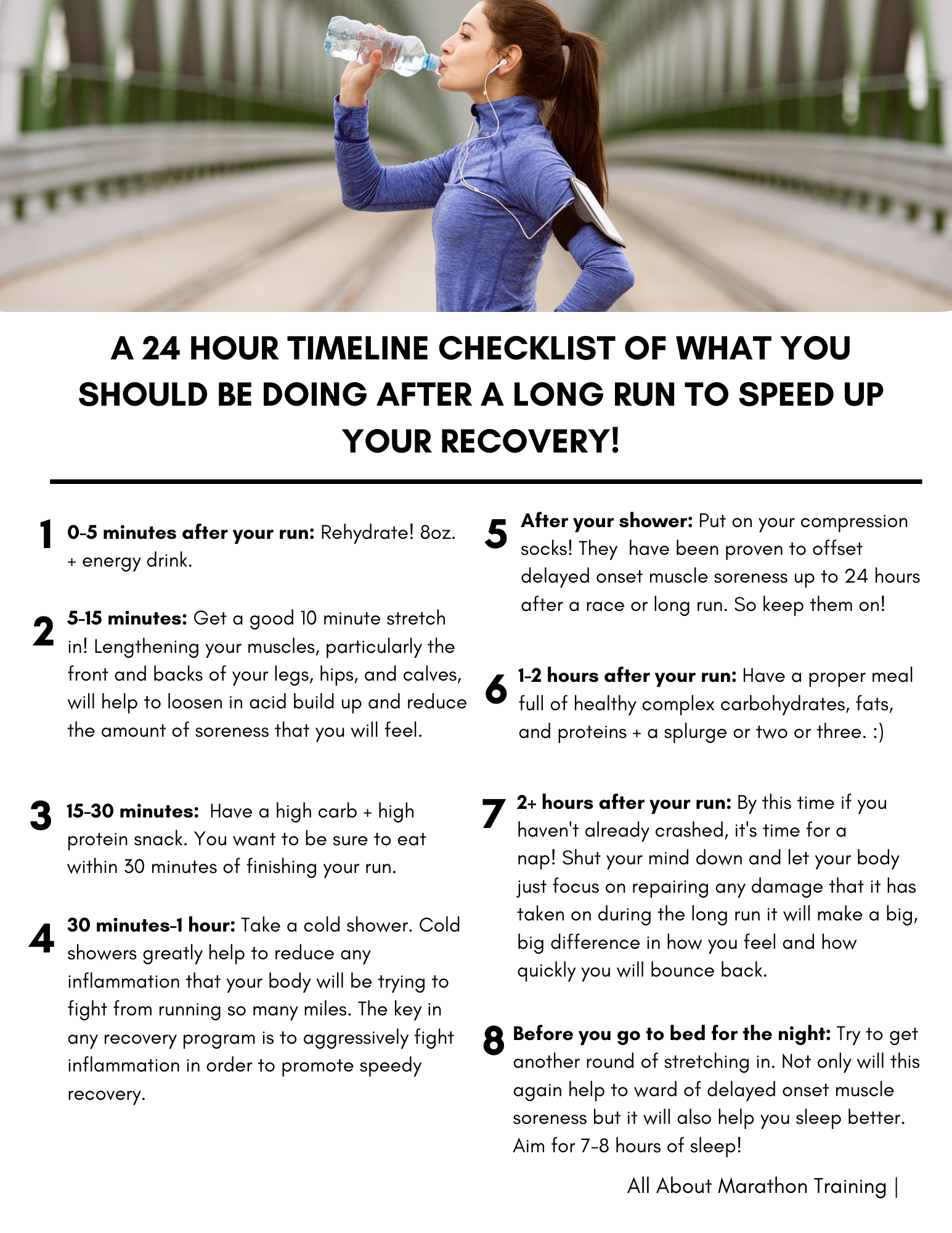 As featured on:

Sources: 
https://www.wellspacehealth.org/medicalmythmonday/medicalmythmonday-do-we-lose-body-heat-through-our-heads
 https://myhealth.alberta.ca/Health/aftercareinformation/pages/conditions.aspx?hwid=uf8825
 https://www.livescience.com/64150-can-winter-sun-cause-sunburn.html
https://theplanetd.com/layering-tips-for-cold-weather-travel/
https://orthoinfo.aaos.org/en/diseases--conditions/tight-shoes-and-foot-problems/
---