Running in the Rain + Running Rain Gear

Let's talk about running in the rain!
With the rainy spring season being the prime time to run a marathon or half marathon a lot of runners will have to deal with running in less than ideal weather. 
It's all about being prepared though. You can still set a PR, qualify for Boston, or meet your time goals with a few thought out strategies and the right running rain gear to keep you a dry and happy runner.
8 Tips for Running in the Rain + Running Rain Gear
1. If it's pouring, wear sunglasses. 
If it's sprinkling, do with out them.
Glasses will shield some of that water from getting in your eyes. However, if it's sprinkling it will just be a minor annoyance as the rain will partially cloud your vision.
 These glasses have anti-fog properties and can be worn in the rain and won't cloud your field of vision.
2. Wear a running cap! 
This was suggested by a reader who runs in the Northwest region of the United States where running in the rain is inevitable, as being more effective than wearing sunglasses alone.
He says that it helps to keep the water from striking his face and clouding his eyes which means a greater field of vision. (And less irritation!)
Here is a breathable running cap that has quick drying features.
3. Dress in cheap layers. 
By cheap, I mean something that you can peel off and leave behind that you won't miss.
If the weather is warm, opt for shorts or a running skirt versus pants. Water on your skin feels better than wearing soaked clothes.
Also, have a set of clean, dry clothes ready for you to change into when you are finished. If you are running a race you could also have one of your die-hard fans along the race course hand you a dry shirt or jacket.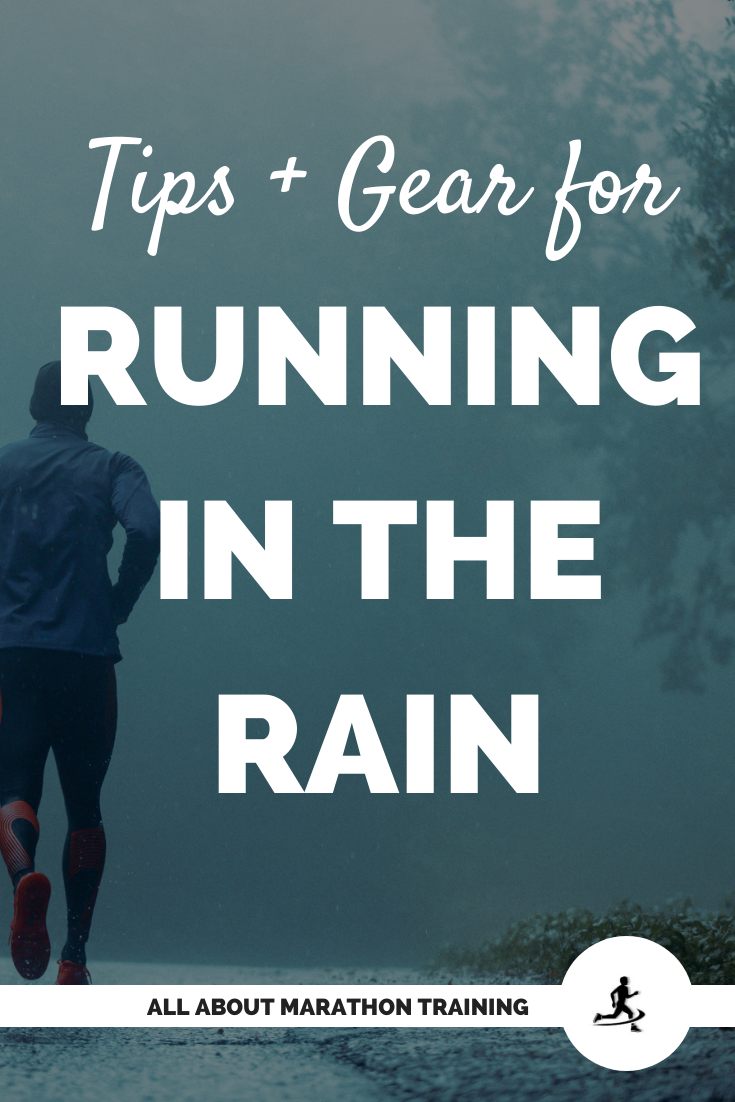 4. Put Body Glide or Vaseline on areas that easily chafe. 
The rain water will cause you to encounter more blisters and chafing due to the increased friction.  
Therefore, rub Body Glide on the back of your ankles, your inner thighs, and any other place where you are prone to blisters, chafing, etc.  
If you're a male, forget the nipple band-aids that will only fall off when wet and opt for body glide.
If you're a female, don't forget along your bra line and around your arm-pits.
5. Running in wet shoes is a pet-peeve of mine. 
Consider taking along an extra pair of socks with you to change into.
Also, did you know you can make your shoes water proof with a hotel shower cap! I have never tried this personally but one reader said, "My last marathon we wore those cheap vegetable bags from the supermarket (i.e. that you put apples in) with rubber bands when we had to run on the wet sand of the beach—it would work for rain as well to keep shoes dry!"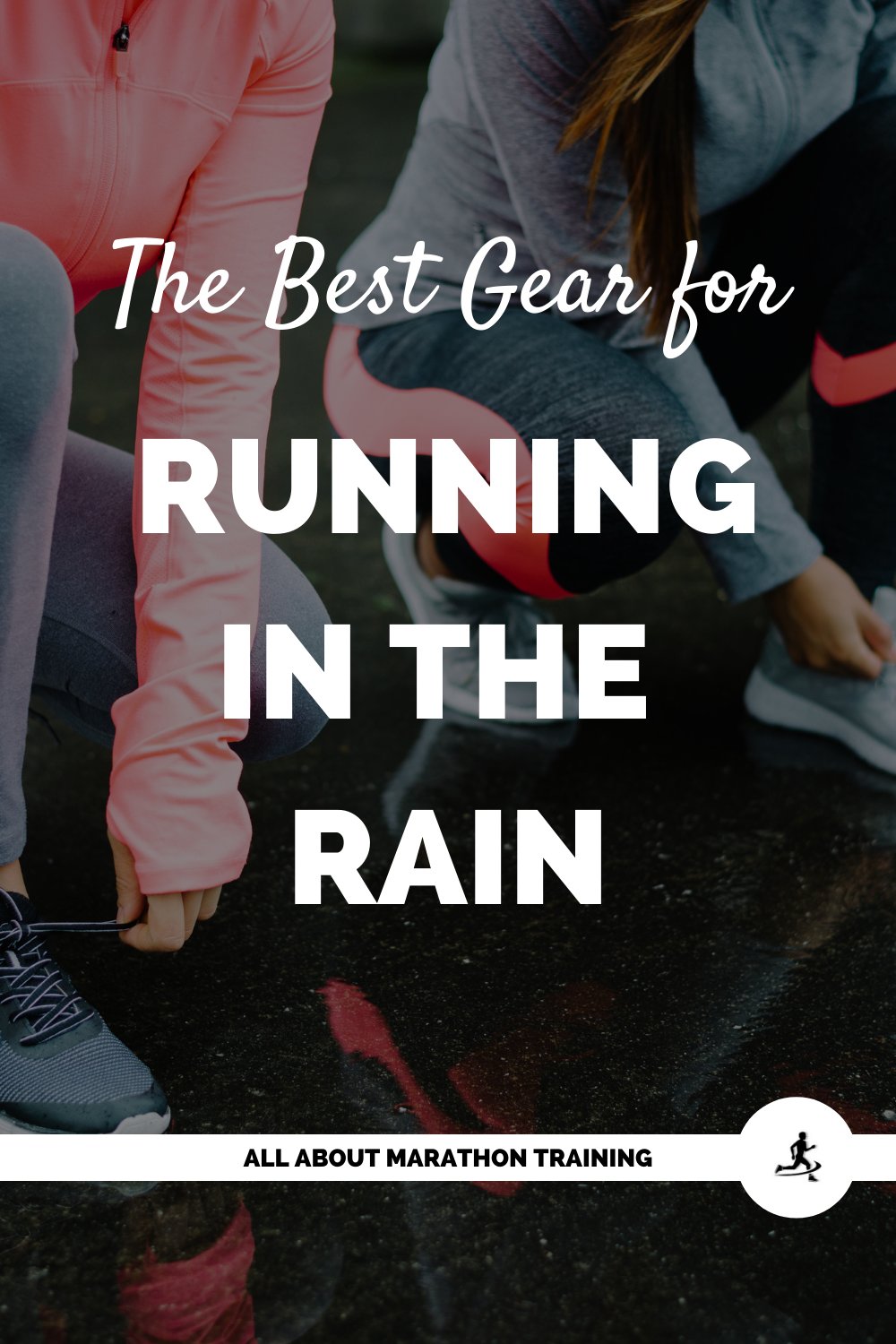 **Expounding on this article is one from Whitney over at The Mother Runners - What Should I Wear For Running in the Rain?

6. Wear a rain poncho designed for sweating. 
Stay away from running in plastic bags. Bags aren't as breathable and you body won't effectively be able to heat or cool itself or evaporate your sweat which can lead to other problems.
Here is a breathable poncho that even has a zippered area for your device.
7. Keep drinking fluids. 
Its harder to realize that you're thirsty and that you need water when you are wet or cold so stick to your normal hydration routine.
If you don't have a hydration routine maybe tell yourself to drink something after every 2 miles or after every 20 minutes. Your body still needs to stay hydrated no matter how wet the weather is.
8. Pop the Vitamin C when you are done. 
Your immune system will already be in a compromised state from racing but it will be even more affected by running in the rain.  Take at least 500g of Vitamin C (this is my favorite brand!) to build it back up.
Running Rain Gear Shopping List of Items Mentioned in this Post: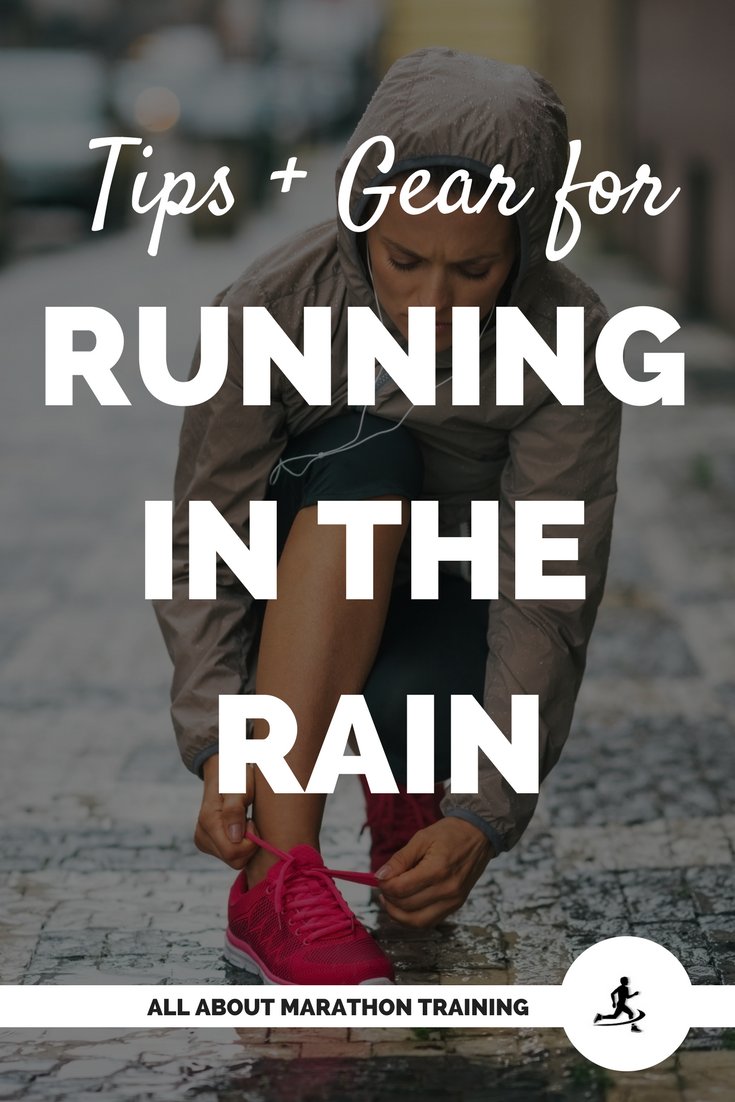 Running in the Rain Sunglasses
Tried and True Running rain jacket for Women 
Another 5 Star Men's Running Rain Jacket
Breathable Rain Poncho for Runners
Related Pages:
I'd Love to stay in touch!
Join 23,000+ Other runners and receive my weekly training newsletter!
I'll send you my  free 24 Hour Timeline Checklist of Things You Should Do After a Long Run  when you sign up!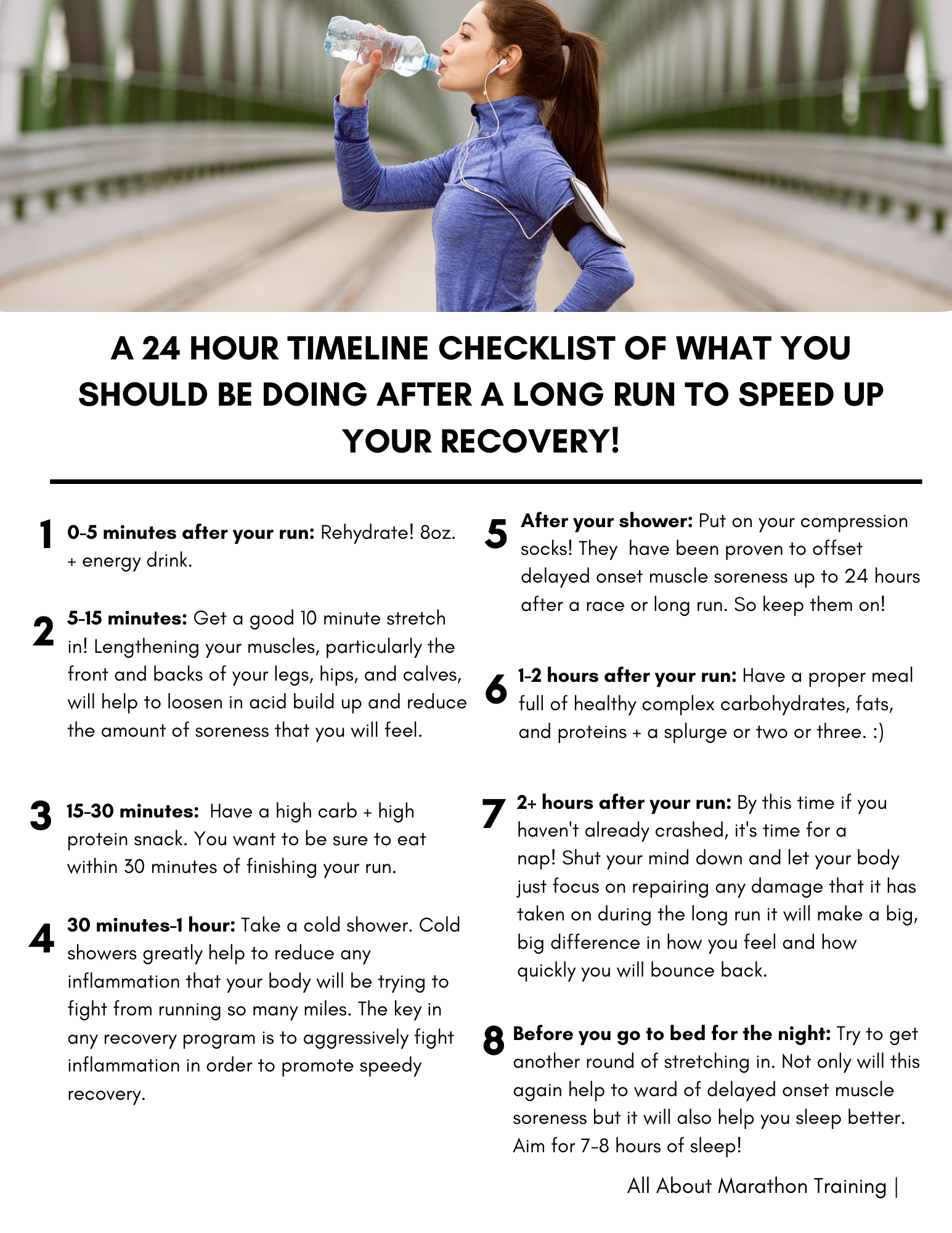 As featured on:

---