Our Free Training Tools, Plans, & Resources on the Site! 
THE ULTIMATE MARATHON TRAINING CHECKLIST: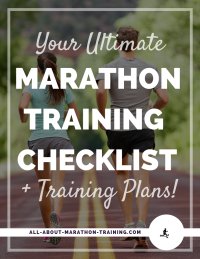 A Series of 5 Lists to help you throughout the marathon process! 
Your Before You Begin Training Checklist
Your While You are Training for a Marathon Checklist
Weekly Marathon Training Checklist
Long Run Training Checklist
Marathon Training Essentials Shopping List
7 DAY WEIGHT LOSS CHALLENGE FOR RUNNERS
A 7 Day Weight Loss Challenge for Runners to jump start their weight loss journey. It comes complete with rules, a shopping list, menu plan, and an exercise schedule! 
PAGES WITH FREE TRAINING PLANS
 FREE MARATHON TRAINING PLANS
The 32 Week Beginner Marathon Training Schedule
The 16 Week Beginner Marathon Training Schedule
12 Week Intermediate Marathon Schedule
The 16 Week Intermediate Marathon Training Schedule
FREE HALF MARATHON TRAINING PLANS
6 Week Half Marathon Training Plan
8 Week Half Marathon Training Plan

12 Week Beginner OR Intermediate Half Marathon Program
16 Week Half Marathon Walking Program
A 13 Week Summer Half Marathon Plan
PAGES WITH FREE TRAINING TOOLS, RESOURCES & DOWNLOADS
---