Top 3 Most Important Things to Focus on During Marathon Training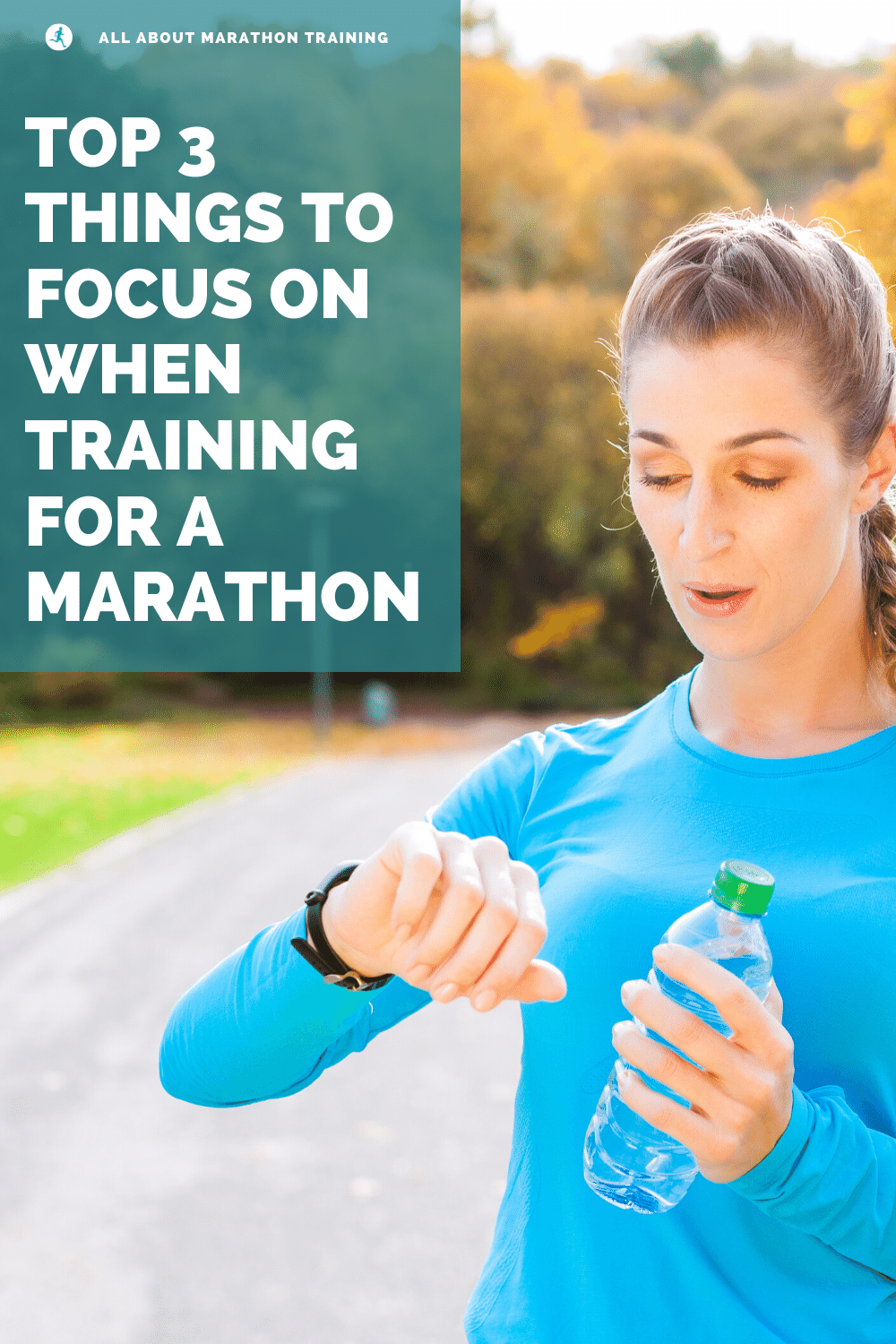 Marathon training can be overwhelming whether you are running your first marathon or your 15th.
It's a big goal and one that you want to be successful at since you are putting so much time and energy into reaching that goal! 
Having a clear idea of WHAT you need to focus on will help you gain a sense of control over the process and give you a road map of what you need to be doing during your marathon training journey. 
So, I'm going to help break it down for you into the top 3 things that you must focus on while training for a marathon. These are:
your training plan
your nutrition
and your mental training. 
Let's talk a bit about each one of these areas.
MARATHON TRAINING FOCUS #1:
Your Marathon Training Plan
This is such an obvious part of your marathon training. It's hard to wing 26.2 miles without a training plan. 
There are so many training plans out there though. It can be difficult to find the one that is in alignment with your goals and running lifestyle.
Here are some things to consider when you are choosing a marathon training plan: 
1. It's important to have confidence in your training plan and it's equally important that you feel confident in the person or coach that designed the training plan.
Running a marathon is largely a mental challenge.
If you can be confident that your training plan and the coach behind it can get you to that marathon finish line then you will be taking a big step in making that a reality.
So find a coach or marathon trainer that speaks to your running style and gives you the support that you need.
I'd love for you to use one of my marathon training plans if they are congruent with your goals!
You can see all the marathon training plans that I offer on this page.
2. Review the training plan to make sure that the workouts and training blocks that are included match your marathon goals. 
Do you want to run your first marathon? You might not want to do a lot if any speed training.
Are you trying to reach a time goal? Make sure you are including speed training and hill training.
Here are some other things to consider:
Do you want a more intense training cycle? 
Do you want a more laid back approach? 
Do you like doing a mix of workouts or do you prefer just doing simple base runs and long runs? 
How long do you want to be training for?
These are all things that you should think about when choosing your training plan. 
3. Review your training calendar alongside of your life calendar. Will you have any vacations or traveling that will keep you from your training? 
Do you have any big events that will keep you from training during that time?
Look ahead to see where you might need to make modifications in the plan. Then you can reach out to your coach or the person who designed the plan if you have any questions on how to make those modifications in advance so that you are not falling behind. 
4. Stick to the plan. 
This is another obvious one but if you are going to be following a certain plan, then follow it.
A good marathon training plan is not a bunch of runs thrown on a calendar in any old way.
A good training plan is designed to help you build endurance, strength, and speed in what is called a "periodized" format to really help the runner be successful. This allows the runner to reach a "peak" at a specific point of the training plan that will allow them to run their best possible race.
It really comes down to a science of when you want to peak - not too early and not too late.
Sticking to your training plan and making any modifications under the guidance of a running coach will help you to reach your most optimal fitness level for your marathon race.
MARATHON TRAINING FOCUS #2:
Your Marathon Nutrition

Alright, let's be frank here. If you aren't giving your body the energy that it needs then it won't be able to allow you to run 26.2 miles. It's like putting gas in your car. If you want to go the distance, you will need the fuel to do it. 
This is what "hitting the wall" is all about. Your body runs out of glycogen (carbohydrates) that it needs to keep up your desired pace and your ability to run such a long distance. 
Nail your nutrition and you will nail your marathon race. 
Here are a couple of pointers on how to focus your marathon nutrition:
Complex carbohydrates are key before, during and after your long runs.
Protein does not fuel your running however it's important in the muscle recovery process.
Hydration cannot be over-emphasized. Drink lots of water every. Single. Day. of your marathon training. This is a priority. 
Make sure you are eating enough! This is not the time to try to skimp on calories. You don't want to go overboard but you do need to make sure that you are giving your body enough of what it needs. 
I have SO many resources on marathon nutrition. Here are a few:
Racing Nutrition Guideline for Runners before Race Day
The 7 Staples of a Marathon Training Diet
Half Marathon Training Diet vs. Marathon Training Diet
If you like a done-for you marathon nutrition plan then be sure to check out our ultimate resource the EAT LIKE A MARATHONER Nutrition Course. 
Make your nutrition as important as your marathon training plan and let it work with your training plan. Plan to eat differently on long run days, recovery days, speed training days and cross training days. It really will make or break your race! 
MARATHON TRAINING FOCUS #1:
Your Mental Training
Mental training is perhaps the most neglected part of the entire marathon training process. Yet, it is one of the most important parts of the process! 
Marathon running follows the 80-20 rule. 80% of it is a mental battle, 20% of it is a physical battle. You will reach a point in your marathon training when you physically CAN go farther but you mentally feel like you absolutely CANNOT. 
You need to learn how to combat this. If you can talk yourself through the hard times, you will be successful. How you think is how you feel is how you will do!
It all comes down to your brain and what you are feeding it! 
Here are 7 reasons why mental training is so important for marathoners!
There are many strategies and tactics that you can use to become mentally stronger. My most preferred method though is self-talk or self-coaching. It is so powerful and absolutely works! 
Here are some tips on training yourself mentally during marathon training:
Be aware of your thoughts. You are having a constant dialogue with yourself during your training runs and during the race. 
Talk to yourself positively. Catch yourself when you are having a negative thought. Change it into a positive statement. 
Learn to redirect your focus. Don't focus on the pain, focus on the gain! 
Practice mental training during your long runs! This will be your strongest predictor of success. 
Mental training is so important for runners but marathoners especially due to the sheer distance that they are running which is why I put together Develop Your Marathon Mindset: a 20 Week Mental Training Plan for Marathoners! 
It gives you mental training prompts and tactics to practice during each week of your marathon training plan so that you can develop and learn techniques and motivational tools to help make your training and race day easier!
Focusing on your mental strength will take your marathon to the next level! 
There, in a nutshell, are the 3 biggies that it comes down to in running a great marathon!
Your training plan, your nutrition, and your mental training!
Now it's time to see where your training might be lacking?
What do you need to focus on?
What do you struggle with the most? 
Hope this helps to give you a sense of direction in your marathon adventure! 
Related Pages:
I'd Love to stay in touch!
Join 23,000+ Other runners and receive my weekly training newsletter!
I'll send you my  free 24 Hour Timeline Checklist of Things You Should Do After a Long Run  when you sign up!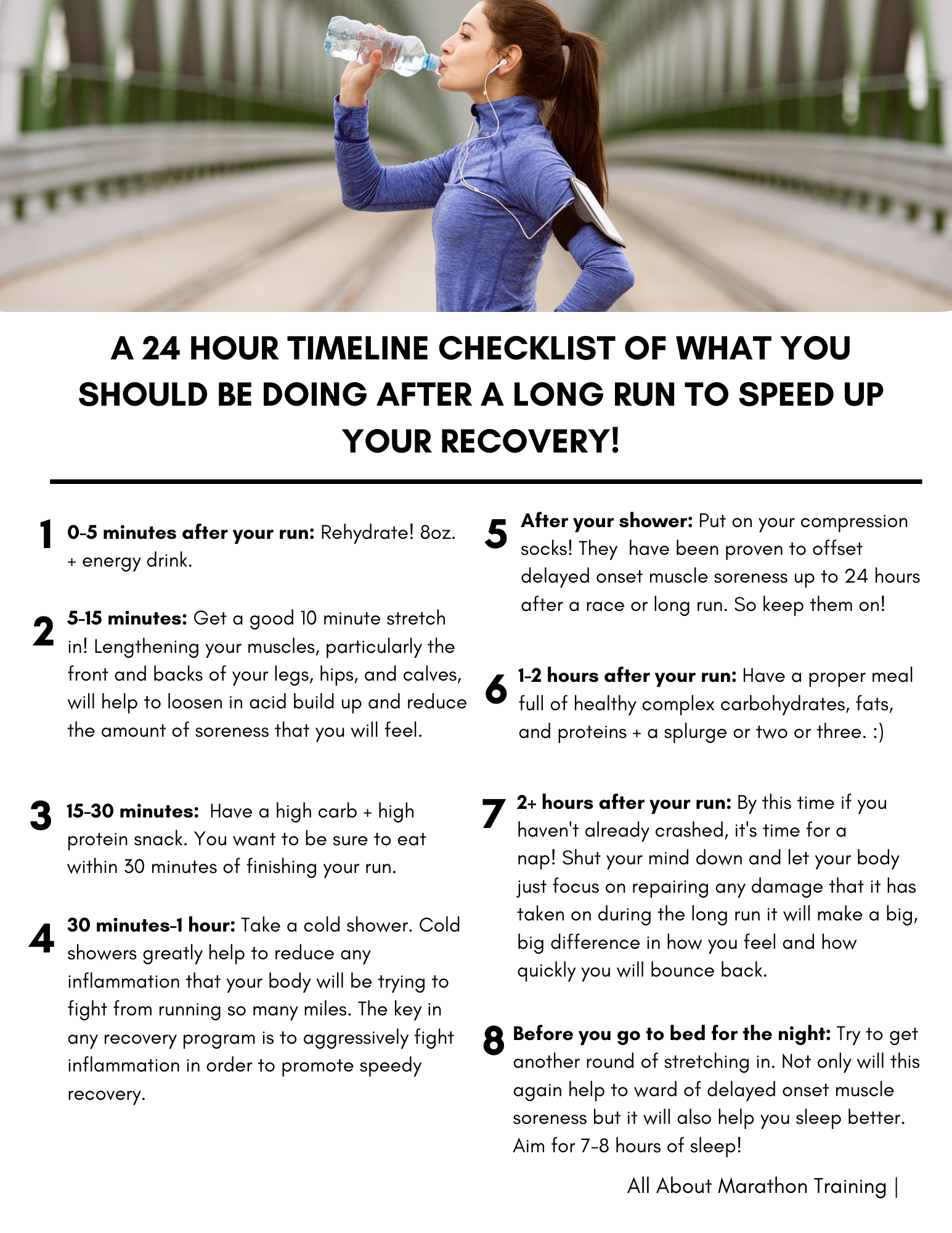 As featured on:

---