10 of the best lunch ideas for runners
 If you're an avid runner determined to improve your performance, good nutrition is an essential part of the equation.
It's not just about what you eat after you run, but having the right fuel before and during your training as well.
Eating the right foods can help with energy levels and give you more endurance.
Post-run nutrition is important too: a combination of lean protein and carbohydrates helps muscle recovery so you are ready for your next big race.

Being mindful of what you eat can make all the difference in achieving maximum performance as a runner.
When it comes to lunch, it can sometimes feel boring and you may not be in the mood to cook a full-blown meal that is also super healthy.
Energy bars and highly caffeinated energy drinks may also be tempting but neither provides the proper nutrition and hydration you need for a long run.
Sports drinks (Here's the best energy drinks for marathon runners!) on the other hand will help keep you hydrated and energized for longer runs but they also don't provide the nutrition you need.
The best foods are those that are full of whole grains, healthy fats, and complex carbohydrates.
I've put together this list of the best lunch ideas for runners.
Whether you're looking for something to eat before or after your next run or just want some inspiration, these healthy meals will help you hit the ground running while keeping your blood sugar levels in check.
Quick tips when fueling up for lunch as a runner:
Try to stick to complex carbohydrates (more whole foods carb sources than processed simple carbohydrates)
Think about whether you have a long or short run coming up so that you can
Don't overthink sides to much. A piece of fresh fruit, some sunflower seeds, trail mix will help to sustain your energy stores!
best lunch ideas for runners list:
1. Peanut butter And Jelly Sandwich on WHole Grain Bread
With just a few simple ingredients, you can have an undeniably tasty and surprisingly nutritious meal in no time flat.
All you need is some jelly (look for an organic fruit spread), natural peanut butter, and fresh whole grain bread.
You can also use other nut butters such as almond, cashew and pecan.

2. Turkey, Cream cheese, and spinach on a whole wheat tortilla
Here's how to make this delicious sandwich wrap:
Start by spreading some soft cream cheese onto your tortilla.
Then layer sliced turkey and fresh spinach.
Wrap it up, pop it in the microwave for 30 seconds, and voila! You have yourself an incredibly flavorful and delicious wrap sandwich without having to wait for delivery.
3. Chicken Salad With Fresh Fruits

Chicken salad is one of those dishes that can easily be customized to meet everyone's tastes.
Its basic ingredients are a flavorful, versatile base that can be personalized with various fruits and other toppings.
Adding in some sliced apples, mangoes, cranberries, or grapes is an excellent way to spruce up a classic chicken salad.
Not only do these fruits add a burst of natural sweetness, but they also bring an element of freshness, crunch and a healthy dose of vitamin c which is so important for the immune system of distance runners!
For extra flavor and texture, you can use either yogurt or mayonnaise as a dressing - both pair perfectly with the sweetness of the fruit.
Or go for something savory like this Southwest Chicken Salad from A Paige of Positivity.
4. grilled chicken with brown rice and roasted vegetables
 Grilled chicken with brown rice and roasted vegetables are the ultimate simple meal.
Here's how you will want to prepare this lunch:
Start by seasoning the chicken in your favorite flavors. 
Once that's done, preheat your oven to 400°F and prep your vegetables - broccoli, carrots, squash, or Brussels sprouts are all excellent choices! 
Place them on a baking sheet with some olive oil and seasoning and let them roast for about 20-25 minutes. 
Meanwhile, cook the brown rice according to the package directions. 
Once that's done, place the cooked ingredients in a bowl and top it with freshly squeezed lemon juice and other seasonings of your choice.
This is one of these dishes that can easily be meal-prepped. 
If you enjoy meal prepping, you might like this Meal Prep Routine for Runners.
I also created a 3 Day Carbo-Loading Menu Plan if you are currently training for a Marathon or half marathon.
If race week is looming then you can also check out these meal prep ideas for the week before your marathon! 
5. A veggie Wrap stuffed with Feta Cheese, Avocado, Cucumber, and Red Peppers
Veggie wraps are the perfect way to get a good dose of healthy nutrition while still satisfying your taste buds.
Take this one, for example- it's filled with feta cheese, avocado, cucumber, and red peppers.
The feta adds a creamy texture and salty kick that pairs perfectly with the acidity of the red peppers and crunchy cucumbers.
Creamy avocado rounds out this combination making every single bite an absolute delight.
Plus, you can easily customize it by swapping out some ingredients or adding more vegetables depending on what you're in the mood for.
6. Salmon Burger On A Whole-Grain Bun With Sweet Potato Fries

Salmon burgers are a delicious sandwich that won't leave you feeling guilty afterward.
The hearty flavors of the salmon are complemented perfectly by the nuttiness of a whole wheat bun while adding a side of sweet potatoes brings in just enough sweetness to make the meal complete.
All you need to do is grab some canned salmon, mix it with herbs, spices, and an egg for binding before forming into patties, then cook them up in a pan until golden brown.
erve on whole wheat buns with your favorite condiment (or maybe even some homemade tartar sauce) and pair with oven-baked sweet potato fries for a tasty and energizing treat!

7. Quinoa Sushi Rolls Filled With Veggies And Served With Edamame

Quinoa sushi rolls are an easy, healthy, and tasty meal for when you're looking for something a little different.
Start by cooking some quinoa and spreading it on nori seaweed sheets, then top with diced vegetables such as carrots, bell peppers, cucumbers, and onions.
To add a creamy element, spread a thin layer of cream cheese over the veggies before rolling and cutting the sheet into smaller pieces.
Serve your delicious rolls with edamame beans and wasabi or soy sauce.
8. Tuna Salad Whole-Wheat Wrap

Start by adding one can of drained tuna to a bowl and mashing it with a fork.
Next, add diced red onion and celery, making sure they're chopped small enough to easily fit in the wrap.
For extra flavor, try mixing in some diced sweet pickles or capers.
Once everything is mixed together, pour in some mayonnaise and Dijon mustard to bind it all together.
Then season with salt and pepper to taste.
Last but not least, spread the mixture on the tortilla wrap for a healthy and satisfying lunch.
9. Black Beans and Quinoa Salad

 Not only is this combination incredibly flavorful, but it's also loaded with protein and other nutritious ingredients. Beans are one of the healthies foods out there! 
Combine cooked black beans, cooked quinoa, red onion, chopped cilantro, and diced bell peppers in a large bowl.
Then dress the salad with freshly squeezed lime juice, garlic powder, and hot sauce.
For extra flavor and texture, add some chopped avocado, roasted corn, or a little balsamic vinegar to the mix.
If you want to make your salad even more filling, you can mix in roasted chickpeas or chicken.
Serve this vibrant dish with crunchy tortilla chips or sliced jicama for a delicious side. And don't forget to drizzle on a decadent dressing for added flavor!
10. Grilled Cheddar Cheese Sandwich With Roasted Tomato Slices
There's nothing like a classic grilled cheese sandwich to satisfy you.
And if you're looking for an upgrade that adds a little pop of flavor and texture, just add roasted tomatoes!
To make this yummy lunch:
Preheat your oven to 375 °F.
Slice some Roma tomatoes into quarters, toss them with olive oil in a bowl, then spread them out over a baking sheet before putting them in the oven for about 20 minutes.
Meanwhile, sprinkle one side of two pieces of whole grain bread with butter and place the buttered sides together.
Place the sandwich in a pan over medium heat until lightly toasted and golden brown; once finished, top one side with the roasted tomatoes and cheddar cheese.
Flip the other piece of bread on top and let it cook until lightly browned and crisp.
In Summary
 These are just a few meal plan ideas to help keep you fueled and running strong all while meeting your nutritional needs as a runner.
Whether you're looking for something to eat before or after your next run, these easy lunches are a great way to give you the energy you need to perform your best.
Be sure to try different combinations of foods and see what works best for you. And most importantly, don't forget to enjoy the process.
Your hard work will pay off!
Personalize your marathon nutrition with this 9 Step Plan: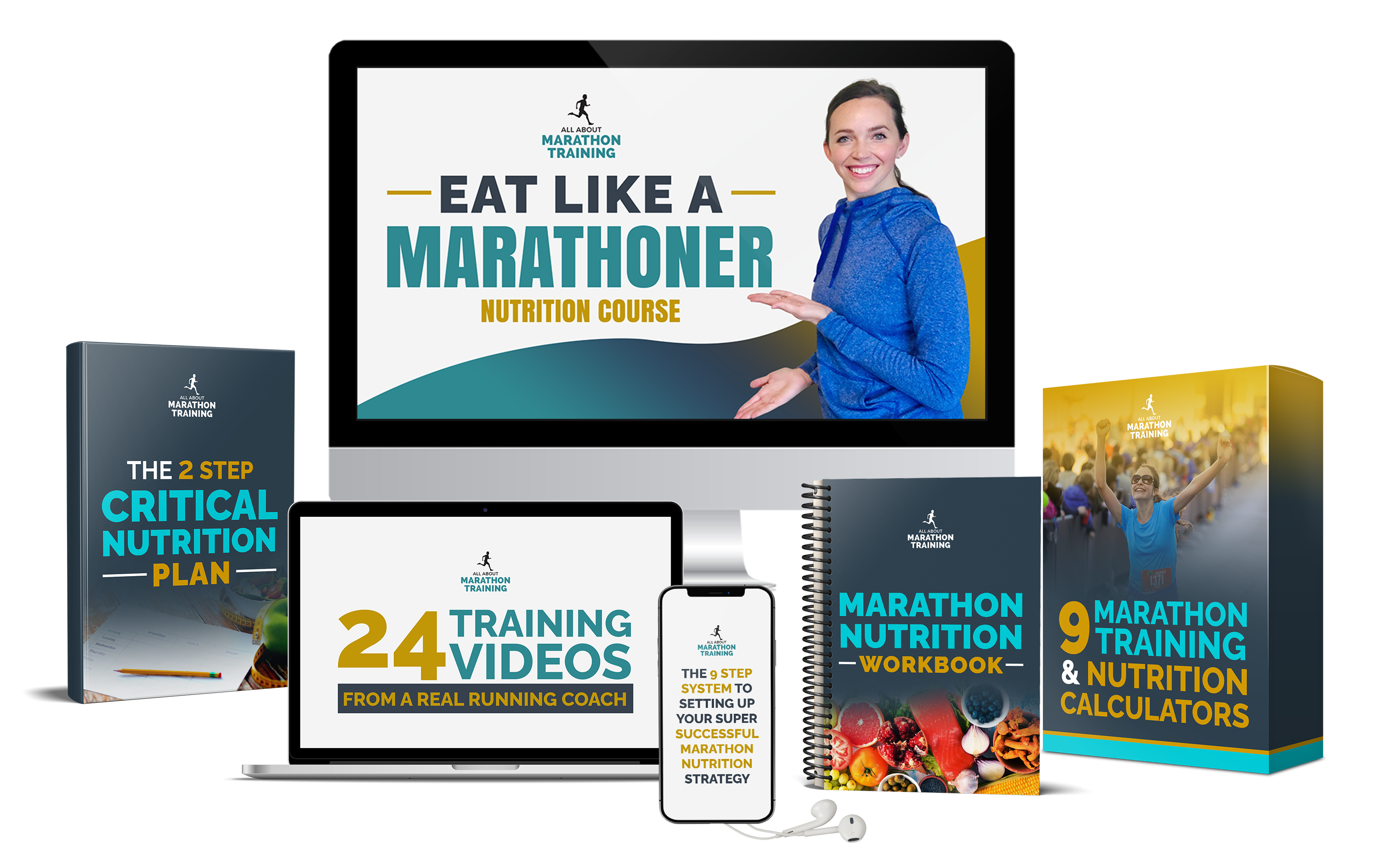 The Ultimate Guide to eating and fueling for marathon training and racing success! + get access and develop your own personalized marathon nutrition plan to implement before your marathon with our 9 STEP Prep Plan!
Get access to the EAT LIKE A MARATHONER Nutrition Course here!
Related pages
Here are some pre- race day breakfast meal ideas.
Here's a list of quick snacks that are healthy and perfect for runners!
Here's some post-workout/marathon meal ideas.
I'd Love to stay in touch!
Join 21,000+ Other runners and receive my weekly training newsletter!
I'll send you my  free 24 Hour Timeline Checklist of Things You Should Do After a Long Run  when you sign up!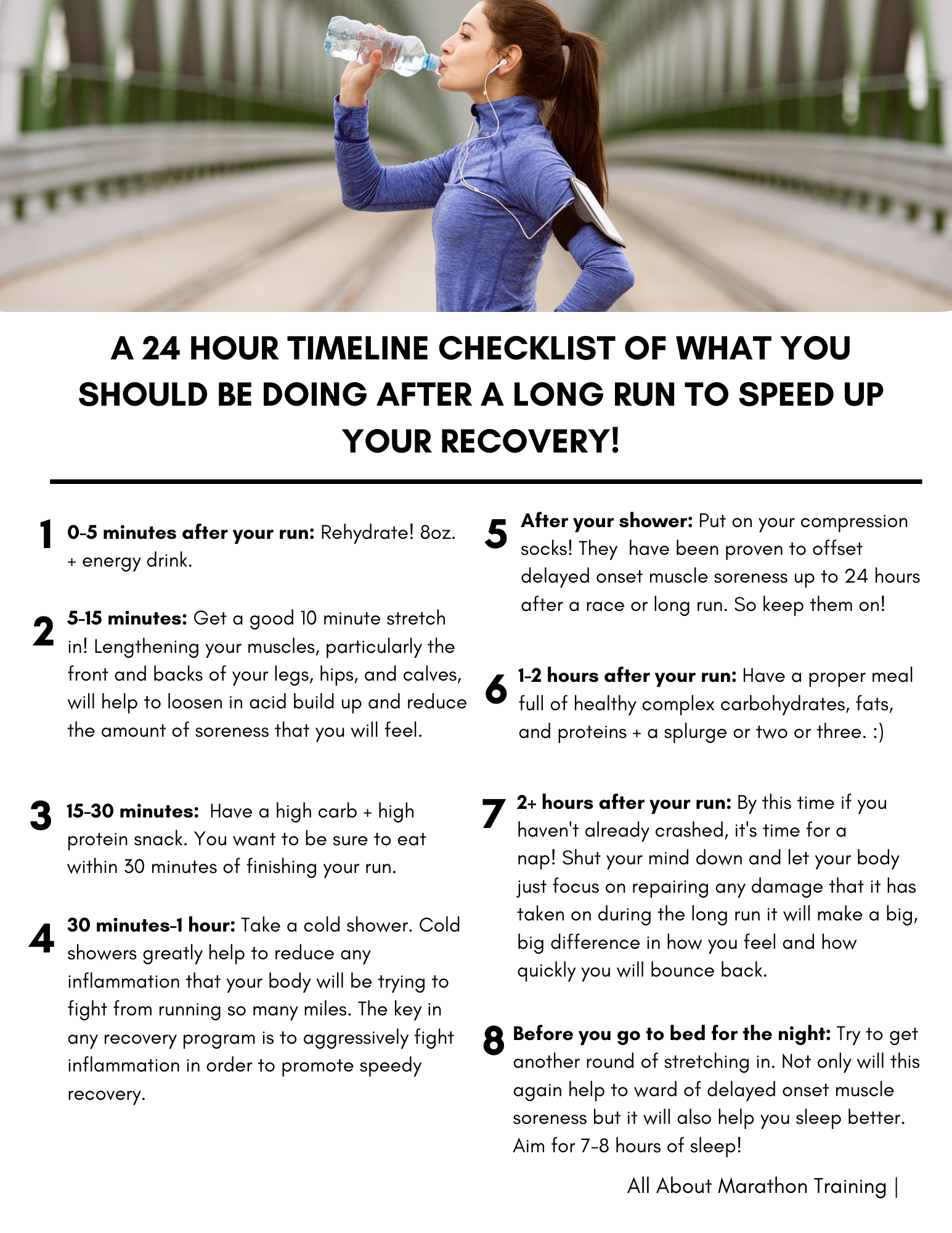 As featured on:

Your second block of text...
---