is oatmeal good for runners?
Is oatmeal good for runners?
As a long distance runner, I can quickly answer this question by saying that a hearty bowl of oatmeal is one of my all-time, hands-down favorite breakfasts and for many different reasons!

Oatmeal is a wonderful food to eat while training for a marathon or even as a race day meal!
Oatmeal makes a perfect choice for pre-run meals, on rest days to help boost your glycogen levels for your next run, as a pre-race meal or a post-run recovery meal!
And there are so many reasons why!
Benefits of eating oatmeal as a runner:
Oats are complex carbohydrates and have a high carbohydrate content

Complex carbohydrates are the #1 fuel source for runners!
All endurance athletes need to get their fuel to power their running, cycling, skiing, etc. primarily from complex carbohydrates.
You can read all about why runners want to eat foods that high in carbohydrates on this page. 

While we are talking about a good source of carbohydrates here's more ideas on where to get you complex carbs:
Sweet Potatoes
Brown Rice
Whole-Grain Pasta
Dried Fruit
Oats are a whole grain food source

Whole grains are important for runners as they contain more nutrition versus a refined grain (such as white bread) that mills away the nutritional part of the gran (the bran and germ) and take away much of the nutritional value.
Oats give you long-lasting energy

Oats will provide you with sustained energy for the duration of your long run (you will still need to bring fuel such as sports drinks along with you if you are running more than an hour) or after a longer run or a more intense running workout when your body greatly needs to replenish it's glycogen stores.
Oats lower blood sugar levels

We always are looking to have low blood sugar levels and oats help to bring those sugar levels down.
Oats contain so much fiber! They lower your LDL or "bad" cholesterol levels
The fiber content of oats has so many benefits such as lowering your LDL or "bad" cholesterol levels, promotes heart health, prevents heart disease while also giving you that feeling of satiety and sustained energy.
The fiber in the oats is also why it is considered a food that is on the low glycemic index.
which oats are best for you?
I love this question because it's one you might not think of or know the answer to.

In fact there are 3 different types of oats that you can make oatmeal from:
Quick Oats
Old-Fashioned oats
Steel-cut oats (my kids favorite!)
The best kind of oats for you as a runner are going to be the regular old fashioned oats.
When quick oats and steel cut oats are processed they actually boil the grain and that in turn reduces the nutritional content of the oat significantly!
Old Fashioned Oats on the other hand are kept in their original form and therefore contain all the good nutrients that make oats so wonderful for runners!
the easiest way to make oatmeal:
Oatmeal can be made in a variety of ways: on the stovetop, in the microwave, overnight in the refrigerator or in a bowl using boiling hot water from a kettle.

In our family, we find that the simplest way to make oatmeal is to:
scoop out a half cup of oats (we always buy old fashioned oats) into a bowl
add whatever toppings you want in your oatmeal to the oats
add water to our electric kettle and bring it to a boil,
pour the boiling water over the oats and toppings
let it all sit for 5 minutes and enjoy!
If we find that our oatmeal has sat for too much time and dried out a bit, we will pour in a little extra hot water or milk to give it a nice consistency.
If you don't have an electric tea kettle then I highly recommend getting one! Not only are they super fast at boiling up a pot of of water they make making oatmeal a breeze!
Here's the electric kettle that our family uses. 
Here's a list of toppings/combos you might like to include on top of your oatmeal:

cinnamon
raisins or any type of dried fruits
walnuts or pecans (really any type of nut but these two are my favorites when it comes to oatmeal!)
natural peanut butter (provides a great source of healthy fats!) - you could also add a bit of coconut oil if you are trying to increase satiety through healthy fats
maple syrup, honey or brown sugar (although we typically just add a little bit of stevia if we want to sweeten it up at all!)
unsweetened coconut
flax seeds, chia seeds, pumpkin seeds
cacoa powder
chocolate chips
protein powder
milk, coconut milk or almond milk
apples, pears, or bananas - all containg natural sugars that help to sweeten it up if its too bland for you!
frozen or fresh berries (blueberries, strawberries, raspberries, blackberries - a great way to get a healthy dose of vitamin c!)
other ways to eat oats
So are you looking forward to a warm heaping bowl of yummy oatmeal after tomorrow's morning run (or afternoon/evening run because why not?!)!
As a long distance runner, oatmeal is a good choice for a pre or post run meal with its healthy load of grams of carbohyrates, a little bit of protein, and the ability to add healthy fats with toppings.
Bonus:
Here's a list of make-ahead Pre-Race Breakfast Ideas! 
if you want to learn more about nutrition for marathon runners...
You can develop your own personalized  marathon fuel plan with the Eat Like a Marathoner Nutrition Course.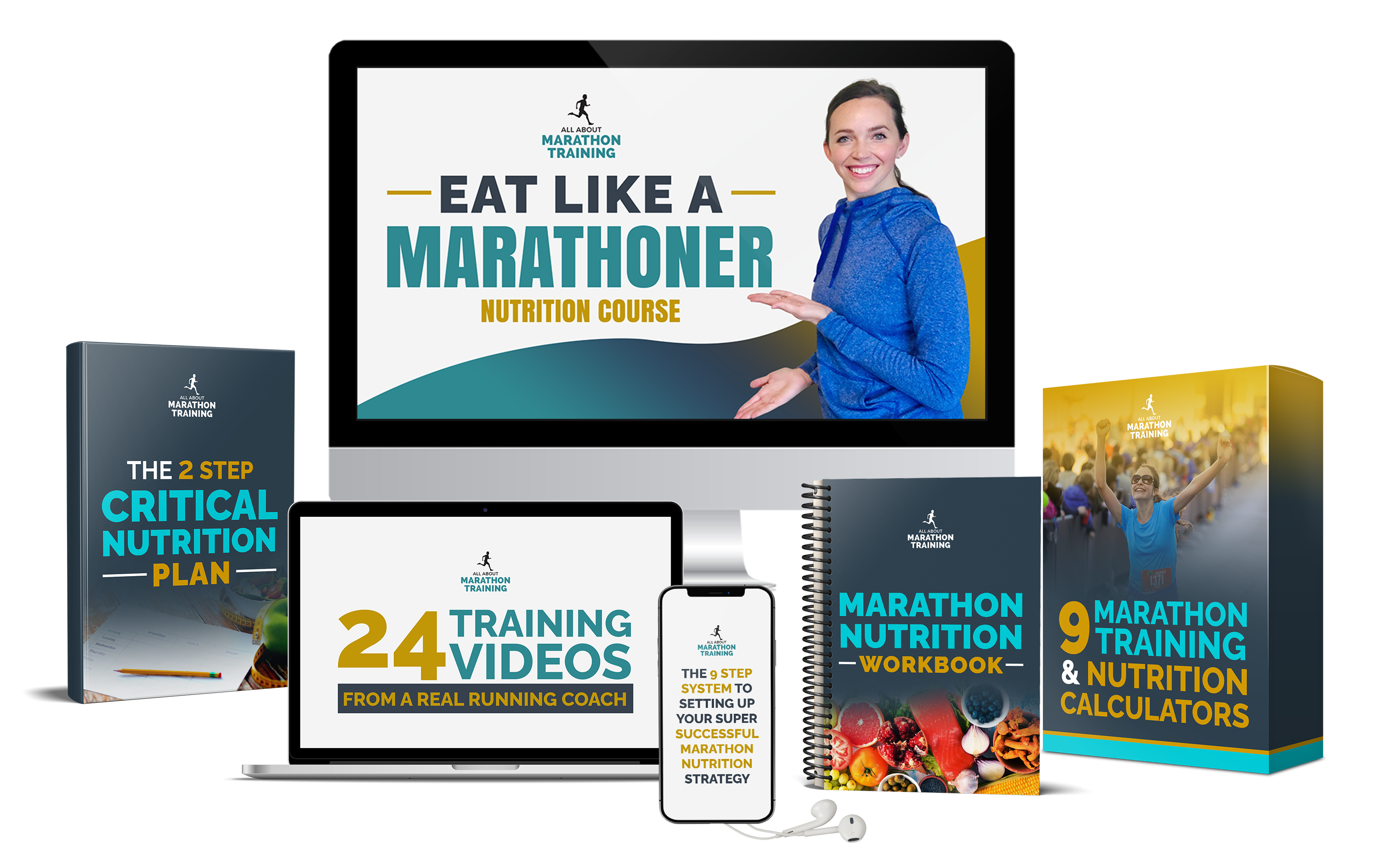 The Ultimate Guide to eating and fueling for marathon training and racing success! + get access and develop your own personalized marathon nutrition plan to implement before your marathon with our 9 STEP Prep Plan!
Get access to the EAT LIKE A MARATHONER Nutrition Course here!
Related Pages:
I'd Love to stay in touch!
Join 23,000+ Other runners and receive my weekly training newsletter!
I'll send you my  free 24 Hour Timeline Checklist of Things You Should Do After a Long Run  when you sign up!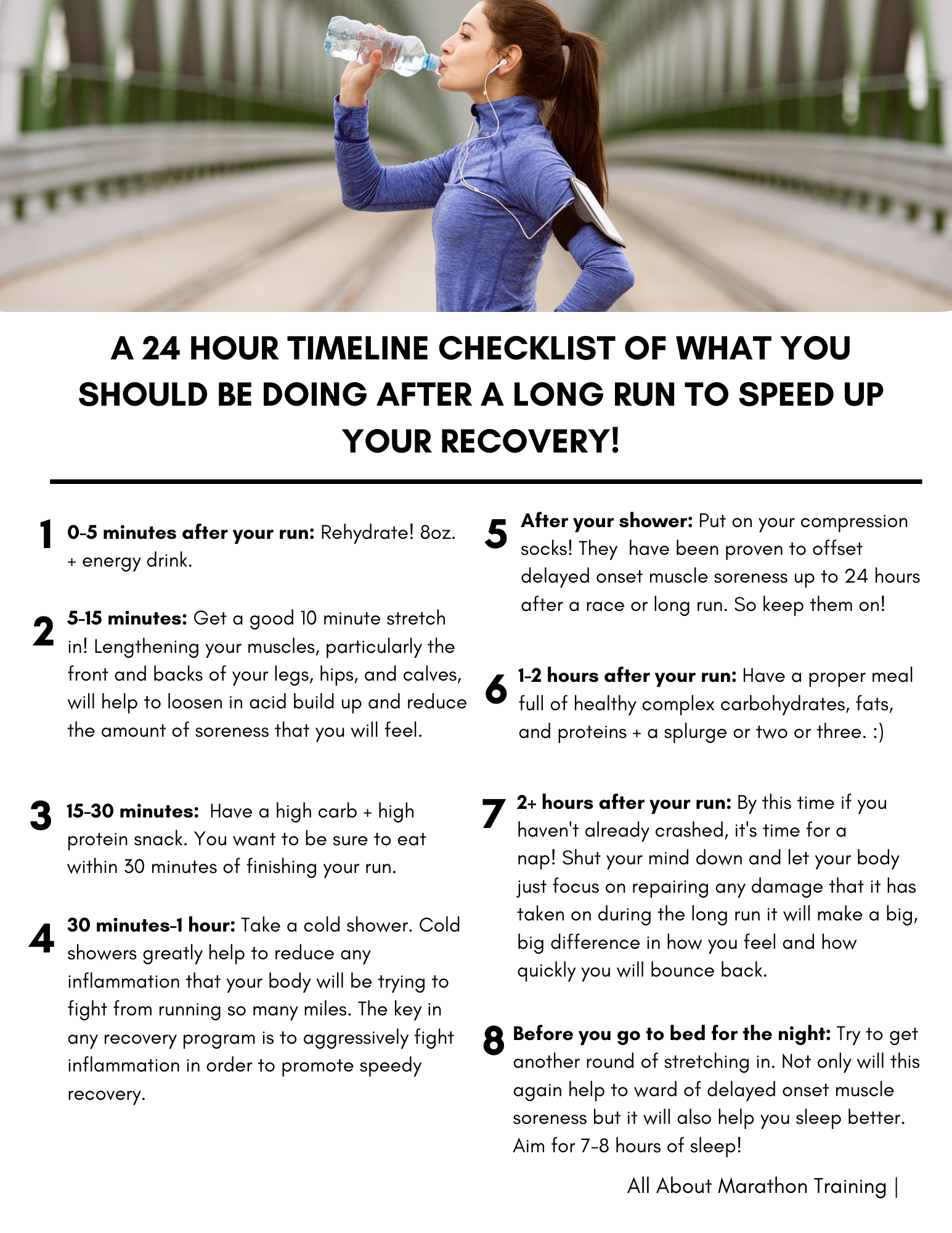 As featured on:

Your second block of text...
---