Beginner Marathon Training:
Training Plans + Resources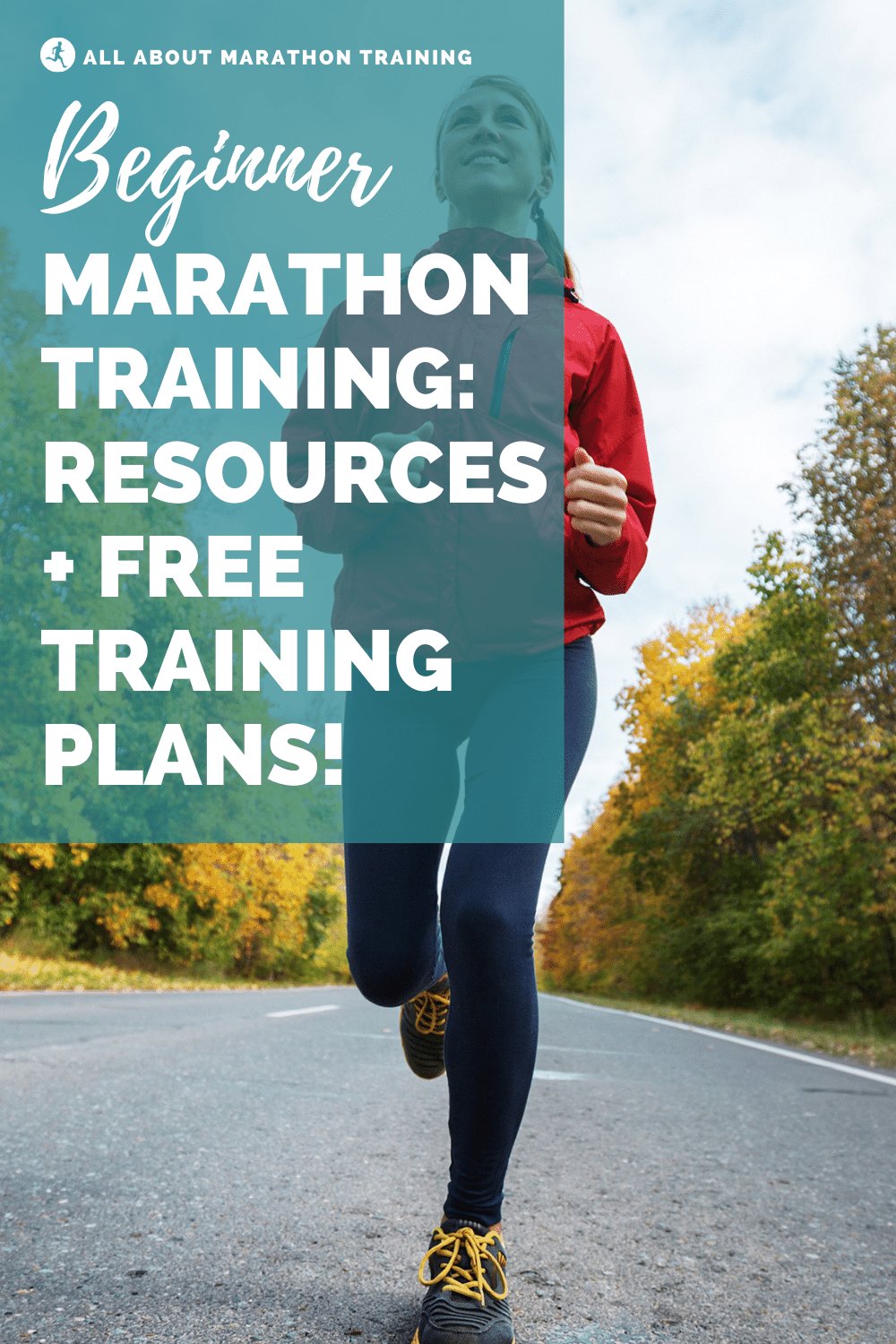 The Beginner Marathon Training Program is for those looking to run their first (or even first few) marathons.
Congratulations! You want to run (or power walk?) a marathon! Do you know how life changing this is going to be?
The time, effort, pain and gain will be something that you will hold onto forever. So here we go!
The best way to start training with a marathon training program is to just ease into it.
Don't jump in and start pounding out long, hard runs and doing excessive speed training. Your body is not ready for that and you must build up to it gradually.
One of the biggest reasons for running injuries is new marathoners starting to train too fast.
So take it slow! You will reap the rewards faster and not jeopardize your body.
---
Make sure that you are ready to undertake beginner marathon training:
You want to make sure that you have a firm foundation to build up from, the time, and the motivation. 
Answer these questions to help determine your marathon readiness. 

What does a beginner marathon training program entail?
In order to train for your first marathon you will need to know what you are getting yourself into.

As a beginner with the goal of finishing a marathon you will not need to focus on speed training however it might be a good idea to do some sort of strength training.
Since marathons are an endurance event that requires you to run long distances it is good to have a strong upper core which will keep your running form strong and not make your arms feel heavy towards the end of the race.
Depending on your fitness level, you may or may not want to incorporate strength training into your marathon program for your first couple of marathons. It is very useful though if you are trying to meet a time deadline. However since this is your first marathon you can focus on the long run and leave the strength training for future marathons. It is a good idea however to include some form of cross training. 
That being said a beginner marathon training program focuses primarily on building mileage every other week through the long run . 
There are no "special workouts" (i.e. speed workouts, hill training, cross-training, etc.). This is because the focus is on increasing the long run so that you will be ready on Marathon race day to go the full 26.2 miles.
How long does it take to train for a marathon for a beginner?
How long it will take you to train for a marathon is going to be very subjective on a number of different things. You will want to take into consideration: 
Your age

 

Weight: are you at a healthy weight currently for your height and gender?
Your past running history: have you been a runner for a little while? Have you just started running? Have you never run consistently but perhaps you exercise regularly in other ways? Or have you never run nor regularly exercised? 
When's your race date? Of course this will play a role in determining how long you should train for a marathon. Don't put too much pressure on yourself and choose a race date that will push your limits. 
How many days per week are you able to train? If you are able to train more days (5-6 days per week) then you could potentially get by with less training time versus if you only have 3 days per week to train and therefore would then need more time overall to build your endurance. 
After taking the above factors into consideration, you might want to know simply what the average amount of time is that it takes to run a marathon.
In general, I always recommend at least 3 months (or 12 weeks). 
However, for most beginner marathon training runners, a good sweet spot is around the 4 to 6 month mark (or 16-20 weeks). This gives you time to build into longer distance running at a much healthier, steadier pace versus jumping into higher mileage before you are ready. 
There is a high risk of injury associated with beginner marathon training and so the question of how long it will take you to train and run a marathon as a beginner is one that should be weighed carefully.
How long does it take to train from couch to marathon?
This is a fun question because I think that it brings hope to many people who have a goal of running a marathon but perhaps they have been quite sedentary for awhile.
I love how it's not "Can I go from couch to marathon" but rather "How long does it take to go from couch to marathon".
Most definitely you can run a marathon!
How long will it take though?
Here's how I would walk through the time frame. 
First, let me share two of my coaching rules that have served me and thousands of other long distance runners that I have helped to coach throughout the years:
1. No more than a 10% increase in weekly mileage from week to week.
2. No more than a 2 mile increase in your longest distance run from week to week. 
From those two parameters, you can see the benefit to building up a running base before you jump into training for a marathon. 
I believe a healthy training cycle for most people going from couch to marathon would be to run consistently for 3 months and then begin a 16 week marathon training plan. 
During your 3 months of running consistently, aim to run at least 3 times per week and build up to being comfortable with running 3 to 4 miles.
There's no need to time your runs or push your pace. Simply get out there and put in the distance consistently. 
If you can't yet run, that's okay! Walk! Slowly then build into a run/walking style . Little by little you can phase out your walking intervals and solely run.
However, many marathoners love to use run/walking throughout their entire marathon training cycle and race! It's a great option for distance runners! 
Once those 3 months have passed, you could then consider beginning a beginner marathon training 16 week marathon training schedule such as this one or the Run Your First Marathon Program.
However, I do have another beginner marathon training plan alternative for those who are considering going from couch to marathon (or even as a beginner runner) and that would be the extremely popular 32 Week Marathon Training Plan. 
This 32 Week Training Plan helps you to build a good running base while challenging your endurance each week.
One of the great things about this beginner marathon training plan is that it incorporates breaks from long runs so that you are not constantly building your long run mileage every single week.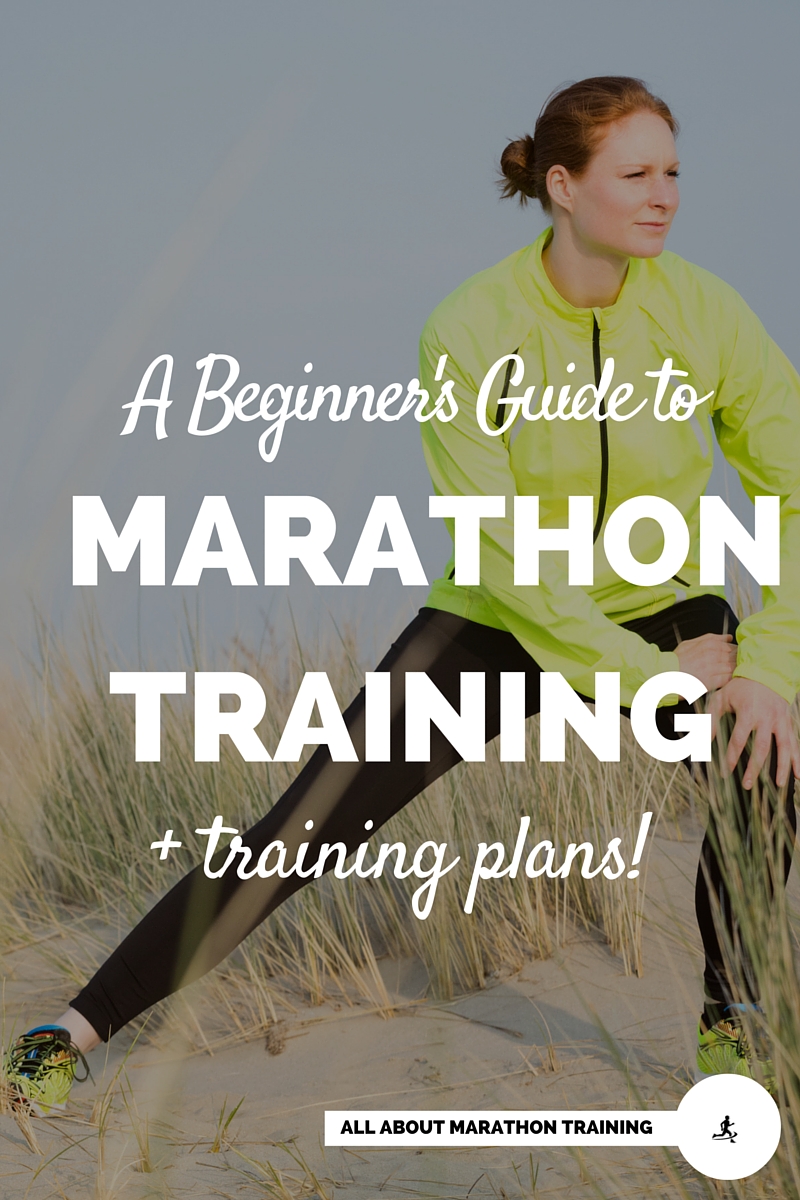 How should a beginner prepare for a marathon?
Again, the answer to this will depend on your previous fitness and running history.
However, here's what I recommend:
1. The best thing you can do to prepare for training for a marathon would be to simply run, consistently, at least 3 times a week. 
2. Get very comfortable with running at least 3 miles, but 4 miles would be even better! 
3. Look at the beginner marathon training plan you will be following and see the distance of your first scheduled long run.
Make sure that you can run at least one mile less than your first scheduled long run.
For example, on the free beginner 16 week marathon training schedule, the first scheduled long run is 6 miles. Therefore, it would be good to be able to run about 5 miles (4 miles at the very least) before you begin this marathon training schedule. 
4. If you have any weak areas (your knees, hips, shins, etc.) address them!
Focus on strengthening your trouble spots through strength training and flexibility exercises so that they are ready for all of the miles that you will be asking them to run. Being proactive is the best thing you can do! 
Here's a list of 16 things to do before beginning marathon training some of which I already included above.
Can i run a marathon without training?
It's not a good idea. Can you do it? I wouldn't recommend it but nobody is stopping you from trying if that is what your heart desires. :)
Depending on your current fitness level and fitness background you may be able to pull it off better than others.
However, before going into it, be realistic about the expectations you are setting and realize that it's going to be extremely hard and most likely not a fun experience.
is a sub-5 hour marathon good?
A sub-5 hour marathon is awesome!
Here is a chart breakdown of marathon finish time averages based on gender and age but just know that any marathon finish line time is a victory worth celebrating!! 

However, for your interest, here is a chart from Healthline, showing the average marathon finishing time based off of age and gender: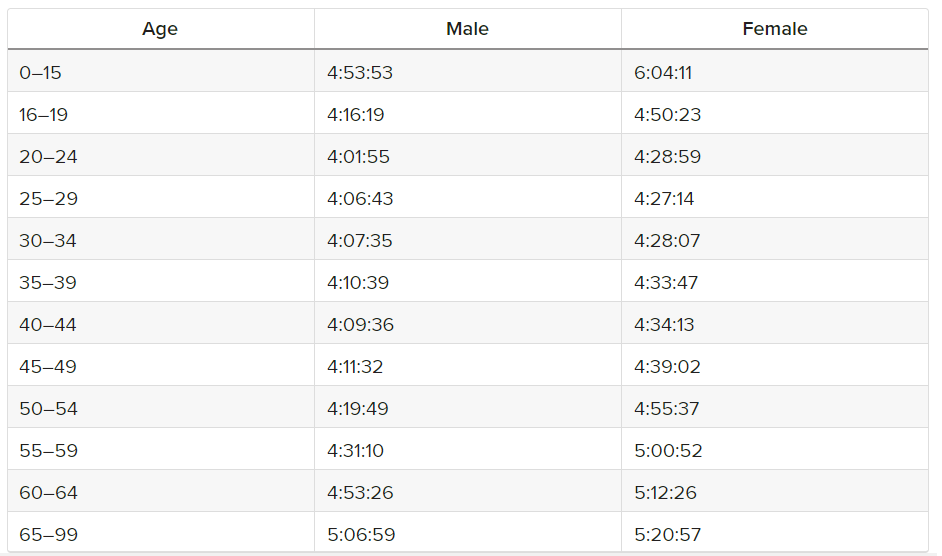 ---
Do you still need to build a running base?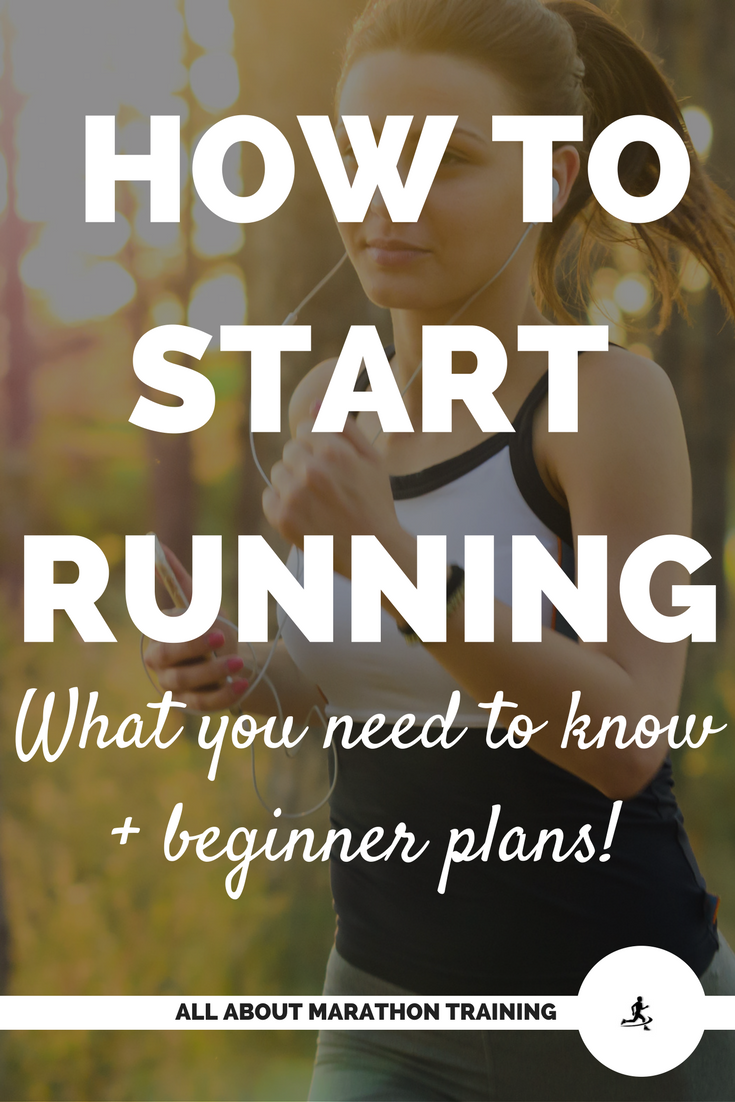 If you still need to build a running base then check out my step by step guide to beginning running.
Here you will find lots of tips for getting started plus training plans that will take you from a walker to a runner! 
If you want to jump right in and set a goal to run a 5k then this Couch to 5K Plan in 8 Weeks from Runner's Blueprint would be a great place to start! 
Free Beginner Marathon Training Schedules

+ MARATHON TRAINING PLAN PDF DOWNLOADS!
A typical beginner marathon training week will include about four days of running, one day as a long run, (what constitutes a long run?) and three rest days.
Drum Roll please...Here are three beginner Marathon Training Schedule options for you: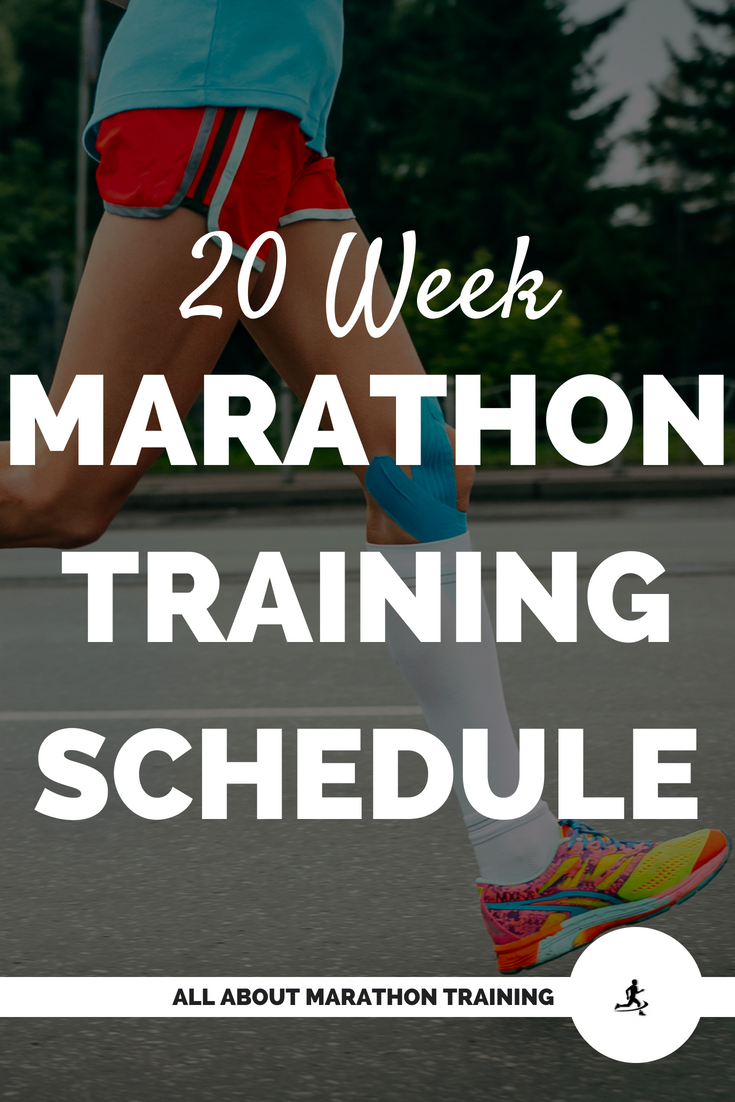 20 Weeks to Your FIRST Marathon 
If you are looking for a great training guide to run your first marathon then be sure to check out our 20 Weeks to Your First Marathon!
It is your complete one-stop training guide to get you to your first marathon finish line with all the tips and secrets! 20 weeks is really the perfect amount of time for first time marathoners! 
---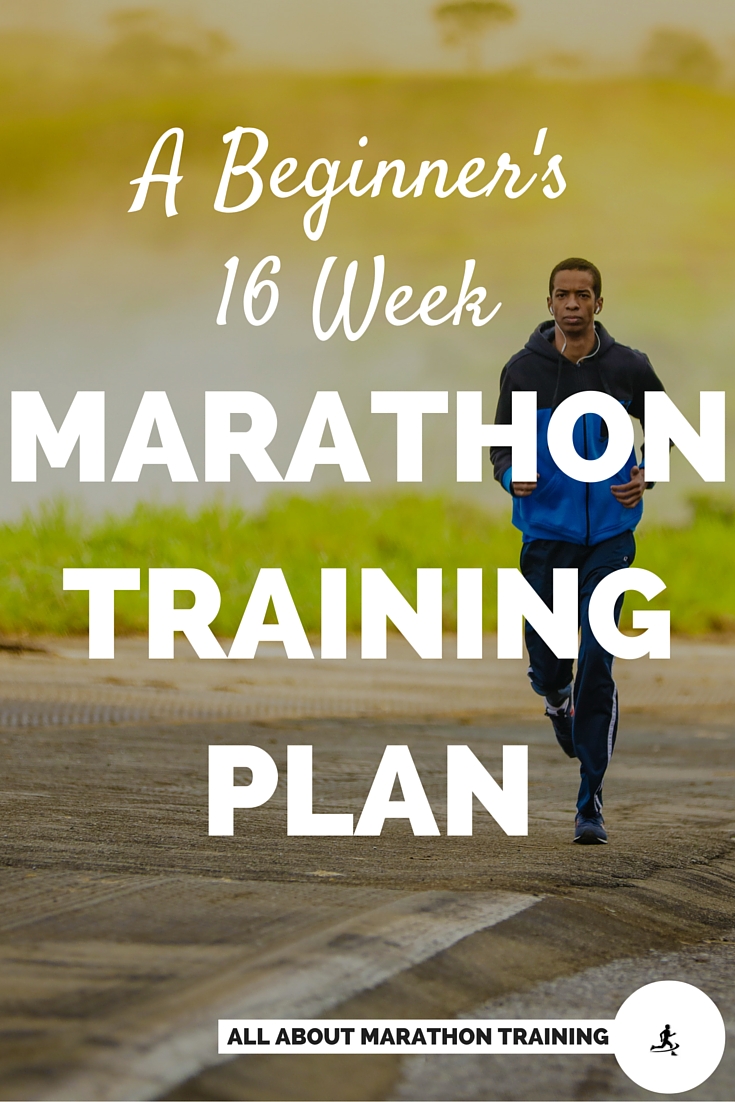 16 Weeks to your Marathon Finish Line!

Choose the beginners 16 week program if you are able to run at least 8 miles comfortably and have been running steady for at least a year. 
If you meet that criteria then this is the marathon plan that will get you to the 26.2 finish line!

---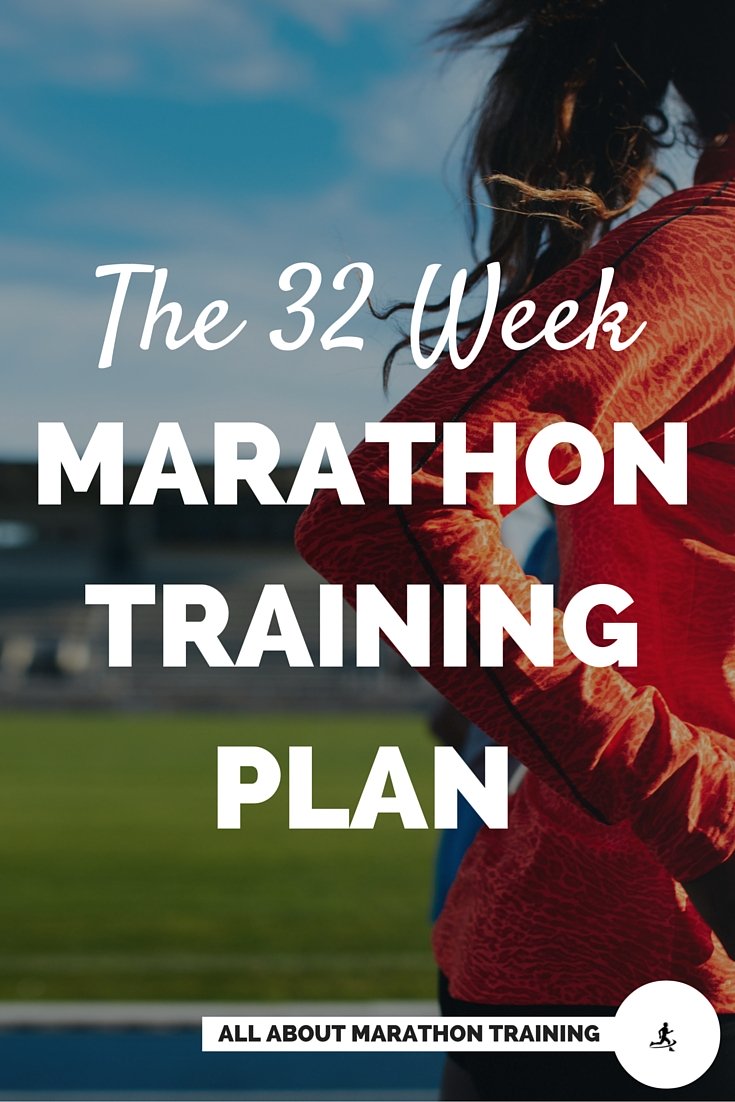 32 week marathon training program

For those of you who want to train for a longer period of time check out the 32 week marathon training program that will give you a strong marathon foundation while helping you to prevent injury from training and building your mileage too fast.
This program is specifically designed for beginners and those looking to complete a marathon without a time goal.

Your Goal for Your First Marathon:
If this is your first marathon your goal should be to finish the race.
Being able to run 26.2 miles is a huge feat in itself so don't bog yourself down and try and meet a time goal just yet.
Run your first marathon with the intention of finishing strong and you will definitely bring on the benefits of running a marathon for the sheer sake of finishing. It is a huge accomplishment!
Related Pages:
I'd Love to stay in touch!
Join 23,000+ Other runners and receive my weekly training newsletter!
I'll send you my  free 24 Hour Timeline Checklist of Things You Should Do After a Long Run  when you sign up!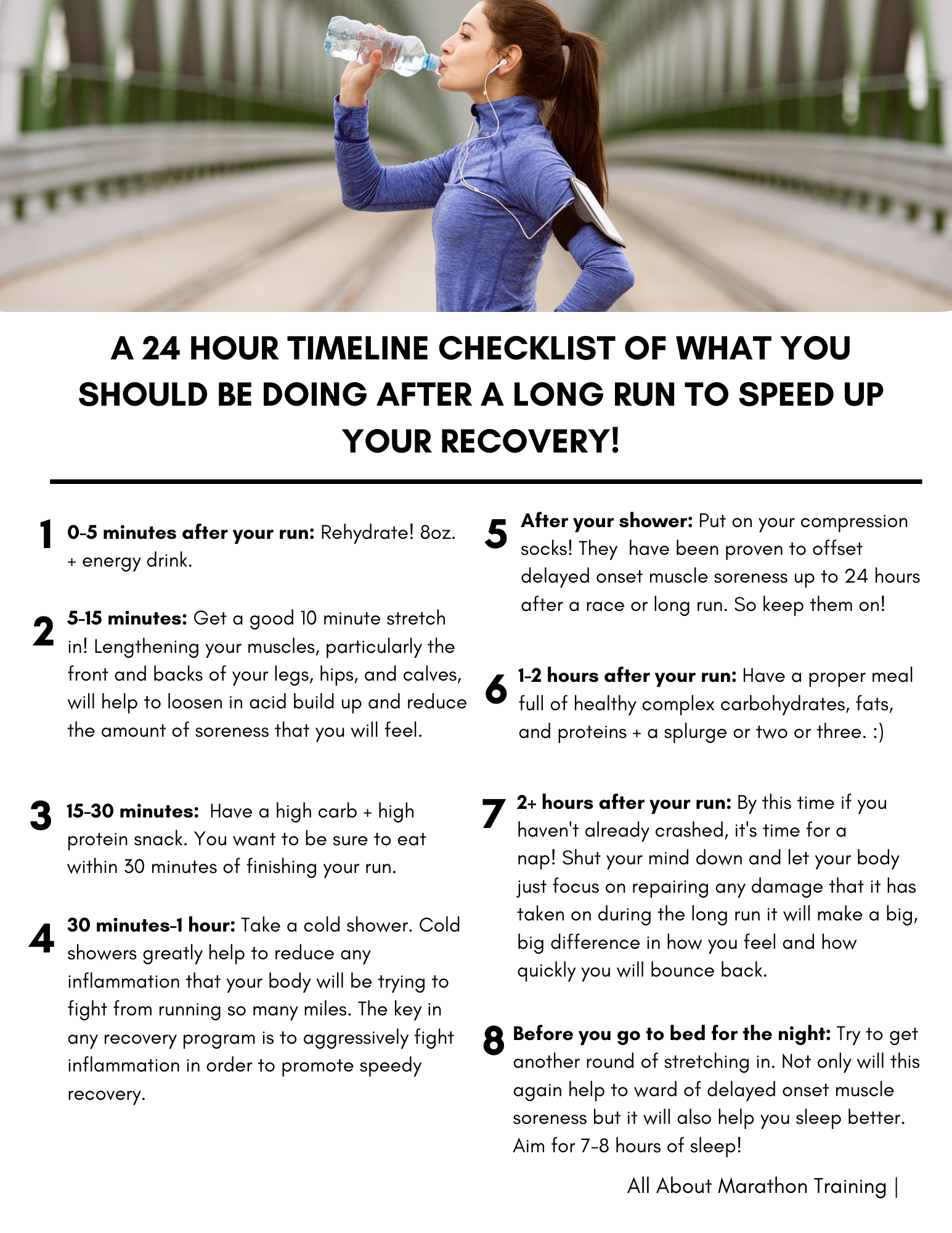 As featured on:

---