4 Pre-Race Meal Ideas: What to eat before a marathon


What to eat before a marathon?!
Let's be honest, we all have food on our mind. Always. Not just me? Right??
This question though carries more weight on the night or hours leading up to a marathon race. We want to nail our nutrition!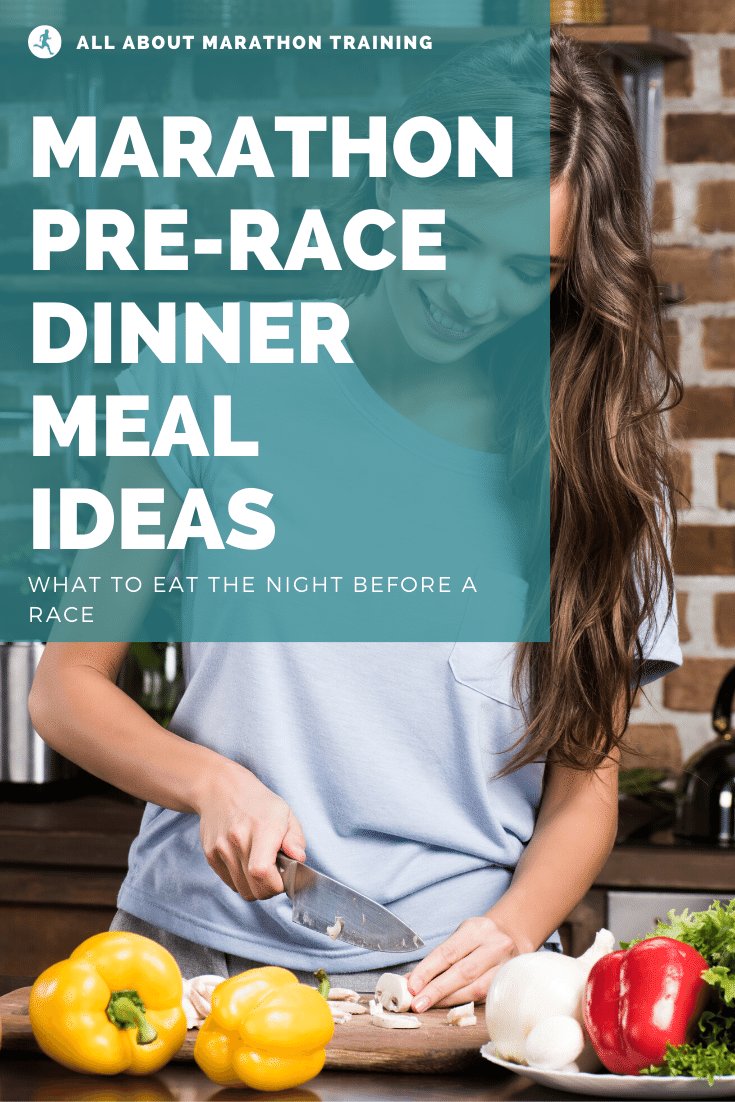 We talk all about what you should be focusing on eating, personalize your pre-marathon race carbohydrate needs for your body, and talk about when is the right time to eat your pre-race meal in EAT LIKE A MARATHONER.
Here's What's on this Page:

I want to give you 5 different lunch/dinner meal ideas that you can eat to load up on some healthy complex carbs before your marathon race!
Remember the key is in the timing of when you are eating and making sure you are eating the right amounts of your macro-nutrients (carbs, fats, and proteins).
In the end, everyone will have different macro needs going into a pre-race meal (hence the included personal calculator in EAT LIKE A MARATHONER) but all of the following meals will give you a great baseline and will all include healthy, whole food choices!
And if you are looking more for Pre-Race Breakfast meal ideas then this page is for you!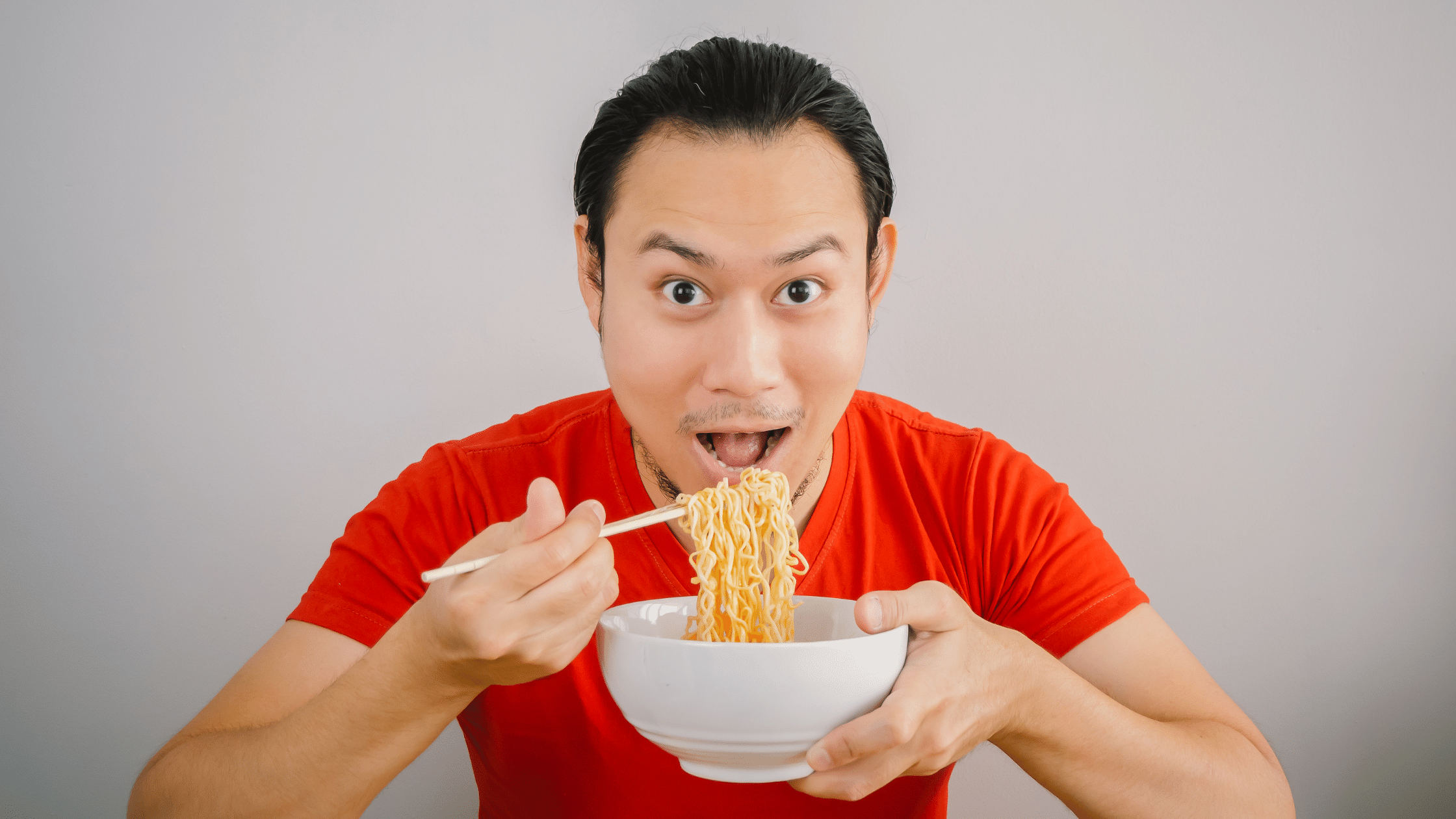 Pre-Race Meal Ideas
(Note: these recipes are taken from the Set for Life Cookbook by Jane P. Merrill and Karen M. Sunderland)

Dinner Option #1:

Taco Sundaes
1 pound ground beef
1 package taco seasoning mix
1/2 cup water
2 cans kidney, pinto, or red beans
1 cup brown rice, cooked
1 can whole-kernel corn, heated and drained
1 head lettuce, shredded
4 to 6 tomatoes, chopped
1 can sliced olives, drained
1 cup grated cheese
1 cup salsa
Catalina or Ranch Dressing
2 to 4 cups slightly crushed tortilla chips
Brown beef and drain.  
Add taco seasoning, water, and beans.  
Cook for 15 minutes.  
Build your own sundae in the following order: rice, meat-bean mixture, corn, lettuce, tomatoes, olives, cheese, salsa and salad dressing.  
Add tortilla chips as the topping for the sundae.
 Yield: 10 servings
Carbs: 57 grams   Protein: 26 grams  Fats: 12 grams

Spanish Rice
1 onion, chopped
1/2 green pepper, chopped
2 cups stewed tomatoes
1 cup uncooked brown rice
1 cup tomato juice or water
1/2 teaspoon salt
1 teaspoon chili powder
1/4 teaspoon curry powder (optional)
In a large nonstick frying pan, saute onion and green pepper for 3 minutes.  
Add remaining ingredients.  
Reduce heat.  
Cover and simmer for 40 to 45 minutes or until rice is tender.  
Add additional juice if needed.   
Yield: 6 servings
Carbs: 30 grams   Protein: 3 grams   Fat: 1 gram

Dinner Option #2
Garden Fresh Casserole
1/2 pound ground beef
1 small onion, chopped
1 green pepper, coarsely chopped
1 beef bouillon cube
1 cup hot water
1 1/2 cups cooked brown rice
2 tomatoes, cut in eighths
2 thin slices cheese
Brown meat and onion. 
Drain well. 
Add green pepper.  
Dissolve bouillon in water and pour over beef mixture.  
Simmer 15 minutes.  
Add rice and tomatoes.  
Steam 10 minutes. 
Pour into casserole. 
Cut cheese diagonally and lay in shape of pinwheel and serve.  
Yield: 4 servings
Carbs: 40 grams
Protein: 21 grams 
Fat: 7 grams

Sweet Potatoes
Scrub potatoes well.  
Prick each potato with a fork.  
Microwave: Turn once during cooking.  
Cook on High for 9-12 minutes.  Let stand 5 minutes.  
Bake: 

425 for 50 minutes.
Carbs: 23 grams 
Protein: 2 grams 
Fat: 1 gram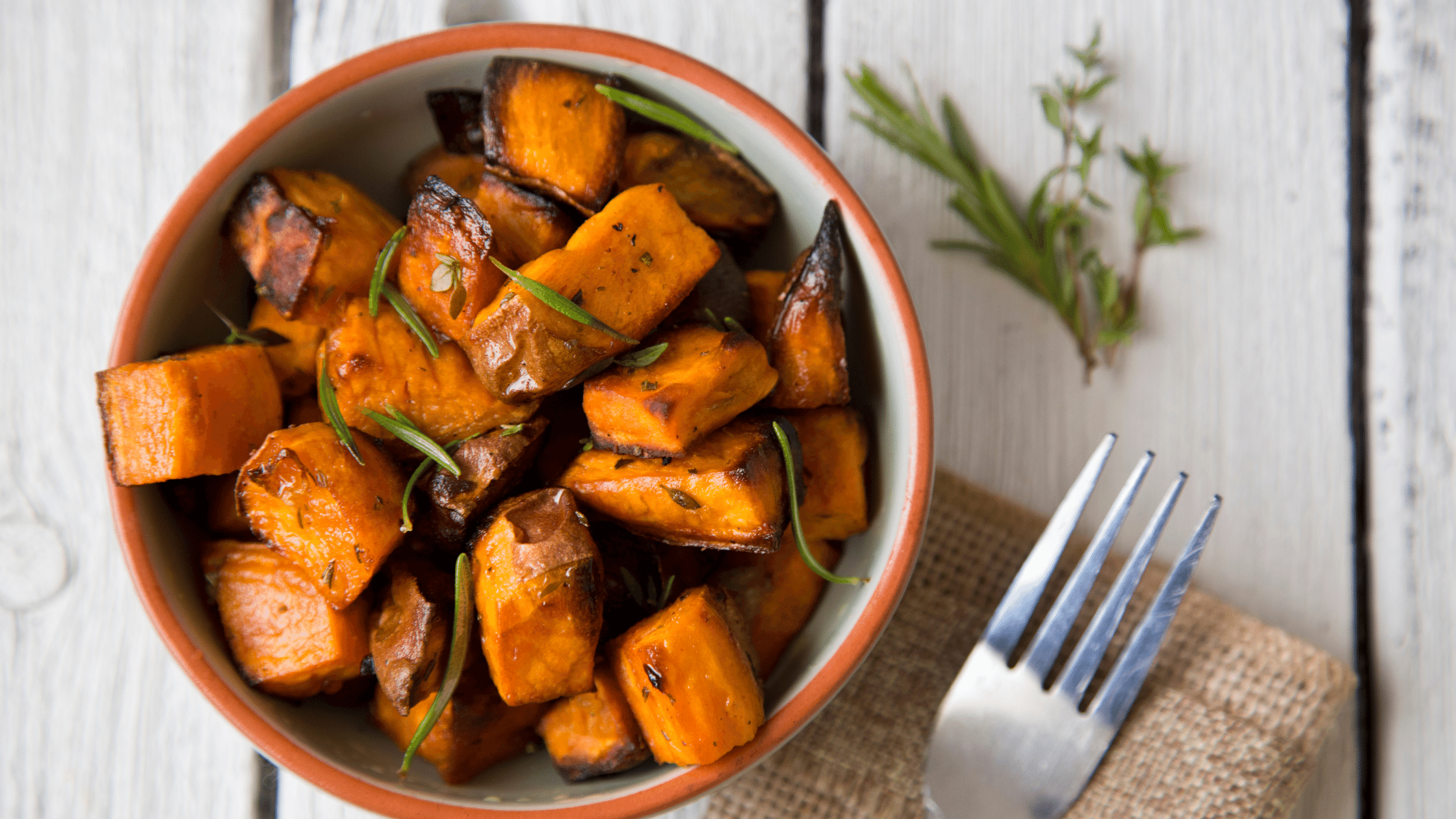 Dinner Option #3
Spaghetti Pie
1/3 cup grated Parmesan cheese
2 eggs, well-beaten
6 ounces spaghetti, cooked and drained
1/2 pound ground beef
1 small onion, chopped or 1 tablespoon instant onion
1/4 cup chopped green pepper
2 cups canned tomatoes, slightly blended
1 6-ounce can tomato paste
1 teaspoon sugar
1 teaspoon oregano
1/2 teaspoon salt
1 cup cottage cheese
1/4 cup mozzarella cheese
Mix Parmesan cheese and eggs into hot, cooked spaghetti.  
Form into a crust in a large 10-inch butter pie dish.  
Cook meat, onion and green pepper until meat is brown.  
Drain well.  
Stir in tomatoes, tomato paste, sugar and seasonings. 
 Simmer 5 to 10 minutes.  
Spread cottage cheese over bottom of spaghetti crust.  
Fill pie with meat-tomato mixture.  
Sprinkle with mozzarella cheese.  
Bake in a 350 oven for 20 minutes.  
Yield: 6-8 servings
Carbs: 28 grams 
Protein: 27 grams 
Fat: 11 grams

Chef Salad
1 head lettuce
2 green onions, sliced
2 carrots, sliced
2 celery stalks, sliced
1 cup cauliflower florets
1 cucumber, peeled and diced
1 green pepper, cut into rings
1 cup mushrooms, sliced
2 hard-boiled eggs, quartered
1 cup kidney beans
1-2 cups cooked and cubed chicken, turkey, shrimp or tuna
Toss the vegetables together in a large salad bowl.  
Attractively arrange eggs, beans and meat or fish on top.  
Serve with desired dressing. 
Yield: 6-8 servings
Carbs: 17 grams 
Protein:  17 grams 
Fat: 3 grams

And the last pre-race meal Dinner Option #4
Beef Stroganoff
1 pound ground beef
1 minced onion
1 clove garlic, minced
1/4 cup flour
1/2 teaspoon salt
1/4 teaspoon pepper
1 can sliced mushrooms
1 package Stroganoff Sauce Mixture
1 can cream of mushroom soup
1 cup buttermilk or sour cream
3 cups cooked brown rice, noodles or 6-8 baked potatoes
2 tablespoons minced parsley
Brown ground beef with onion and garlic.  
Drain well.  
Add flour, salt, pepper and mushrooms.  
Cook 5 minutes.  
Stir in sauce mix and soup.  
Simmer uncovered for 10 minutes.  
Just before serving, stir in sour cream or buttermilk and heat through.  
Thin with a little milk if desired.  
Serve over hot rice, noodles or potatoes.  Garnish with parsley.  
Yield: 6 servings
Carbs: 35 grams  
Protein: 25 grams 
Fat: 10 grams

Serve with a Garden Salad or the Salad up above!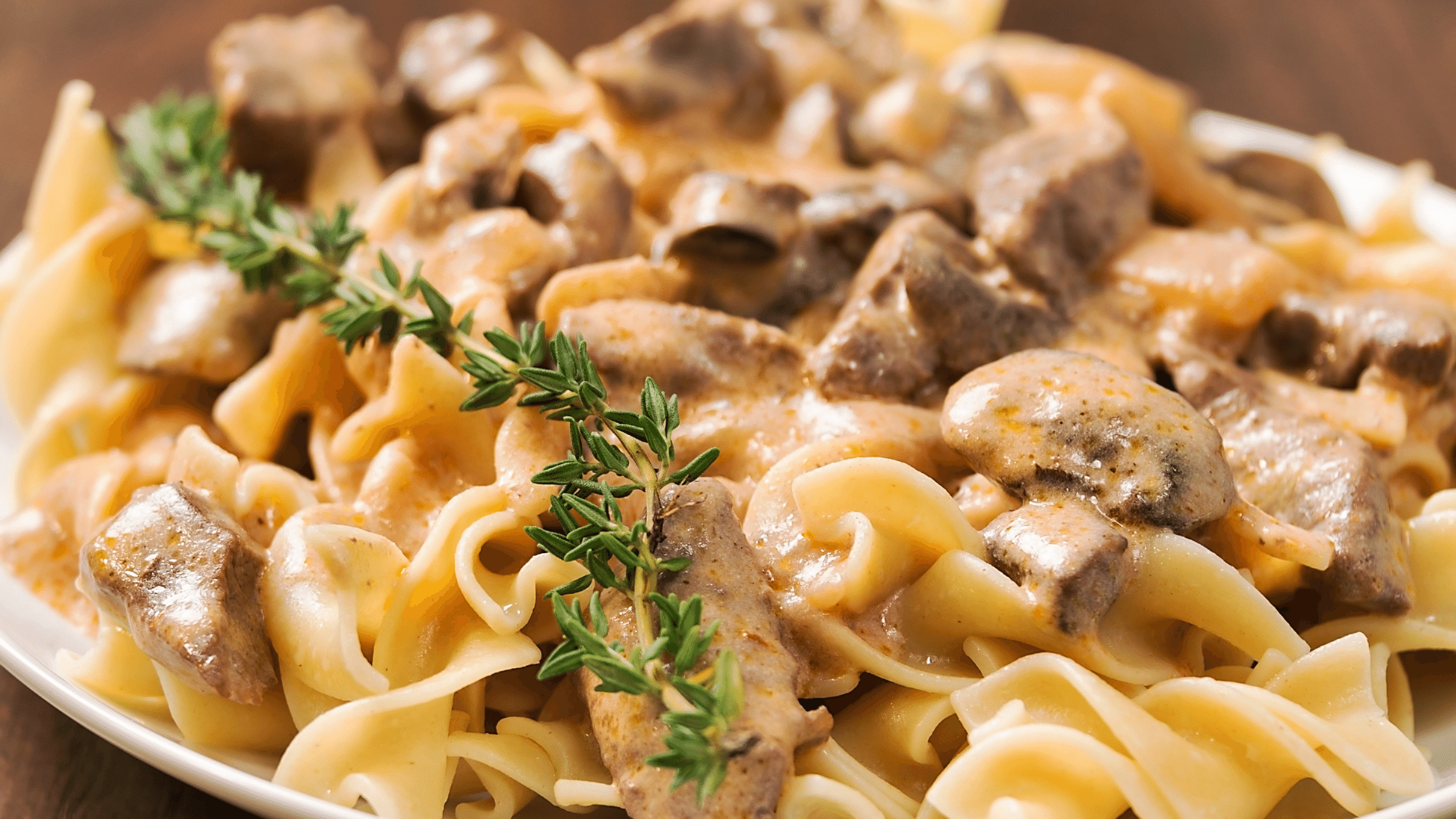 For an additional side to any of these pre-race meal ideas, choose a fruit such as an apple or banana or add in a slice of this applesauce-banana bread: 
Applesauce-Banana Bread
1/3 cup shortening
1/2 cup honey or 3/4 cup sugar
2 eggs
Applesauce
1 medium banana, mashed
1/4 cup sour milk or buttermilk

2 cups whole wheat flour
1/2 teaspoon soda
1/2 teaspoon salt
1 teaspoon baking powder
1/2 cup chopped nuts
1/2 cup raisins
Cream shortening, honey or sugar and eggs. 

Add enough applesauce to mashed banana to measure 1 cup.  
Combine with the creamed mixture.  
Add milk, dry ingredients, nuts, and raisins.  
Mix just until moistened.  
Pour into lightly greased loaf pans.
Yield: 1   4" x 8 1/2"
Carbs: 15 grams  Protein: 1 gram  Fat: 3 grams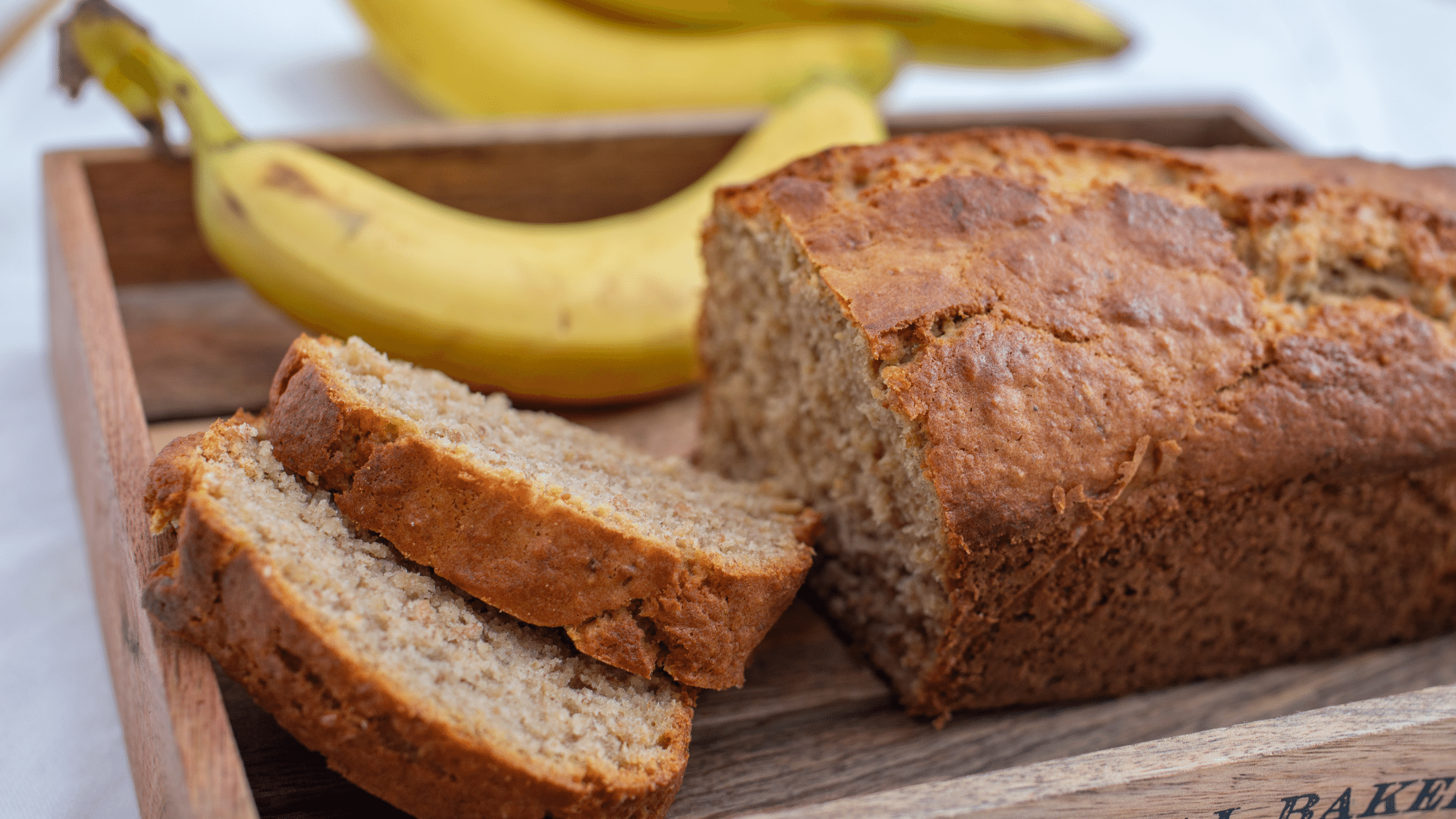 If you are looking for the next best thing to a personal nutrition coach to help you put together your own personalized nutrition strategy to help you in your marathon race and especially that crucial week before your marathon then be sure to check out EAT LIKE A MARATHONER!
Do you have a traditional "lucky pre-race" meal that you already like!
Share it with us in the comments section!
Or do you try to hit up the race's pre-race meal that is sometimes provided?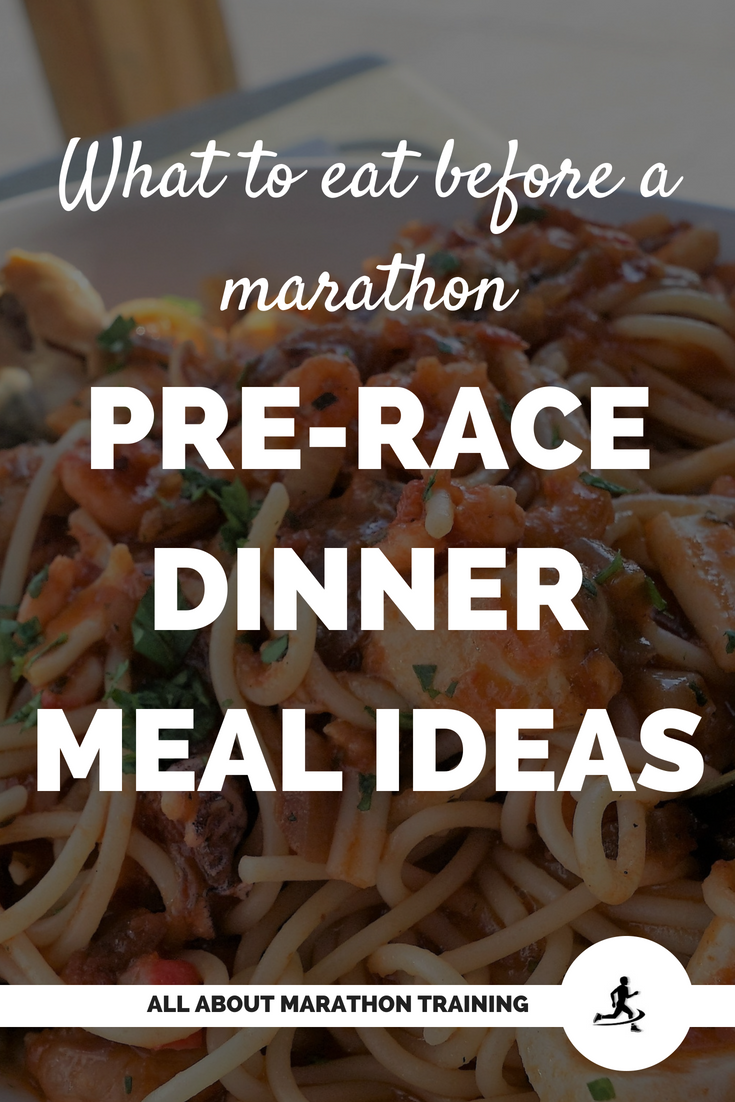 Pages Related to Pre-Race Meal Dinner Ideas:
I'd Love to stay in touch!
Join 23,000+ Other runners and receive my weekly training newsletter!
I'll send you my  free 24 Hour Timeline Checklist of Things You Should Do After a Long Run  when you sign up!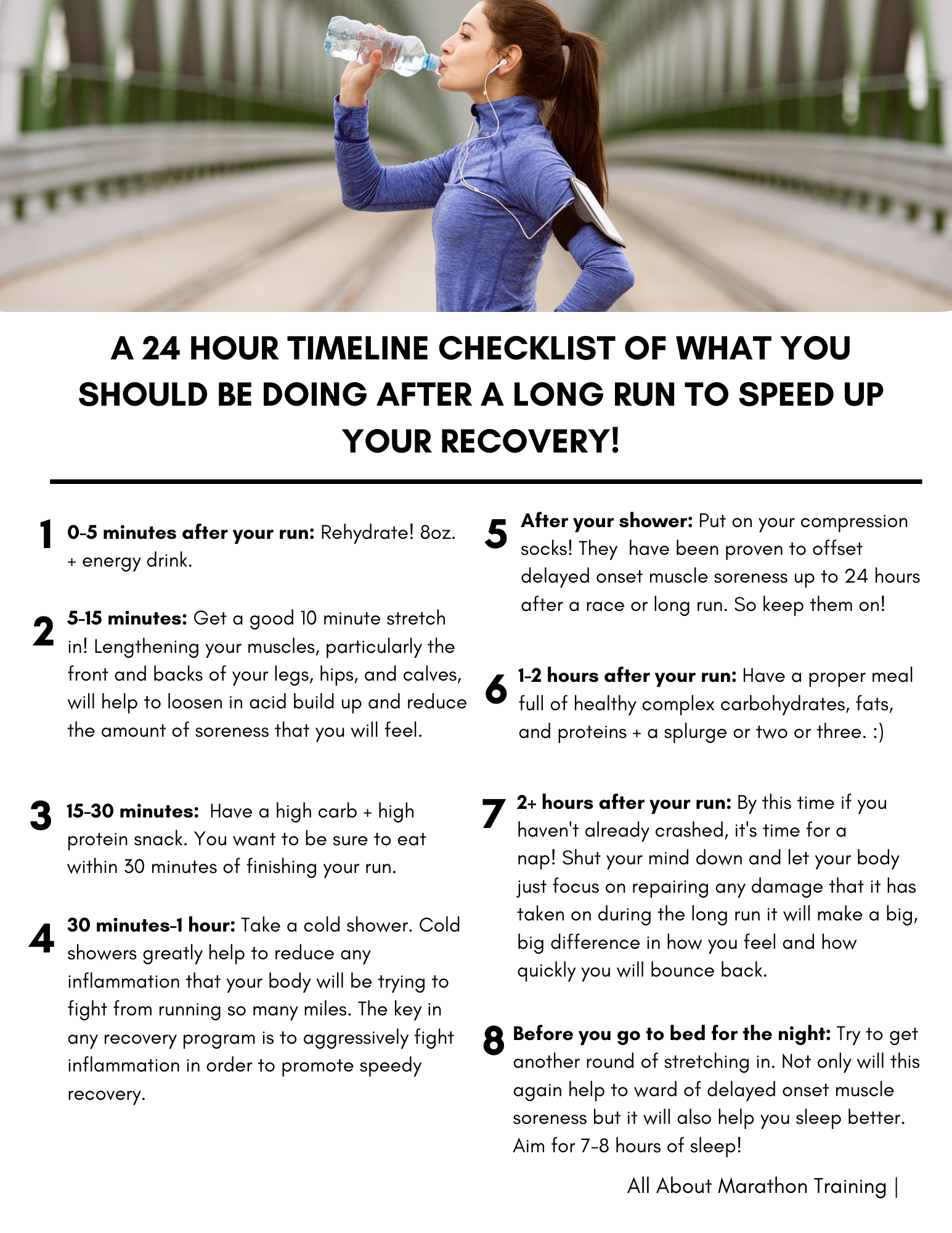 As featured on:

---