WHAT IS THE BEST WAY TO CARRY MY PHONE WHILE RUNNING?
One thing that almost every runner carries with them is their phone! 
And for good reason! It can keep us easily entertained for the many, many miles associated with marathon training!
So it's natural to wonder what is the best way to carry your phone while running?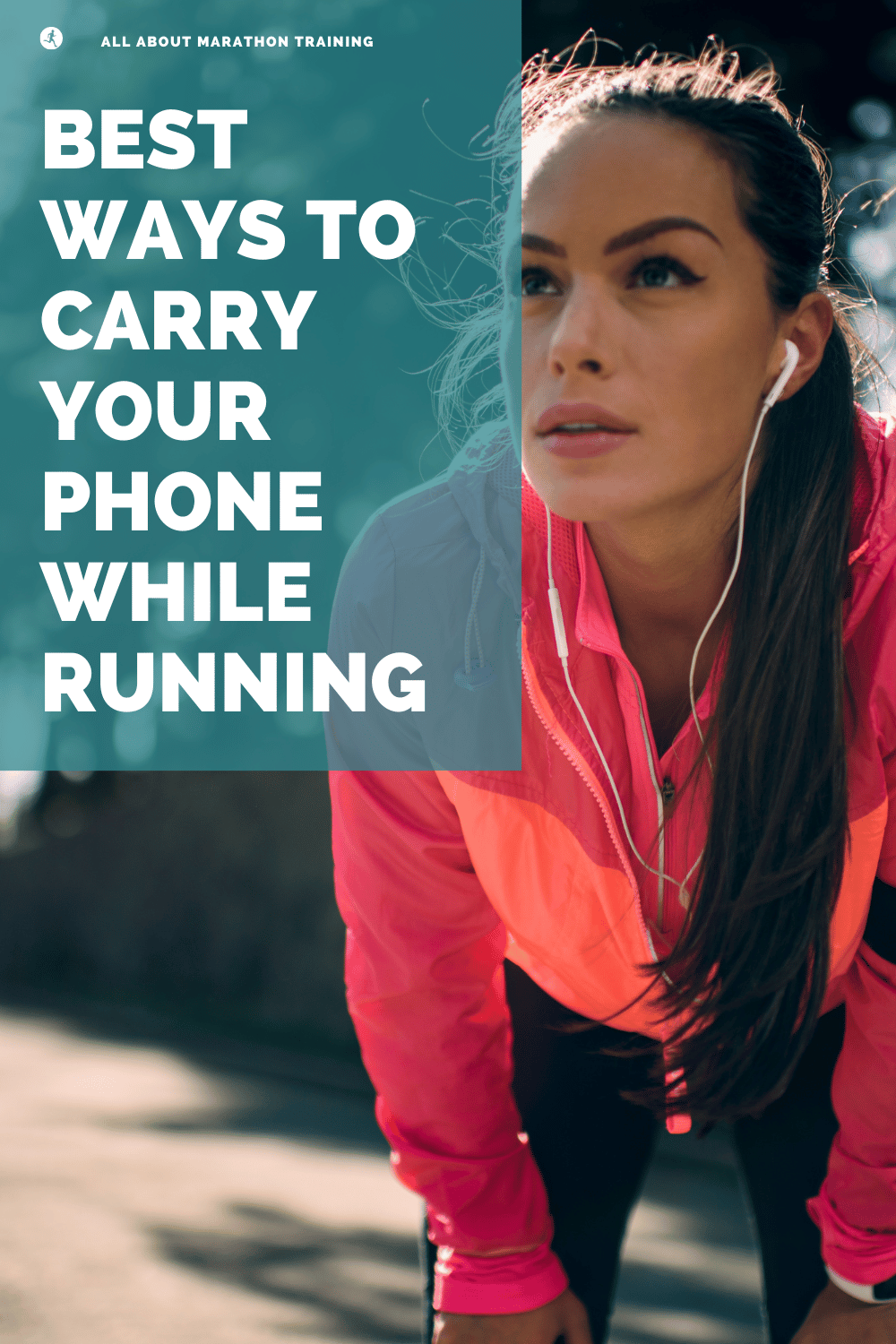 Let's back up a tad.
It's always good think about what you need to carry with you before you head out on the run.
Also, how will you stay engaged with the run?
Many people like to listen to music while exercising. How can you ensure that your favorite songs are playing while you cover the miles?

When you know the best way to carry a phone while running, you'll get the inspiration you need to keep going while keeping your investment secure.
What is the best way to carry my phone while running?
The best way to secure a phone while running is to attach it someway to your body.
An armband, phone holder, or zipper pockets create safe places to manage your device.
Locations on the upper body work better for those with wired earbuds or headphones, while Bluetooth® connections can function anywhere.
As cell phones come in different shapes, sizes, and weights, deciding where to carry it while running really depends on your comfort preferences.
If something doesn't fit properly, your focus is on the discomfort instead of the run.
Instead of enjoying the experience, you're consistently fiddling with whatever is bothering you.
After settling your comfort needs, you'll want to review accessibility and the device's holder or storage area size.


Many runners prefer arm bands because they can issue verbal commands to the cell phone, but others like the more traditional approach of pulling it from zipper pockets from a running vest.

The great thing is that you can stash a phone almost anywhere.
It can tuck into a hydration vest, compression shorts, sports bra or even a fanny pack.
Here are the most popular options that runners use today especially on longer runs.
Could one of them work for your training needs?
Check out: Running Essentials for New Runners at the Mile by Mile Blog.
1. Zippered pockets
Compression shorts or pants are excellent investments for runners to consider.
This apparel keeps blood flowing to your critical running muscles to prevent premature cramping and fatigue.
Many of today's best brands of running shorts include zippered pockets.
They're typically found along the side, but some designers are putting one on the back.
When you have a secure phone pocket to use, the only potential disadvantage is falling on the device during a stumble.

You can mitigate that risk without a high added cost if you have it protected with a heavy-duty case.
Women may prefer a higher waist with their compression shorts or pants. You'll have less tugging to manage while running.
Some zippered pockets can be lower on the leg.
That adds weight and movement with each step, which can be uncomfortable for some runners.
Quick Tip: If you don't like how cargo shorts carry items, look for options that place the device closer to your hip.
2. Running belt
A running belt fits over your regular apparel to secure your phone to your hip or waist.
The issue with this product is its slippage tendencies, so you'll need to find a product that works with your body type and has a reputation for staying secure like the FlipBelt! 
A running belt works like a fanny pack or waist pack, but without the extra bulkiness.
You slip the phone into the designated pocket, then off you go on the run.

There should preferably be a space to route your headphone or earbud cables if you need to do so.
An extra advantage of a running belt is that it can be a reflective color that makes you more visible when your route includes streets or sidewalks.
I like this running belt because it is super inexpensive (!) but it acts more like a belt so that you don't have to step into like you have to do with the FlipBelt.

Some running belts place zippered pockets on the inside, next to the body.
This feature can get uncomfortable on long runs, so think about what you'd like to see for easy access to the phone. Then choose a design that meets those needs.
3. Undergarment pockets
When you take long runs, especially for runners working toward a marathon, it helps to have a phone storage area that doesn't add extra weight.
Even an extra pound or two can leave you feeling more exhausted or physically overwhelmed.
Several brands make undergarments, such as sports bras, that include a pocket to store phones of any size between the shoulder blades or other comfortable areas.
If you don't have a pocket option, a tight sports bra or a pair of compression shorts can hold the device securely next to your skin although you will probably have to worry about sweat being an issue.

Guys who like to take a long run might wear a light pair of shorts over their compression apparel.
You can find a phone pocket tucked into the inner band on some designs for easy access.
Even if you prefer shorter runs, the best options in this category still go a long way toward supporting your training by keeping your phone secure.

Most pockets tend to stretch as time passes, so look for additional security options for a long-term investment, especially if you're a long-distance runner.
4. Hydration Packs
It helps to take a hydration bladder with you on long runs. A marathon might offer refreshment stations, but your personal training requires the supplies to come along for the adventure.

Many of today's top water carrier designs come with a phone pocket. You'll get to replenish fluids as your blood volume decreases while having convenient access to your device.
Several design options are available for runners to consider in this category. Here's a closer look at each one.
Hydration Vests
This comfortable option provides plenty of storage while offering front pockets for your phone.
Some designs include a large, zippered area in the back if you prefer to hold the device there.
Hydration belt
This choice allows runners to have extra storage space for canteens or water bottles while running. Pockets like what a fanny pack offers are included for convenient front access.
Here's a guide/list of the best running hydration belts for marathoners! 
Hydration backpack
If you prefer to keep extra weight on your back instead of on the hips, this solution makes sense. You can find zippered pockets or secure straps that attach the smartphone to your gear.
Hydration bottles with phone storage
SHERLIX makes a sleeve that you can strap to virtually any water bottle to turn it into a phone carrier.
Some brands create all-in-one solutions that include a similar device for convenient carrying during shorter runs.

Hydration options are essential for anyone planning to run for more than an hour. Some athletes sweat excessively, so even short runs require extra fluids. With this option, you'll solve that problem and have a spot for your phone.

5. Phone Arm Band

The arm band option for carrying phones has been around for more than two decades.
Before we had smart devices to bring music with us on a run, we had MP3 players that faced similar challenges.
Most runners who have been training for at least five years have tried at least one armband to see if they liked the experience.
Some people find the strap around the arm to be annoying, which causes them to leave their phones at home.
Runners like that you don't need to remove your device to access the screen with this option, but it can chafe the skin if the fit isn't right. You might find you really enjoy the option of an arm band to carry your phone though in the winter when you wear long sleeves or a jacket.
If you do find chafing to be a problem you might enjoy using more of a wrist armband to carry your phone while running. 
6. In Your Hand or Shoe

There is always the option to carry the phone when running. You don't need to invest in any equipment to manage this option.
Some runners don't like holding onto something the entire time, so they tuck the device into a shoe or a sock.
If you decide to use this option, please consider the waterproof rating of the phone. Even on shorter runs, the moisture exposure could be enough to impede how the device functions.
Here is a guide on the best shoes for long distance runners! 
7. Wrist Wallet

The best place to store your credit card while running is also a fantastic option for carrying your phone. This gear works like an arm band, but you strap it to your wrist.

The typical wrist wallet design includes a zippered pouch that keeps your phone safe.
Most wrist wallets are made from cotton blends or other lightweight materials. If you sweat a lot while running, consider investing in a moisture-wicking design that will keep you dry and comfortable.
Today's best wrist wallets have a high waterproof rating, ensuring your electronics are protected from the elements. You can train on a rainy day and still bring the sounds that motivate you to keep going.
The issue some runners face with this carrying option involves their balance while exercising. With the weight on the front on one side, minor adjustments to one's running stride could be necessary.
8. Hand Straps or finger straps

Some long-distance runners like to look at their phones while training. When you carry one in a hand strap, you'll have a stable place to dial numbers or respond to messages.

The design is like an arm band or wrist wallet, except it hooks around your hand to function like a handle while running. You can let the strap keep the device secure until you need to use it.
A basic hand strap uses elastic to secure your hand to the device. The best options in this category incorporate a thumb placement that adds more security, making it feel closer to a glove.
Although most phones don't weigh a lot, it can irritate some runners to have more weight on one side of the body and not the other. You can switch hands throughout the run for more balance.
I personally like to have a finger strap (like this one!) permanently attached to my phone because it makes phone usage so much more convenient but also is great for running especially if you are just running a short run and want to keep your phone in your hand! 
9. Magnetic Clips

This option works well for runners with larger phones. You'll place the device into the magnetic clip, which you can put almost anywhere on your body.

Koala Clips are a great option and one of today's most popular brands in this category, but several different designs are available for runners to consider.
This product is an all-encompassing solution, so it works with many different phone sizes. You'll have easy access to your headphone jack while keeping the phone away from other essential items.
Women often use this method of carrying a phone when they don't want to buy a new sports bra with a pocket. Guys can use it with their pocketless compression shorts with confidence.
10. Running Tights

If you don't like compression shorts or pants, consider investing in running tights to bring your phone for a short or long run.
Several designs incorporate pockets that stay snug through multiple wash cycles, ensuring the device doesn't move around while you're covering a few miles.
Seasonal running tights can help you keep training for that marathon or your next fitness goal without straining your budget. Fleece and wool-lined versions provide more insulation so that winter runs remain an option.
Lighter running tights offer more ventilation with some mesh paneling that traps sweat. You'll get some compression, contributing to potential recovery benefits.
Some brands incorporate reflective details that help you be seen at night, even in low-light conditions.
Most running tights are sold in pairs or trios. If you prefer something for winter running, such as the Under Armour HeatGear, you will typically purchase individual products.
My Favorite Way to Carry My Phone:

I have found personally the best ways to carry my phone while running is dependent on how far I am going and how cold it is outside.
The majority of the time, my favorite option when it comes to carrying my phone especially during runs of long distances is inside my FlipBelt!
The snug fit and quick access the FlipBelt gives to your phone, car keys, or credit cards makes it one of the easiest (and most comfortable) ways to carry all of your essentials.

The FlipBelt is basically a stretchy band that has one large built in pocket with multiple access slits or side pockets that provide more than enough space for storing all of your big or small items.
If it's cold outside and I'm not using my FlipBelt: 

If for some reason I do not have my FlipBelt with me or I'm just going for a quick 2 or 3 mile run then I find that carrying my phone in my Columbia jacket which has 2 side zipper pockets is my next favorite option and the zipper is a great way to be sure it doesn't accidently fall out while I am running.
If it's warm outside and I'm not using my FlipBelt and I'm going for a short run:

If I don't need a jacket and I'm going for a short run, I sometimes just carry the phone in my hand using the finger straps which is always attached to my phone case whether I'm running or not. I like this option especially if I'm going to be using my phone screen at all. 

What my Dad does😂: 

My dad's favorite way to carry his phone is actually in a plastic bag which he then places in his pocket. The downside is that it makes it hard to use your phone while you are actually running but it does a provide a great waterproof option. Truly it does come down to personal preference!
How Do You Prefer to Carry Your Phone While Running?

A cell phone does more than provide you with something to do while running.
Today's smart devices can monitor your physical performance, track your distance, and provide numerous data points that help you become a better athlete.
The goal should be to find the most comfortable way to carry a phone while running. You could be doing two miles or twenty today, but your maximum effort won't be there if you're distracted by your device.
When you choose one of these solutions, you'll feel more confident with the immediate access you'll have to the phone. Plenty of options exist in every category for almost any budget!
Think about how you exercise, your route, and your preferred apparel. Then choose the option that coordinates the best with your activities to enjoy the benefits of having your phone along for the run.
Related Pages
I'd Love to stay in touch!
Join 23,000+ Other runners and receive my weekly training newsletter!
I'll send you my  free 24 Hour Timeline Checklist of Things You Should Do After a Long Run  when you sign up!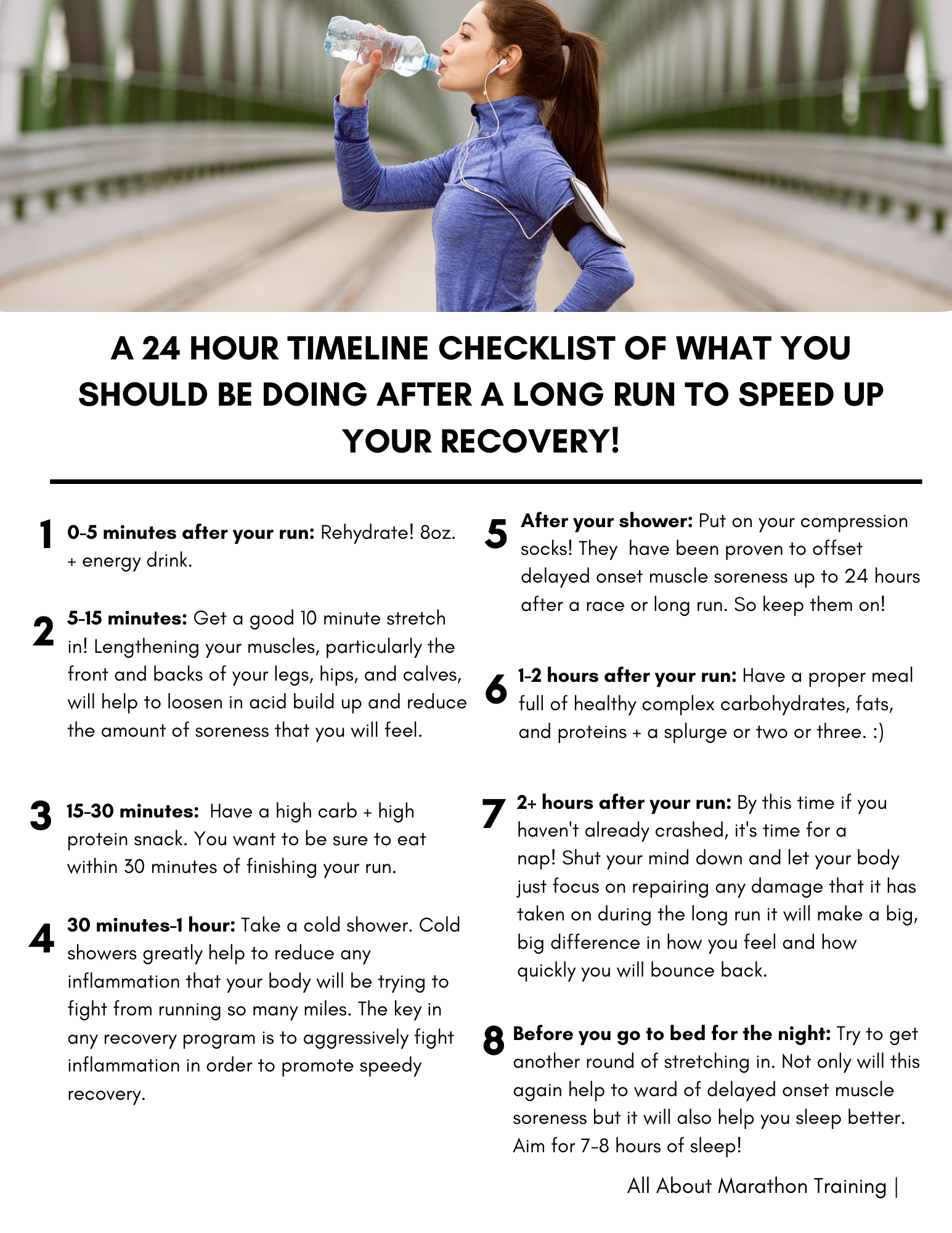 As featured on:

Your second block of text...
---