7 Best Post Running Recovery Sandals for Runners
Running recovery sandals are an amazing way to treat your feet after a long run or race.
As a marathoner runner or distance runner, you know how tired your feet can feel after any long distance run!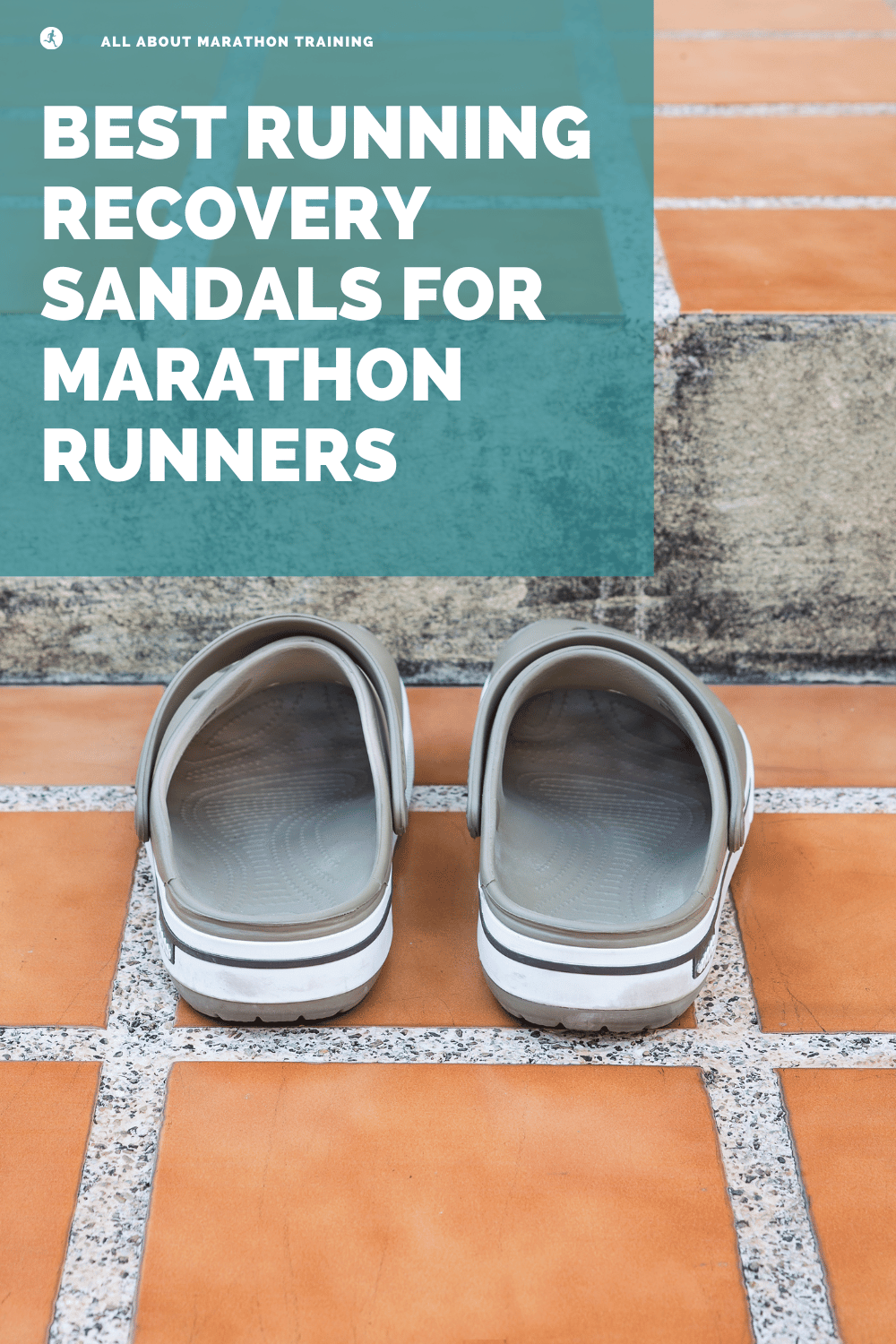 While running, your feet are stressed out and fatigued due to the constant repetitive motion that they undergo.
Your feet not only repeatedly take the weight of your body over and over again with each step but they also help you to stay balanced, attain top speed, keep proper body posture and correct running form.
After a long run, your feet need to be able to recover quickly from the fatigue caused in the process in order to stay in good shape for the next race.  
One of the most effective ways of doing this is by putting on recovery footwear, specifically recovery shoes or recovery sandals.
Recovery sandals help to:

relieve the strained muscles on your feet and promote muscle recovery
provide support and stability to your feet
give your toes a chance to breath while providing a roomy toe box area for them to spread out on
cushion tired pressure points
alleviate any extra impact you might experience from walking around after your long run or race
However, countless sandals are made for this goal, and how well they carry out this function varies. 
So, to save you the stress of researching all the different recovery sandals on the market in order to make a choice or worse, buying a pair and discovering they aren't as functional as they should be, I have selected the best recovery sandals available in the market and reviewed them here on this page. 
Here are the best recovery shoes, which I have carefully selected from the list of available sandals. 
Best Running Recovery Sandals Overview

Now, let's take a better look at each of these sandals so that you can find a great option for those tired feet!
7 Best Running Recovery Sandals Breakdown
Oofos recovery sandals are widely regarded as the mother of recovery sandals. 

It will be impossible to have a list of sandals that can help your feet recover after a race or workout without having this footwear on it. 
They are built to ensure relief on your feet and allow your feet to move naturally. 
Compared to the foam used on other traditional footwear, the foam used on this sandal absorbs more impact by 37%, thanks to the OOfoam recovery technology used on it. 
In addition, the OOFOS OOriginal Lightweight Recovery Sport Sandal is built with the traditional OOfoam footbed, a patented footbed that offers your feet excellent arch support while also reducing the stress on your sore feet, knees, lower back, and ankles after you go for a long run. 
These recovery flip flops are very comfortable, have a lot of cushioning, and can be helpful to people experiencing pain due to plantar fasciitis and heel bone spurs.  
They are lightweight, versatile, and can be used by both men and women. Also, they have an elegant hand-painted design and can be washed using a machine.
Pros
Cons
Key Features
---
This is an excellent option if you are looking for a pair of sandals to give your feet quick post-run and post-workout recovery. 

These comfortable sandals are built with exceptional features which ensure swift and active recovery whenever you put them on. 
In addition to the swift recovery these slip-on shoes offer your feet, they also help to eliminate any form of leg, lower back, or foot pain while reducing swelling and stimulating blood flow on your feet and legs.
(Quick Tip: Wear one of these running recovery sandals with your compression socks for additional blood flow to help promote recovery!)
They are built with patent pending acupoint soles that have triggers that massage your feet and provide them with healing relief when you run for a long time. 
These soles also trigger any acupressure points in your feet and help relieve sore feet while activating the nerve endings in your feet. 
And to ensure a perfect fit, these lightweight sandals are designed with a comfortable adjustable strap which you can fine-tune to grip your feet firmly.
In addition, they are made with a wide footbed to provide breathability, which allows your feet to fit into them even when your feet get swollen after a race. 
Also, they are built with rugged materials, ensuring you use them for a long time. 
However, you can't wash these recovery sandals in a machine. You must wash them gently with water and mild soap to keep them clean. 
It is without a doubt that the Gone For a Run PR Sole Active Recovery Slide Sandals is one of the best recovery slides available, and it is no surprise that it is one a top pick.  
Pros
It provides your feet with fast recovery after you run. 
It eliminates foot pain and reduces swelling in your feet. 

It is comfortable. 

It has a stiff and comfortable sole. 

It is lightweight. 

Its footbed is wide and non-slip. 

It is breathable. 

It is durable. 

It is water resistant. 

It is available in different colors.
Cons
Its pr soles do not offer arch support. 
It isn't machine washable.
You may experience discomfort in your feet when you put these sandals on for the first time before your feet will adapt to them. 
Key Features
---
The Hoka brand is one of the shoe brands renowned for making excellent recovery footwear; these sandals prove this. 
The midsole of these sandals is made with a soft EVA foam which offers your feet comfort once it slides in, while their insoles are both smooth, supportive, and extremely comfortable. 
To give your feet a smooth ride, these sandals are built with the traditional Early Stage Meta-Rocker which is used on all Hoka shoes. 
They also have a flexible arch for extra support and are great for plantar fasciitis. 
In addition, they have a great cushion feel which makes your feet feel better whenever you put them on and might make you think you are walking with your bare feet. 
Also, they have a rugged outsole to give your feet stability when you work and other additional features that provide traction and make them flexible.
Aside from being used as a recovery slide, this supportive sandal can also be used as house slippers. 
So, it is no surprise that this slide has the American Podiatric Medical Association Seal of Acceptance for its excellence in maintaining good foot health.
It is rated as Amazon's Top Choice out of the many Hoka recovery slides.
Pros
It is very comfortable. 
It has plenty of support for your arch and entire feet.
It has a smooth insole. 
It is well-cushioned to give your feet a great feel. 
It gives your feet traction and stability. 
Cons
They are several complaints about the type of plastic it is made with. 
They can sometimes make your feet feel hot and are not good for the hot weather. 
Key Features
Soft Eva Foam Midsole 
Early Stage Meta-Rocker for a Smooth Ride
Stable Outsole 
---
The best way to reward your tired feet after a race is to put them in a supportive and active recovery sandal like the Vionic Unisex Recovery Sandal. 
This sandal has a well-textured and molded EVA footbed with one-of-a-kind cushioning to provide your feet with support and stability.  
This footbed also helps to relieve your feet from issues such as plantar fascia, heel spurs, and lower back pain, amongst others.   
It also has a dual-density midsole that provides maximum arch support, an orthotic insole to comfort your feet, and unique forefoot cushioning. 
In addition, this sandal from the Vionic brand has an adjustable strap that you can use to customize your fit to hold firmly and a rubber outsole that is both long-lasting and stable. 
Pros
It is extremely comfortable. 
It provides maximum support for both the arch and the ankle. 

It has great cushioning. 

It has a great feel. 

It is stylish. 

It provides more support than house shoes. 

It provides stability to your feet. 

It is available in different colors.
Cons
You may experience discomfort when putting these sandals on for the first few days before your feet adapt to them. 
They aren't machine washable.  
Key Features
EVA footbed 

Orthotic Insole 

Dual-density midsole 

Durable outsole

Velcro closure 
---
A pair of the hoka ora recovery slides on your feet will make you feel like you are walking on clouds and provide your feet with maximum recovery after a hard run or a long day on the track. 
They are very comfortable and allow you to walk long without feeling soreness, cramping, or any pain in your feet. 
They also have good support for high arches and great arch stretch and are a good option for people with plantar fasciitis. 
Pros
It is very comfortable.
It has high arch support. 
It has a great arch stretch. 
It is durable. 
Cons
It is too wide. 
The plastic used on it is too thick. 
Key Features
Eva Foam Midsole 

Early Stage Meta-Rocker

Rugged Outsole
---
Is it possible to have a long list of recovery sandals without having at least one piece of footwear from the Crocs brand? I don't think so. 
Over the years, the Crocs have proven its prowess in producing different footwear with great arch support, optimal comfort, and maximum cushioning, which are some of the characteristics that a good recovery shoe should have. 
This slide has these qualities with additional athletic elements. 
The cushioning on this athletic footbed is provided by the traditional Croslite foam footbed. 
This sandal has a streamlined and simple design which makes it versatile. It can be used as recovery shoes, post-workout slides, regular everyday shoes at home, beach slides, etc. 
Pros
It is very comfortable.
It has great arch support. 
It is true to size. 
It is waterproof. 
It is lightweight. 
It has a simple and stylish look.
It is available in different colors.
Cons
Its top strap doesn't stretch properly.
Key Features
Croslite Foam Footbed. 
Tough Rubber Outsole 
Simple and Stylish Look
---
Last but not least, of the recovery sandals on my list are the GPOS Mens Sports Recovery Sandals. 
These sandals do a great job of recovering your tired feet and assisting in the relief of any pain in your feet when you are done with a race. 
To ease the tension on your leg muscles when you walk, they are built with a boat shape with a high front, curved toe cap, and low back arc. 
They also have good arch support to reduce the pressure on your feet while you walk, making it great for you if your feet are swollen after a race or if you have plantar fasciitis. 
Their upper is made with a hollow-out design, making it more comfortable, breathable, and odor-free. 
In addition, they have a firm footbed and a double deep heel cup, making your feet more stable when you walk.  
These features, together with its sole tough, help to cushion and absorb the shock from the impact of each step you take and relieve you of tired feet and weak knees. 
This rugged sole is also built to prevent slipping on wet surfaces. 
Pros
It is comfortable. 
It is very supportive. 
It absorbs impact properly. 
It is well-cushioned.
It massages your feet well.

It is breathable. 

It is slip-resistant. 

It is stable.
Cons
It is too wide. 
It doesn't fit true to size. 
Key Features
Double deep heel cup for stability 
Hollow-out upper for breathability. 
A rugged sole to prevent slipping.
---
Factors You Should Consider Before Buying a Running Recovery Sandal

How Comfortable It Is 
How Supportive It Is 
How the Foot bed Feels
Your Budget 
How Long It Will Last
How Comfortable it is 
It's essential that the sandals feel comfortable to recover properly.
These features include breathability and a wide toe box or forefoot. 
Putting on a breathable sandal after a race allows your feet to receive enough air to calm their hotness due to the long hours on the track. 
Meanwhile, a recovery sandal with a wide toe box or forefoot gives your feet enough space to relax and unwind from the stress of running and hence makes their recovery process effective and swift. 
How supportive it is
One of the attributes of every sandal I reviewed in this article is good arch support, which shows how vital support is in helping your feet recover after a race. 
So, ensure the recovery sandals have enough support for your arch and feet. 
how it's footbed feels
One of the best ways to help your feet recover properly and swiftly is by placing them on a soft and smooth foot bed after a race. 
A smooth and soft foot bed helps your feet relax after a race but also helps relieve your feet of any pain or soreness it is experiencing due to the hours it was on track.
Your budget
Another factor you should consider before choosing a recovery sandal is your budget. 
Many recovery sandals are available in the market with varying price tags, so ensure the one you go for will keep you from breaking the bank.  
How long it will last
You should also ensure the sandals you choose are made of materials that will ensure they last for a long time without wearing and tearing out and needing a replacement after a short period.
Best Running Recovery Sandals Summary

Recovery sandals are a great alternative to recovery shoes, compression socks, or massage tools, which can help your feet recover after running for long hours. 
In this article, I have selected some of the best recovery sandals in the market that have features that can help restore the life in your feet after every race or long run.
So, endeavor to carefully check out each reviewed pair of recovery sandals and choose the one that is best for your feet and your budget.
Here are a couple of other sources for running recovery:
How to recover from a marathon quickly
10 Activities and Foods to Incorporate the Week After a Marathon
24 Hour Long Run Recovery Time Line
Other Related Pages
I'd Love to stay in touch!
Join 23,000+ Other runners and receive my weekly training newsletter!
I'll send you my  free 24 Hour Timeline Checklist of Things You Should Do After a Long Run  when you sign up!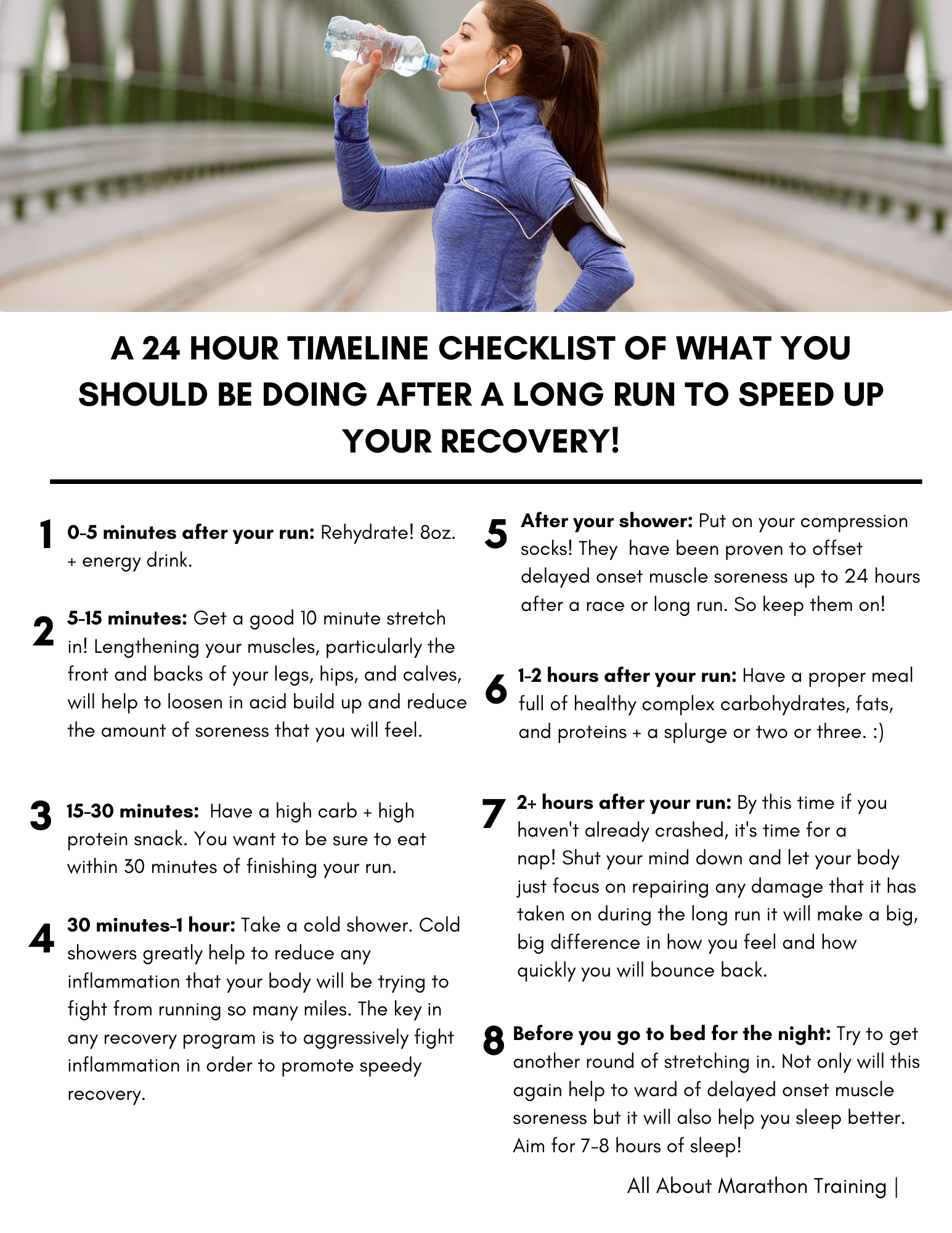 As featured on:

Your second block of text...
---