All about marathon training's DIgital running log
insturction guide
First of all, thank you so much for your purchase of the Digital Marathon Running Log! 
I created this instruction guide to hopefully make setting up your customized running log as simple and easy as possible! 
I will walk you through step by step what you need to know in order to get started plus share some Frequently Asked Questions here! 
Tabs included in the digital running log
This digital running log includes a series of tabs which can be found and accessed from the bottom of your screen.
You can toggle between tabs by clicking on them.
Here's a break down of each tab:
READ ME: Read a quick summary of the digital running log. Input your different types of runs and workouts in this tab. Making changes to your workout options here will update the options everywhere on your digital running log. 
OVERVIEW TAB: This tab is where you can see and automatic calculation of how many miles you have currently run throughout the year. You will also see an overview of how many miles your have run each month and how many minutes you have spent being active each month. 
MONTHLY LOG TABS: There are 12 tabs that have the names of each month included. This is where you will log your runs! When you log your miles they will automatically be added up and shown in your monthly overview tab at the top of that month's running log and in the Overview Tab. Each of the Monthly Log Tabs also includes easy to use dropdown menus to make logging your training runs or cross training workouts a bit easier! 
Now that we know more about the Digital Marathon Running Log, let's look at each tab in a bit more detail. 
Protected/Locked Sections on the Digital Running Log:

When trying to edit a protected field, row or column a warning will pop up.
This is so that no accidental changes are made to the formulas that would alter the functions of the spreadsheet. 
If you know your way around using Google Sheets you can click "Okay" so you can go ahead and make the changes.
If you are new to Google Sheets or unfamiliar with the formulas I use I highly recommend not editing any of the protected fields so you can be sure that your spreadsheet will keep functioning as intended. 
INSTRUCTIONS:
Read me tab:
Step 1: Read the quick summary.
Note the links to this Instruction Guide and to my email if you need help.
Step 2: Change your Workout Types. 
Set up the different types of workouts that you will most likely be doing over the course of the next year. 
No worries if you can't think of them all right now, you can always come back to this tab and edit and add more! 
You can log up to 30 different types of workout.s 
Changing the categories here will change them everywhere in the spreadsheet!
To customize a workout type, simply click on the category, for example "workout type 1", and replace it with a run or workout of your own.
If you would not like to use a category you can simply delete it by clicking on the category and clicking the backspace button on your keyboard! You can always use this space later. 
Recommend Types of Runs/Workouts You Might Want to Include:
Base Run
Easy Run
Recovery Run
Hill Repeats
Hill Sprints
Interval Workout
Fartlek
Tempo Run (or Lactate Threshold or Threshold Run)
Long Run
Goal Pace Long Run
Progressive Long Run 
Other workouts (cross training workouts/activities that you regularly perform that you want to take part in):
Strength Training 
Biking
HIIT Workout
Yoga
Pilates
Monthly running log tabs
The monthly log tabs is where you will log all of your runs.
Your miles will automatically add up in the overview tab and at the top of each monthly running log tab. 
Your time spent active (runs and other workouts you perform) will also automatically be added up inside of the overview tab and at the top of each monthly running log tab. 
For your time to be added up accurately, you MUST use this time format: 0:00:00 
For example, if you run for 45 minutes and 37 seconds you must input this into your running log as: 0:45:37.
If you run for 8 minutes and 23 seconds you would input this into your time column as 0:08:37.
If you run for 2 hours and 13 minutes and 57 seconds you would input this into your time column as 2:13:57. 
To log your run: 
Date: The day of the month is already filled in for you. 
Miles: Double click to add how many miles you ran.
Time: Double click and add your time in the 0:00:00 time format
Pace: Your pace is automatically calculated from your miles and your time. 
Route: Describe what route you ran if you prefer (this could be the name of a trail, your treadmill, a fun route name that belovingly call a familiar route you run, or even whether it was hilly, flat, etc. 
Type of run: Pick from your different running types or workouts that you inputed in the "Read Me" Tab. 
The date - Simply double click to pick a date from the date picker.
The amount - Add the amount for that transaction.
The main category - Pick from income or expenses.
The subcategory - Pick a subcategory from the dropdown list to make sure it ends up in the right spot on your budget and other dashboards!
Food/Drink: double click to add notes on any food or drinks that you want to make note of that you consumed. 
How it felt: double click and make a quick note about how you felt or even how the weather felt! 
XT: XT stands for Cross Training. If you perform a Cross Training Workout, pick from the drop down box what type of cross training workout you performed. 
XT Time: read this as "Time you spent performing a cross training workout". This might be an add-on strength workout that you did at the end of a short run or it could be a full on cross training workout you performed on a non-running day! As with the other Time Tab, you must record your time here in the format, "0:00:00".
And that is it!
Both of the dropdown lists are based on the categories you inputted and customized in the Read Me Tab. If you are missing any subcategories be sure to add them here!
Now that your digital running log has been set up and you know how to log a a run, let's talk more about the Overview Tab.
Overview Tab
Your overview tab will add up all of the miles you have run each month and throughout the entire year in one glance! 
This tab will automatically update for you and you will not need need to change anything in this tab! 
You will also find some graphs that breakdown and give you a visual of how many miles you have been running month to month. These graphs will automatically update and start recording as soon as you begin logging some runs!  

THe MY Goals Tab
This tab simply gives you a visual chart for you to record, plan, and dream out your big running and marathon goals! There is also a race log included in this tab. 
To record a goal, simply click on the space to the right of the month and begin typing! 
The pace calculator tab
This nifty tab will automatically calculate a finish time for you based off of your goal running pace in these categories:
5k
10K
Half Marathon
Marathon
It will also automatically generate a mile (and kilometers!) splits chart for you to use in your training and in the race itself! 
To print a copy of this splits chart:
Open the Pace Calculator Tab
Click on "File" in the top left
Scroll and select "Download" 
Choose PDF
Print! (Make sure you choose Portrait in the Page Orientation settings.)
If you want to use this splits chart during the race, cover it and seal it in packing tape and attach it to your wrist to use as a pace wrist band! 
Duplicating Tabs
For whatever reason, you may wish to duplicate tabs.
This is easy to do!
Simply right click on the tab name (at the bottom of your screen) and click "Duplicate". You can also right click and choose to rename any tab that you wish.
FAQ
If you need help...
If at any point in time you are experiencing issues with your digital running log, or for example, deleted formulas that alter the function of the log, be sure to reach out to me. 
If your issue is specifically related to your digital running log, be sure to include a link to your personal log so I can assist you straight away:
Click on the "Share" button in the top right corner
In the bottom click on "anyone with a link" and most important "editor"
Click copy link and send it to me at molly@all-about-marathon-training.com, as well as a description of what issue you are experiencing
After I have had a look at your spreadsheet, and possibly restored the sections that are not functioning, you can change it back to restricted so we won't have further access. I do try to always get back to you within 48 hours. 
Can I use this Running Log Offline?
While you will need an internet browser to edit your spreadsheet, Google Sheets has made it possible for you to edit and access your spreadsheet offline.
You can find more information regarding using and editing your spreadsheet online on the Google Docs Help Platform here.
can i use this digital running log on my phone or tablet?
I highly recommend opening and editing your digital running for the first time on your computer or laptop. 
There are however no restrictions on which devices you can open or edit your spreadsheet.
If you would like to access your spreadsheet on your tablet or phone I highly recommend downloading the Google Sheets app (available for Android and Apple devices) to make accessing the spreadsheets easier.
Disclaimer
Google Sheets: This spreadsheet can only be used on Google Sheets, it is not compatible with Excel. You will need a Google account (which is free) to access this spreadsheet. 
Copyright: this design, this spreadsheet as well as this guide are copyrighted by All About Marathon Training. Your purchase of this product is for personal use only. It is prohibited to resell, share, or reproduce this product. Public/commercial use of any kind is prohibited.
Product: neither this product nor All About Marathon Training are affiliated with Google Sheets.
Refunds: as this is an instant digital download all sales are final. I don't accept returns, exchanges or order cancellations due to the nature of digital purchases.
I'd Love to stay in touch!
Join 21,000+ Other runners and receive my weekly training newsletter!
I'll send you my  free 24 Hour Timeline Checklist of Things You Should Do After a Long Run  when you sign up!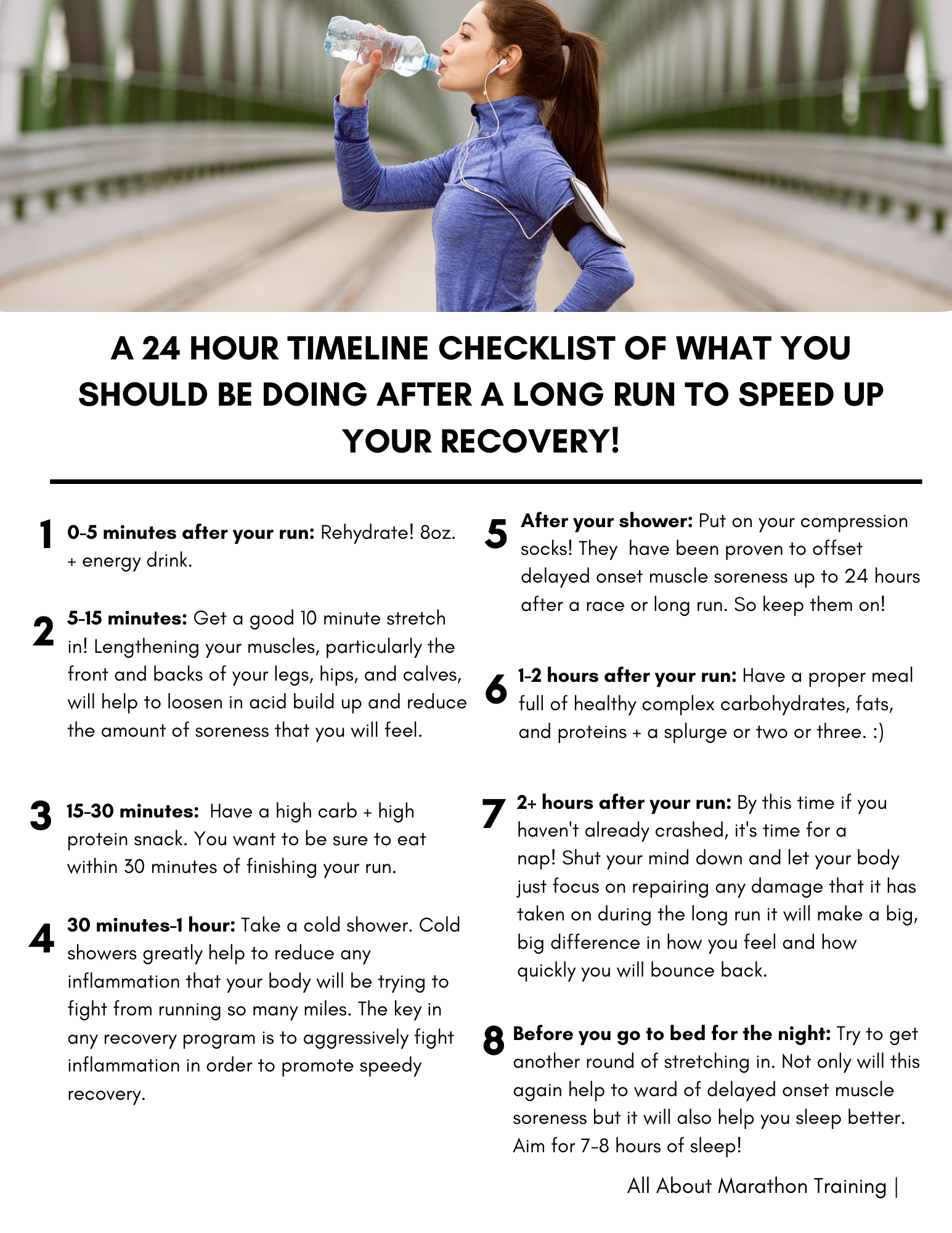 As featured on:



Your second block of text...
---