6 Week Half Marathon Training Program
Has "Run a Half Marathon" been on your bucket list for a while?
Have you not found a half marathon training program?
Do you feel like you don't have the time, energy, or organization to train for such a goal?
FACT: Did you know that most half marathoners and runners in general, boast of a happier life, healthier living and greater sense of self-esteem and confidence?
FACT: Did you also know that only 0.00589% of the United States population ran a half marathon in 2013 according to a Running USA report? That's less than 1% of the American population having all the fun!
For most people, what is holding us back from achieving our goals, is simply ourselves. We think we can't. We think it's too hard. We think that we won't be able to finish. So why should we even try?
If it's not that, the other common problem is simply time. In fact, time is one of the top reasons that people give for not exercising even though they know the benefits of it and how good it is for them.
People are notorious for putting things off until they have "more time". The reality though is that there really isn't a better time. You have to "make time". You have to start living or you will be living a life centered on waiting for "more time".
I get it. Training for a half marathon is no small achievement. It takes dedication, perseverance, patience and tenacity. And of course…time!
What if all it took was 6 weeks to train for a half marathon?
This is what this book is designed to do: get you to your half marathon goal in 6 weeks.
6 weeks. You can commit to a 6 week half marathon training program. It will fly by and what will the end result be?
A great achievement that YOU earned. Something that can never be taken away from you. A greater sense of self-confidence and self-esteem. A healthier lifestyle. A happier, more positive outlook on life. More peace and a feeling of control in your life. Some of the best memories that you will ever have.  And the list goes on. (Well into the first chapter…)
And all you need is a pair of running shoes and 6 weeks.
Don't think a 6 week program is enough time to train?
Can you walk a mile? Can you run a mile? 6 Weeks to the Half Marathon is for those who want to walk or run a half marathon. If you can run or walk then you can be "Half Marathon ready" in 6 weeks.
Think that a 6 week program means a lot of hard, challenging training?
It doesn't. Not any more challenging than what you are used to as a runner. In fact it probably looks very similar to your weekly exercise schedule right now.
What this program looks like:
This balance of running, cross training, rest, and a slow, progressive buildup of long run mileage will allow you to peak at the 6 week mark and bring you to the finish line of the half marathon. 
This eBook though does not just include a training plan.
This book though does not just include a training program...
Take a look at the Table of Contents with additional notes on what's presented in each chapter of the eBook here.
This is the bulk of what you will get in the 136 pages of 6 Weeks to the Half Marathon eBook; however...
There is lots more including:
Personalized guidelines on how to make the training fit your needs
Tip boxes to make your life easier while training
A 6 week menu plan that takes into account all of your dietary needs according to where you are at in your training
Printable pace bands
Recipes for runners
Printable checklists to help keep you in track with your weekly goals
Contact information for support along the way
and of course, pictures!
With all of this, the tips, the weekly goals, the checklists provided, there is NO guesswork involved!
The planning has been done for you. You just have to do it. Step by step.
---
Why trust me with your training?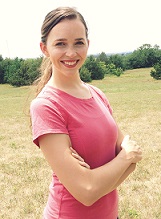 I have been running for over 10 years. With 6 marathons under my shoes and numerous races of a variety of distances, it's my first love. I couldn't stop at the finish line though and so I majored in Kinesiology with a focus in Exercise Science. With courses in biomechanics, training periodization, anatomical kinesiology and sports nutrition, I have made running not only my passion but my job.
I know a half marathon training program can be hard, stressful and unforgiving at times. I also know that the rewards, the pride, the joy, and the sheer sense of accomplishment that you have when you cross that finish line are more than words can say.
---
You are not buying an eBook. You are buying an experience. You won't regret it.  But you might regret NOT doing it. 
However, if for whatever reason you are not 100% satisfied with what you receive, you can return it within 30 days. Money back. Guaranteed.
Join us on this 6 week journey and get ready to make one of the best memories of your life! 
Thanksgiving Weekend Sale Means 50% OFF for You!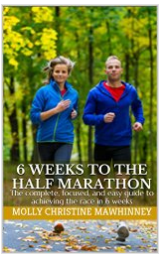 $17.99
$8.99
             P.S. Your pdf format of the eBook will start downloading immediately after purchasing so that you can get right to your training! 
Want a Kindle Version?
We are now offering a
Kindle Format
of
6 Weeks to the Half Marathon
! Please note that this version of the book is selling for $9.99 but due to the Kindle formatting requirements it does not include the pace bands or the running log that the pdf version contains.
Have you enjoyed reading, 6 Weeks to the Half Marathon? Was the program successful for you? Let us know by leaving a review here! We sincerely appreciate your honest opinion!
---
---