The 12 Week Half Marathon Weight Loss Challenge!
Why not kill two birds with one stone? Train for a half marathon and focus on getting back to your healthy weight with this 12 Week Half Marathon Weight Loss Challenge!
Walking and running are one of the best and easiest ways to lose your extra weight. Couple that with proper nutrition and you are almost guaranteed of success. And that's what this Challenge was designed to do: set you up for successful weight loss and a fun half marathon. 
What exactly is included in this Half Marathon Weight Loss Challenge?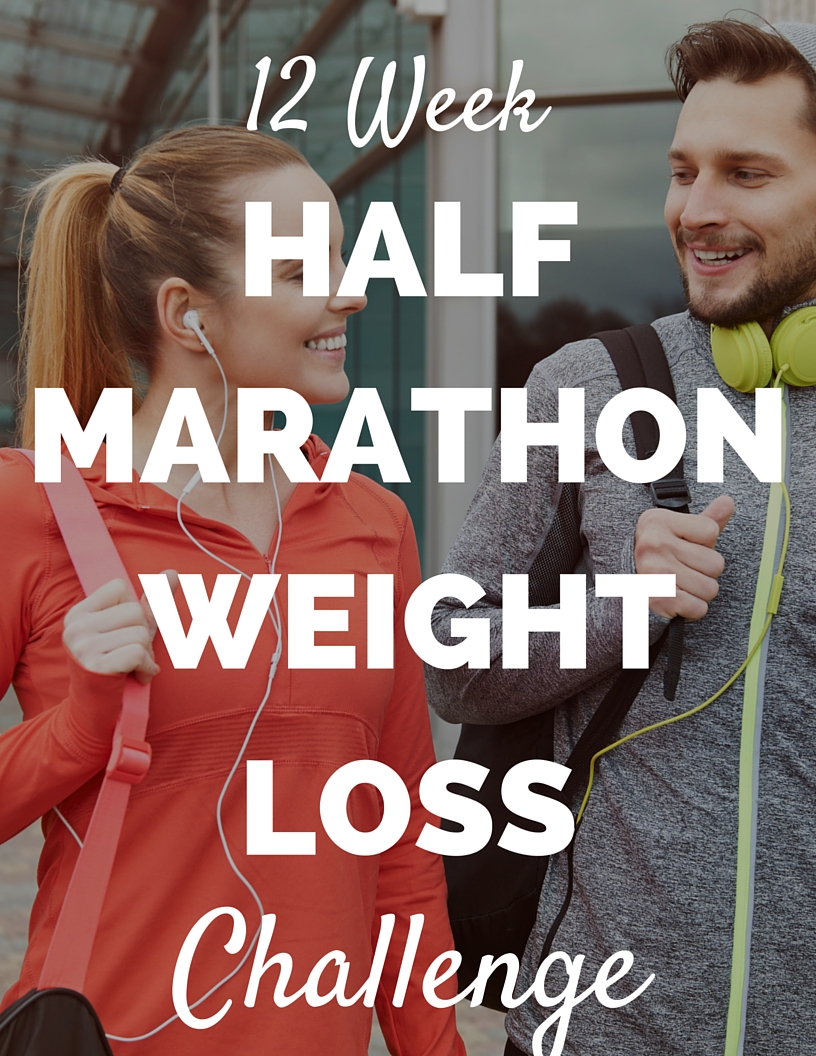 A Welcome/Start Kit that will:

help you make your body assessments + calculators
information on how you will lose the weight throughout the Challenge 
the 5 Key Strategies that we will be employing throughout the Challenge
What YOUR weekly goal weight loss should be
a Prep Checklist
Goal Assessment
Weight Log
A Nutrition Packet that:

explains what your weight loss diet should look like
how many macronutrients 

(carbs, fats, and proteins) 

you need + calculators

foods that you should focus on eating for each of the macronutrients

how to eat to run well

when and what you should eat before, during and after your workouts, information on how hydration will help you lose weight, plus extra healthy eating tips

Breakfast, Lunch, Snack and Dessert Recipes
An Exercise Packet that:

contains your 3 training plans to choose from (Walking, Running, or Run/Walk Plan) 

the anatomy of the training plan

how to make it the most effective for you

information on why the strength training portion of the challenge is important

access to calculators for you to see how many calories you burn after every workout
And weekly emails to keep you motivated that contain:


your new strength workout for the week

your menu plan that will contain your dinner recipes, all under 350 calories, 

your food/workout logs

support!
How much weight can you expect to lose?
Your minimum expectation should be about 5-10% loss in your body weight over the course of 12 weeks. That's a minimum. We'll show you your minimum inside the Challenge! A 200 pound person could expect to lose at least 20 pounds and more!
What is the Half Marathon Training Plan Like?
There are actually 3 half marathon plans included in the Challenge! A Walking Plan, Running Plan, and a Run/Walk Plan. So you choose! These plans have also been designed to be interchangeable so if you have chosen the Running Plan but are worn out one week, switch over to the Run/Walk or Walking Plan for a couple of days. 
So, are you ready to commit to the next 12 weeks, making healthy eating and regular exercise your lifestyle, completing a half marathon, and losing your weight in just 3 months! That's a lot to show for such a short time but you have the tools to do it with this 12 Week Half Marathon Weight Loss Challenge. 

Here's to the new, more confident you!