Beating the Summer Heat
Here in the Midwest we have been dealing with summer for a good month and a half now. As it doesn't seem to be getting any cooler and the heat of August is looming in the near future, I thought I would share my ten best tips for staying cool during a run.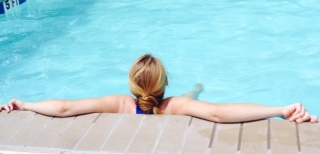 Before I begin though I want to make a note about checking the temperature before going on out for a run. During a run, your body will heat up faster and hotter than if you were to just step outside for a couple minutes. You are coupling a high intensity exercise with the heat of summer and you will want to know what you will be facing before you face it a couple minutes down the road.
A good rule of thumb is to add an extra 15 degrees to the temperature on the thermometer and this is what you can expect to feel while running. That being said, plan accordingly! Don't underestimate the power of the heat in causing miserable runs, dehydration and heat stroke.
Also know when to give in to just staying inside. A prudent runner is one who knows how to beat the weather even when it looks like the weather beat him.
Heat Tips
Plan out your hydration route. Do this especially if you are running a long run. Plant your water bottles along the way of your route or run where you know there are water fountains. It's also not a bad idea to invest in a hydration belt.
Pour cold water on your head, back, neck, inner wrists, abs, etc. This can make a world of difference when you are feeling the heat. The inner wrists do sound like an odd spot to pour water on to but believe me, it works! :)
Run your t-shirt through the cold water before heading out on a run.This is my go-to when I really want to get out there and run but its on the brink of being too hot. It really helps you get a couple more miles in. On longer runs, plan the halfway point near a bathroom so that you can wet your shirt, turn around and run home!
Wear Polyester. Polyester is light and airy and doesn't trap the heat or air inside like some materials. It's breathable and wicks sweat away from the body keeping you cool. It's also a good protectant against heat rash.
Run Early. This is obviously a no-brainer. The earlier you run in the day the potentially cooler it will be. The hottest times of the day are between 11 and 2pm when the sun is at its highest. However don't underestimate the heat of 6 pm as the humidity then can be sweltering from all the heat of the day.
Run Inside. A lot of runners do not like resorting to treadmills but sometimes it's the thing that will save your training plan.
Cross-Train.Doing an inside cross -training session on a hot day is a great way to add a different spice to the mix while working on your overall fitness. As a runner used to intense exercise, try some high intensity training videos on youtube or just get more of an aerobic workout in by cycling on a stationary bike.
Take walk breaks and go slow. The heat is going to slow you down and that's a fact. So just roll with the punches and enjoy it. Going slower will allow you the opportunity to re-evaluate your running, goals and life. Who doesn't need a thoughtful walk in the heat every now and then?
---
Marathon/Running News
India is offering it's first marathon trail run! India Trail Run is coming in September of 2014. Read about it here.

Here is a true Marathon Addict. Sounds like he just can't get enough. Read about Rahul Verghese's Mount Everest marathon Rahul Verghese's Mount Everest it's a pretty fascinating!

Thinking about running an ultra-marathon running an ultra-marathon (you crazy:)) then this article is for you.

Here is what Shalane Flanagan is aiming for this fall. Shalane Flanagan is aiming for this fall Her fast friend, Kara Goucher also recently shared her top marathon tips top marathon tips in this video.

Have you wanted to run the Havana Marathon in Cuba Havana Marathon in Cuba , legally. You can now do it. Check out the details here and one man's story of his experience running the race in a country that was formerly closed to Americans.
What's Happening on the Site
We are very excited about the new site design. We hope that it is more easily navigated and easier on the eyes! Take a look and let us know what you think at www.all-about-marathon-training.com

all-about-marathon-training.com Also look for our new Ebook on The Complete Guide to Training for a Half Marathon in 6 Weeks coming out sometime in August!
---
Running Joke
Before I let you go here is a running joke for the road over at jokes4us.com :

Q: What do you get when you run in front of a car? A: TIRED

Q: What do you get when you run behind a car? A: EXHAUSTED 

Thank you for reading and come visit us again at All About Marathon Training.





P.S. If you enjoyed this article please like our Facebook Page ! :)

---